Click here to get this post in PDF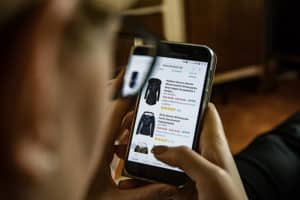 Walking around a store today, you mightfind it increasingly hard to make a choice. Go back a few short years, and itwas easy to go shopping in a store. You would look for anything marked SALE,and see if the price sounded like good value. However, if you look aroundtoday, everyone appears to be in-store with the products they want held underthe magnifying glass of their smartphone.
Why?
According to Signal Booster's infographic below, just one in five shoppers will not check out a product online or reviews, better deals and more information. It's also estimated that around one third of our decisions are made using the mobile device in our hand as the judge and jury. We will look up more information, often using the aggregated information new can find online to help us determine if this is as good a deal as it sounds at first.
This is not expected to slow down, either. In fact, around 34% of all ecommerce sales will come from the mobile industry. In three years, by 2021, that is expected to be as high as 54%. This shows you exactly what you are up against in the retail industry: the mobile device now plays such a huge role in the decision making process.
With the average user spending over double the amount of hours per month – 87 versus 34 – browsing a smartphone online as a desktop device, this growth will only continue to expand. Indeed, experts believe that by 2022 we will have seen a 125% increase in total from the 2018number of mobile users online.
2 billion presently can access the internet on a mobile device: that is only going to keep growing as mobile technology becomes cheaper, more accessible and more affordable. If you wonder how influential the smartphone is in your decision-making process, though, the answer is simple: very.

You may also like: Succeeding With Your Online Retail Store
Infographic by Signal Boosters