Click here to get this post in PDF
Hulu is one of the most popular SVoD services in the entertainment sector, but it did not gain this popularity in a single night. It is the fruit of years of consistent struggle and strategy for delivering quality content to its users, whether in movies/TV shows or live TV channels. 
In addition to hosting over 2,000+ movie/TV show titles, you have access to the latest content streams from 70+ channels, which leave you with plenty of entertainment choices. However, if you reside outside the USA, like the UK, you probably know that Hulu Plus UK won't be available. 
This is why many fans of the OTT media platform subscribe to a VPN service and connect to a VPN server in the United States to explore its content. But how does Hulu work and earn money? Well, that is what we'll be discussing in this article. So, let's get started…
Hulu's History
Hulu was founded in 2006 by the National Broadcasting Company and the founding partners, including Facebook, Comcast, MySpace, MSN, and Yahoo. 
Since then, Hulu has grown to become the third-most-popular with 26.40 million monthly subscribers after YouTube (163.76 million) and Netflix (46.50 million) monthly users. 
In the first stage, Hulu began offering both free and paid services to attract the users' attention, but now they've halted the free plan and instead give you a trial period of 7-days. 
Turning Point
Hulu started the creation of original content in 2011. It laid a solid foundation for becoming one of the best live TV in the US in 2017. As a result, Hulu paid subscribers continuously increased up to about 40 million in Q1 of 2021, which is remarkable to say the least!
Hulu's Revenue
 The idea of Hulu Plus was so successful that it recorded a revenue of $ 3.6 billion by 2019, with advertising revenues of $ 1.5 billion.  According to Statista, 54% of Hulu's total revenue comes from subscriptions.
With the average subscription of SVoD, Hulu earns $13.51 per month. In contrast, Hulu makes $75.11 per live TV subscriber. You can learn more about this from this graph from Statista below that divides revenue per paying customer by the year!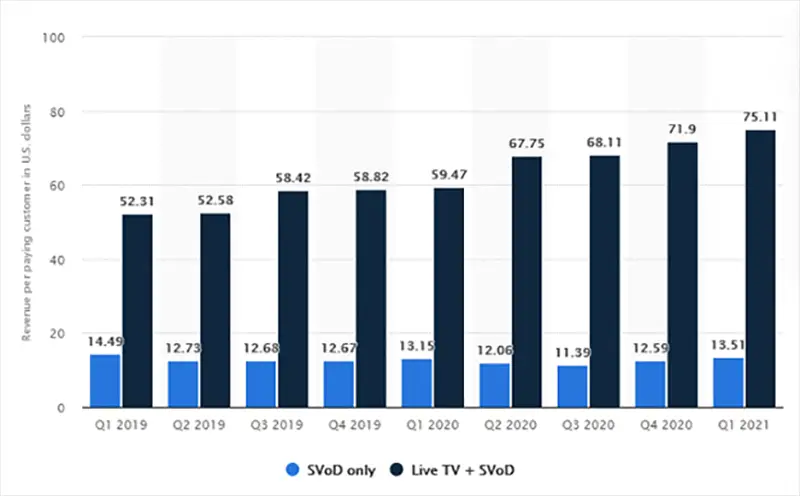 Business Model
Of course, initially, Hulu went through a challenging phase. However, the company generated a massive return with the launch of the Hulu Plus service in 2010. 
It was a great success which raised the question, how is this company making money? Hulu uses three sources of revenue: Subscription, add-ons, and ad revenue. The detail of each source is given below.
1. Subscriptions
Hulu generates 54% of total income through subscriptions. It provides the user with a choice of four core subscription plans. Users have access to the Hulu library of movies and shows depending upon their pricing plan. The details of each subscription plan are shown below. You can also check out these Hulu subscribers, viewership & marketing statistics for more information.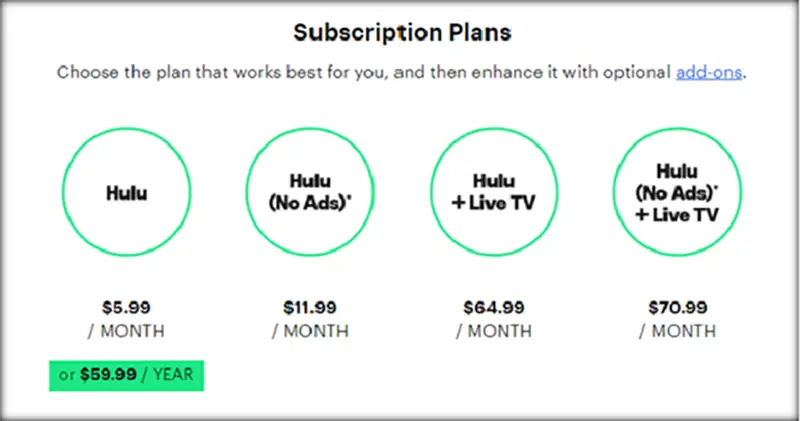 2. Add-Ons
Any Hulu plan comes with accessories that allow the user to gain access with some additional charges. It means that users will have access to live TV, SHOWTIME, HBO Max, etc., for an additional fee. Even though it is a cheaper option, but these premium add-ons significantly contribute to Hulu's revenue. 
3. Ad-Revenue
Hulu recorded 82 million subscribers in 2019. Among them, 36 million were using ad-free subscriptions, and all the others were using subscriptions with ads. 
The number of ad-supported subscriptions is growing fast. So, advertisers can reach millions of viewers on this OTT platform. So, Hulu earned $ 1.9 billion only through advertising in 2019.
The Bottom Line
Live TV played an integral role in Hulu's success journey. Meanwhile, Hulu allows users to join this video streaming platform with four flexible subscription options, which further boosts its likeability!
You may also like: How to Make Money on the Internet