Click here to get this post in PDF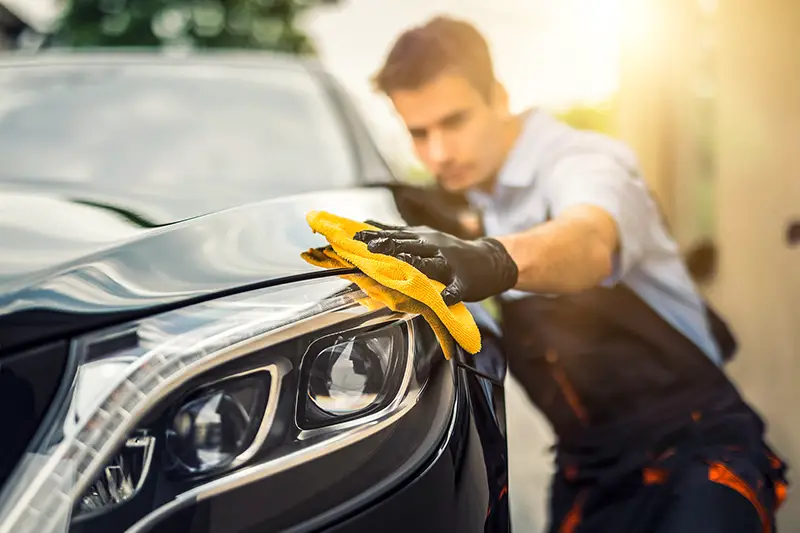 When you purchase a car, it is often one of the biggest purchases you will make apart from buying a house. Sadly, whilst property usually increases in value over time, cars very quickly depreciate in value. It has been suggested that even when you purchase a brand-new car and drive it from the showroom, you will lose as much as 20% before you have even got home. Over the course of five years, experts suggest that a car will likely be only worth around 65% of its original value.
However, you are not completely stuck in this reality. There are a few things that you can do to make sure that when you come to sell or trade-in your car, it has more value than one of a similar age and make. 
A little paint
It can be really surprising how much a small amount of auto painting can truly improve the look of your car. Your vehicle goes through a lot in the years you keep it. It is battered by the weather constantly, whether it is raining or shining, windy or sleety, or even heavily snowing. All of this will affect the look of your vehicle. You may not notice it immediately as you will grow used to the slow degrading of your car. However, put it next to a brand-new model and it will become painstakingly obvious. Touch up your car with a little paint now and again to keep it looking fresh. 
Make sure it is clean
First impressions really count when people look at your car. If you are looking to sell your car, you will be surprised to learn that a clean car is likely to go for over $1,000 more than a dirty one regardless of the actual state of the car. This is something that is so simple to do but few people motivate themselves to give their car a thorough clean. If you don't have the time, then it is worth investing in a car valeting service. They usually cost around $100 for a professional one. This can mean a profit of $900. If you want to avoid that cost, then do it yourself. 
Don't forget the tires
Your tires are an essential part of the car, and buying cheap ones to replace cheap ones will only lower the value of your car. At the bare minimum, when you are selling, they should be clean, but if you want to increase the value, it may be worth investing in a decent set of tires with a spare. Even if you aren't selling, this is good practice. In addition, it will make your driving safer as the tread on the tire can grip the road better. 
Removal of dents and scratches
It is normal for a car that has been well used for years to have a little bit of wear and tear. Whether this is from someone catching your car on the way past or from loose gravel on the road, dents and scratches are likely to appear at some point. The good news is that these are not permanent and can be buffed out or repaired. Small dents don't even need to be painted out but can be massaged out by your local repair shop.
Scratches are a little more tricky to deal with but are not necessarily there forever. These can come from automatic car washes and make your car look unsightly. Fortunately, there are plenty of touch-up kits that you can purchase on the market that will help you wipe those scratches away. If the damage is more substantial, then you may need to pay more for a replacement panel. 
Having your paperwork organized
Nothing lowers the value of a car like not having the right paperwork available to your potential seller. People don't want to spend lots of money on a car that they don't know is ready to go. Having access to a full and substantial car history as well as any recent services that it has had will help skyrocket the value of your car. You and your buyer can rest easy knowing that no one is going to be swindled in the deal.
Bringing value to your car
This is something that many car owners fight with. It is not easy as your car will constantly lose value as the years go on and the miles rack up. However, there are lots of different ways you can slow this or repair the damage to bring back the value of your car.
You may also like: Importance Of Getting A Ceramic Coating On Your Car
Image source: Shutterstock.com