Click here to get this post in PDF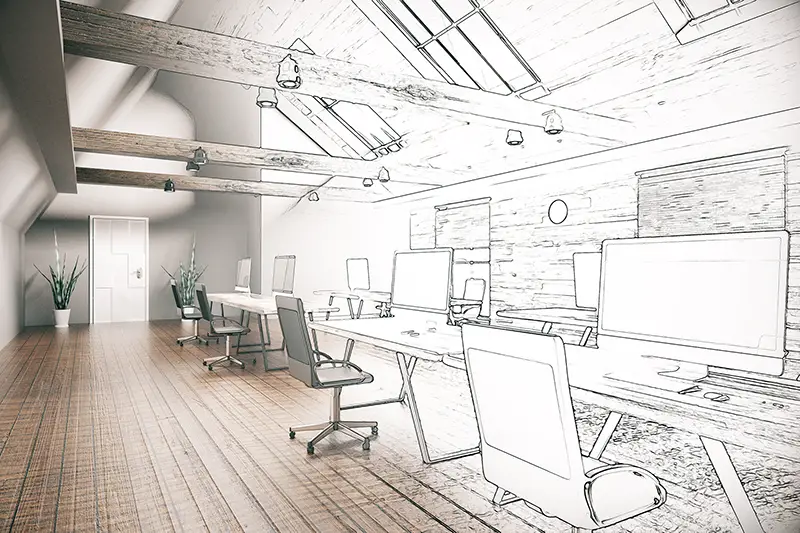 A commercial space renovation or office remodel is a perfect opportunity to add your business branding throughout the premise. It will eliminate the dependence on posters and placards, giving your business to incorporate its branding goals into the new workplace design. Below are several tips that can help you revitalize your office space by incorporating branding into the renovations with office graphics.
Start With The Reception Area
Every client that walking through the front door will first encounter the reception area. Therefore, you should draw your attention to this area when doing the remodel, taking advantage of the chance to make it stand out and bolster your company's image. Use the company's colors in the décor and furnishings, and remember to incorporate the business logo.
Run With The Theme Throughout The Office
Starbucks use their logo effectively to market the business. It is one of the perfect examples of how efficient spatial branding is in putting out the message. That is why business owners can use their branding to communicate the brand, especially in areas where customers will easily see it. It should be spread throughout the office space. Furthermore, employees should take pride in what they do and who they work for.
Placing the company colors and logos in the workplace during the renovation can be a source of motivation. That is why you should ask your workers to share their opinions or ideas about the remodel even as you consider using the company colors and logos to make a statement.
Consider The Company's Personality
Creating cubicles for employees is a dated office practice. Businesses focus more on establishing a work environment that shows the company's personality and values. They achieve this by picking furnishings that bear testament to who they are and what they offer. The renovations should include lounge areas and gathering spots for the workers. It will show that the business values and cares about its employees and strive to inspire them to focus on their responsibilities and be productive. Click here to visit our blog post for ideas on how to create a happier and motivational office space for your employees.
Make the most of your workplace renovation or office remodeling project by adding some branding, and incorporating company colors, logo, and values. Moreover, the transformation should change the bland office space into a creative, unique, and comfortable environment for the customers and employees. Check out our portfolio for examples of remodeling projects you might consider for your business. It is also a good idea to contact professionals like Hardie Boys for more ideas.

You may also like: Office Design Trends That Suit the Millennial Lifestyle
Image source: Shutterstock.com