Click here to get this post in PDF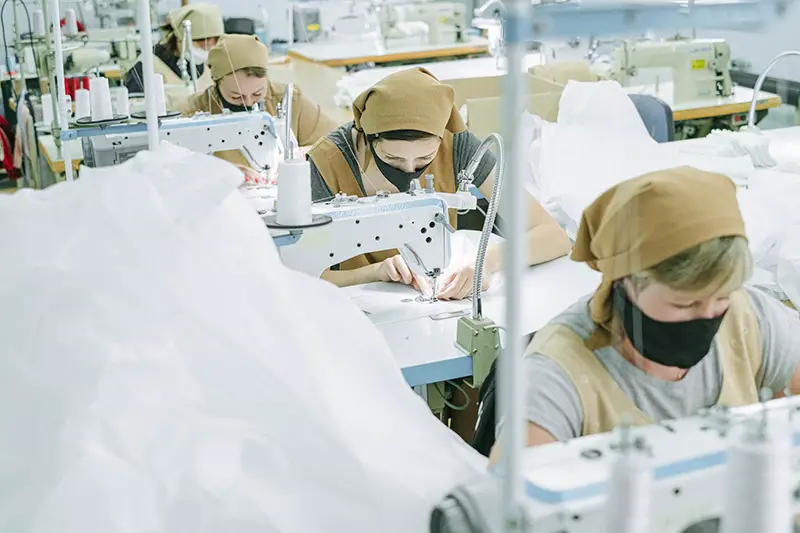 Your output, revenue, and customer satisfaction all depend on the efficiency of your manufacturing process. Since that's the case, there's every need to streamline your process to stay competitive and on top of your game.
But with so many kinds of industries and technology available in the UK, you may get confused about what you can do to boost your manufacturing process.
Well, it's not as tricky as it seems. Manufacturing involves creating new products, be it from raw materials or through assemblage. And you'll typically have a workforce and technology working right on the scene. Now, these are the areas you need to tackle. But the question remains. How? What can you do?
Therefore, we've put together a compilation of practical things you can do today to improve your manufacturing process for increased productivity and efficiency.
Leverage the latest manufacturing trends
Indeed, the traditional manufacturing process (injection molding, CNC machining, plastic joining, and plastic forming) has benefited man, giving us almost all the finished products we see today.
But it's also true that great methodologies still get outdated for newer and faster ones to take their place. Now, there's 3D Printing, which can fabricate a three-dimensional product without the time-consuming process of traditional manufacturing. Some companies now procure 3d printing service uk as it helps to bypass design barriers, cut costs, maximize profitability, and speed up their manufacturing process.
Another manufacturing trend in packaging is high-performance, efficient vertical form fill seal machine solutions. Whether for valves, open mouth bags, or pre-made pouches, this machine has an appropriately tailored form-fill seal solution for your operations. 
Analyze your workflow
You may be experiencing less productivity than you ought to, and you're at your wit's end, not knowing what to do. But things become much clearer when you see where the problem lies. So analyze everything that makes up your workflow:
Personnel – Check your design team, IT department, and all others who work behind the scenes. Are the right persons with the right skills where they're supposed to be?
Objectives – What are the goals you've out in place, and how's your map for accomplishing them? Are the steps specific, practical, measurable, and assigned? What are the possible obstacles and remedies to them?
Technology – Are your machines up to speed? Problematic tools can cause downtimes and slow down your overall manufacturing processes. You'd realize that such tools cost you far more than the price of getting a new, more efficient one.
Schedule maintenance
It's worth reiterating that cranky machinery costs you far more than purchasing a new and better one. It also costs far more than halting operations for a moment and taking time to maintain those cranky tools.
Just like humans, machines get weak. And neglecting maintenance poses a significant danger to your business. A machine breaking down causes downtimes and is more challenging to repair than to maintain.
It's therefore advisable to set fixed dates for maintenance. It would help to make it a working culture to execute scheduled maintenance for all machinery. Also, train your operators to respond immediately and effectively without having to call a maintenance company.
Do not postpone maintenance if you want to keep your machines working optimally.
Put your staff on continuous education
As humans, we should never stop learning, and this is even more imperative for design teams, IT personnel, and product developers. If you desire to boost your manufacturing process for improved efficiency, your employees have to stay abreast of the latest design methods and machines and learn how to adopt them.
Therefore, you should make it a practice in your manufacturing firm for your team members to go on training sessions, probably monthly. Some industries now make daily training compulsory, using safety gear. You can also encourage your team to learn more in their free time and grant incentives for new ideas.
Also, schedule training when new machines are brought, and if possible, offer educational opportunities for employees who desire to improve on their skills.
Reorganize the workspace
Having an organized environment fosters productivity and efficiency. Decluttering your workspace will help save the time needed to get to things.
Create storage for similar items to reduce searching time.
Create a functional layout to increase efficiency and speed. You could do this by placing work setups in sequence in the order in which they are used. If task B comes before task A, then Setup B should be placed immediately after setup A. This arrangement reduces movement and travel time for employees to get to where they're supposed to be.
Remove all unused materials and broken tools from the manufacturing facility.
Find ways to eliminate excessive movement, as that always shows a sign of a disorganized workspace.
Adopt cellular manufacturing
Adopted from the Lean Manufacturing playbook, cellular manufacturing involves dedicating certain areas of your facility to standardized tasks. For example, a workspace unit, referred to as a cell, will contain machinery for carrying out a particular job, such as calibration or installation. The tools and team in a cell may be able to perform a broader range of functions, but allowing them to focus on one promotes specialization, quality, and improved efficiency.
To adopt this technique, you have to regard your entire job process as a series of individual steps. Each step will then go into a cell.
Apply lean manufacturing
You see, you don't have to come up with your unique manufacturing processes to optimize your efficiency. Efficient methods have already been developed, such as the "lean manufacturing" principle.
Lean manufacturing focuses on:
Reduced waste – One way to reduce material waste is to use less material from the start. Using strategies like the design for manufacturability (DFM) can tremendously increase productivity. Also, find out if you can use more parts of a material before it passes as scrap and ways to recycle these wastes. Turning waste into profit will tremendously increase your manufacturing productivity.
Efficient systems – Sorting tools and processes according to priority, organizing machinery, and maintaining the work area.
Optimize inventory – As discussed below.
Inventorise everything
Have an optimized inventory for the relevant parts of your manufacturing process, including supplies, material cost, person-hours, equipment working conditions, etc. This follows lean manufacturing principles. Assigning a numeric value to everything will enable you to see what needs immediate attention on time.
Since it's not humanly practical to take stock of it all, find software for tracking inventory, one that can also automatically notify you when materials are running short. Suppose it's possible to allow your suppliers access to your list. In that case, it will enable them to know when they need to resupply, and this ultimately prevents you from stopping operations and waiting because of depleted materials.
Bottom Line
Boosting your cable ladder systems manufacturing process relies on radical long-term changes rather than quick fixes. And it wouldn't help to put the responsibility of increased productivity on your employees' shoulders as that would ultimately result in burnout.
Finally, a critical review of your current practices to discover weak points and apply the above-suggested techniques is pivotal to increasing the productivity of your manufacturing process.
You may also like: The Complete Online Guide to Optimising Your Manufacturing Operation
Image source: Pexels.com