Click here to get this post in PDF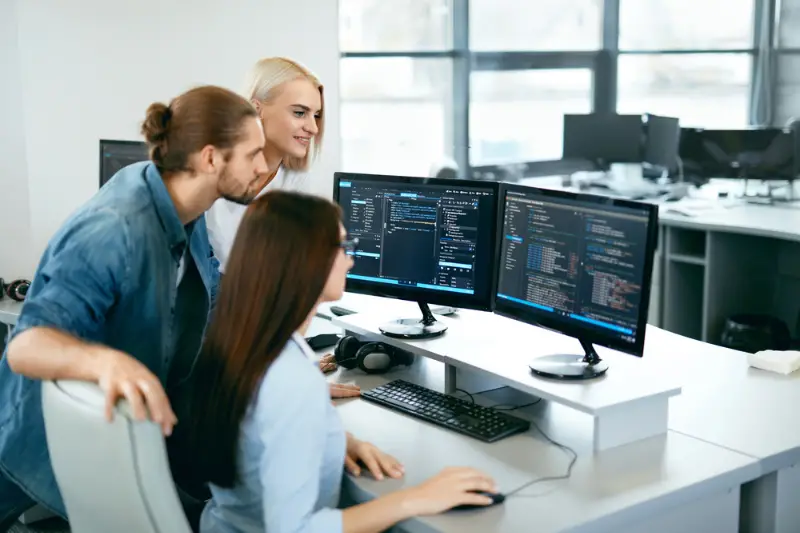 In today's digital age, finding the ideal software development company for your business can be a daunting task due to the plethora of options available. This guide aims to simplify this process by outlining the key considerations you need to make when hiring a software development company.
Understanding Your Project Needs
Before hiring a software development company, you need to have a clear understanding of your project's needs. This includes the technologies required, the specific tasks for developers, and the budget allocated for the project.
Identify Your Project Requirements
Your project requirements are the backbone of your project. They define what you expect from the software, how it should function, and what problems it should solve. To formulate your project requirements, you can use the following steps:
Define the problem your software is aiming to solve
Identify your target audience
Outline the key features of your software
Specify the platforms your software will run on
Determine the timeline and budget for your project
Prepare a Detailed Project Scope
A detailed project scope provides a roadmap for your project. It outlines the project's objectives, deliverables, timelines, and milestones. It also helps potential software development companies understand the complexity and scale of your project, enabling them to provide more accurate cost and time estimates.
Research and Shortlist Potential Companies
With a clear understanding of your project requirements and scope, you can now start researching potential software development companies. The internet is a great starting point for this research. Search engines, online business directories, ratings and review platforms, and professional networking sites like LinkedIn can provide a wealth of information about potential companies.
Check Out Company Portfolios and Reviews
A company's portfolio showcases its past work and demonstrates its capabilities. Look for companies that have successfully completed projects similar to yours. This can indicate their technical proficiency and ability to meet your project's needs.
Reviews and testimonials from past clients can provide insights into a company's reliability, professionalism, and quality of work. Platforms like Clutch and Top Developers offer comprehensive reviews and ratings of software development companies.
Consider the Company's Experience and Expertise
The company's experience and expertise are critical factors to consider. Companies with many years of relevant experience are likely to have a proven track record of delivering successful projects.
Moreover, the company should have expertise in the technologies and frameworks required for your project. For instance, if your project requires JavaScript development, the company should have a team of skilled JavaScript developers.
Evaluate Communication and Project Management Practices
Effective communication and project management are crucial for the success of your project. The company should have established communication channels and protocols to ensure smooth information flow and coordination among team members.
Assess the Company's Communication Practices
The company should use modern communication tools and collaboration platforms to facilitate effective communication. Tools like Slack, Skype, Trello, and Jira can streamline communication and project management.
The company should also have a systematic communication process in place, including regular meetings, reporting, and updates. This ensures that all stakeholders are kept informed about the project's progress.
Evaluate the Company's Project Management Methodologies
The company's project management methodologies can greatly impact the efficiency and effectiveness of your project. Companies that use Agile or Scrum methodologies are often able to deliver projects more quickly and efficiently.
Consider the Pricing Structure and Contract Terms
Understanding the company's pricing structure and contract terms is crucial to avoid any surprises later in the project.
Understand the Pricing Structure
Software development companies typically use one of three pricing models: fixed price, time and materials, and dedicated team. Each model has its benefits and drawbacks, and different models may be more suitable for different types of projects.
Review Contract Terms Carefully
The contract lays out the legal framework for your partnership with the software development company. It should clearly define the project scope, payment terms, intellectual property rights, confidentiality clause, dispute resolution mechanism, and termination clause.
Check After-Development Support
After-development support is a crucial aspect to consider when hiring a software development company. This includes software orientation, timely troubleshooting and fixes, software configuration, software customization, backup services, and monitoring of software implementation.
Conclusion
Hiring the right software development company is a crucial step towards ensuring the success of your software project. By carefully considering your project needs, researching potential companies, evaluating their communication and project management practices, and understanding their pricing structure and contract terms, you can find the perfect partner for your software development project.
You may also like: The Pros and Cons of CRM Software
Image source: Depositphotos.com