Click here to get this post in PDF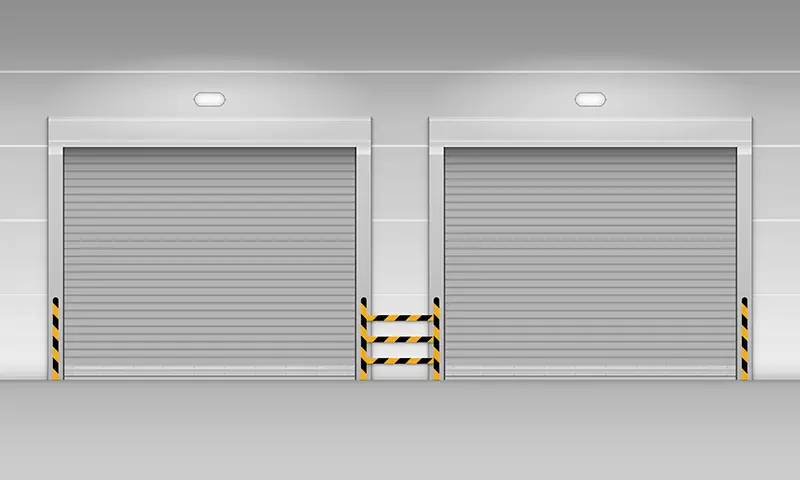 One of the key needs of a warehouse is the ability to move goods into and out of the building efficiently. Doors need to be versatile and meet the heavy demands of traffic entering and leaving the warehouse, whether it's people, forklift trucks or other moving platforms and loading equipment that regularly needs to move between internal or external spaces. High-speed doors evolved from roller shutter style doors and are sometimes referred to as rapid roll doors, as they operate at high speed with improved sealing to traditional roller shutters. These are able to withstand higher opening and closing frequencies and incorporate better self-maintaining features, to help businesses reduce costs and downtime.
Impacts on temperature
One of the biggest concerns is the energy costs with doors being open for longer than necessary and the change to the ambient temperatures of a warehouse that can damage the goods stored and cost a lot to reheat or re-cool the space every time a door is opened. Doors operated intensively many times throughout the day need to be fit for purpose, high speed for both opening and closing if they are to offer ease of access, efficiency and ensure security to the exposed areas.
High-speed doors benefits include:
Minimal opening and closing time
Energy saving
Enhanced security
Bespoke design
Rodent protection
Noise reduction
Minimal time waste
High-speed doors that are quick opening are suited to a wide range of warehouse environments, from clean rooms, cold rooms, internal space segregation requiring quiet operating, as fabric roll-up doors and those suited to extra large openings or folding solutions. They can be used in situations where high wind load environments are common.  
What Do I Need To Look For
Speed of action and robust, reliable engineering are essential aspects of high-speed doors. They need to be able to operate effectively, so consider using the services of leading high-speed door and loading bay solutions experts such as Fen-Bay Services will ensure you understand the most appropriate high-speed door solutions for your business. A business with the experience to fit and maintain products with a 24/7 nationwide emergency repair service will ensure that you are not left high and dry should an issue arise too.
What type of doors are available?
High-speed doors offer the perfect balance between security for the goods inside a warehouse, including minimal temperature change as the doors are open for the minimum amount of time required to let traffic in or out. 
Clean room high-speed doors are suitable for areas such as pharmaceutical and healthcare warehousing where it is important to maintain air pressure within controlled environments, the doors have a self-repairing ability through a rapid rise curtain that allows the door to reset itself before closing if the curtain is caught by traffic, reducing the need for expensive repairs.
Cold store and freezer high-speed doors use an insulated curtain to ensure a consistent room temperature is maintained for temperatures from -1 to -30oC. Again they feature automatic reset should they be crashed into, they will reset and reclose rapidly.
High-speed doors are also suitable for use in food warehousing as they offer rodent protection and can be fitted into internal environments to offer a greater level of protection within internal environments than strip curtains or traditional doors. They offer a compact and quiet operating solution to bring minimal noise disruption.
High-speed doors can include triple insulation curtains, stainless steel frames and emergency exits to bring easy-to-install solutions to meet the unique demands of each warehouse facility. They can include floor tightness PVC flaps which provide maximum insulation and reduce wind noise even within extra-large or wide openings.
Where there is a possibility that the doors may suffer an impact, they can be fitted with flexible guides which ensure that any impact that knocks the curtain door of the guides, the next opening cycle will automatically reinsert the curtain onto the runners to minimise downtime and reduce the costs of maintenance that an accident to a standard door would incur.
If you're looking to improve warehouse efficiency, high speed doors could be implemented alongside other solutions to provide real benefits.
You may also like: 7 Tips For Meaningfully And Sustainably Driving Efficiency In The Workplace
Image source: Depositphotos.com