Click here to get this post in PDF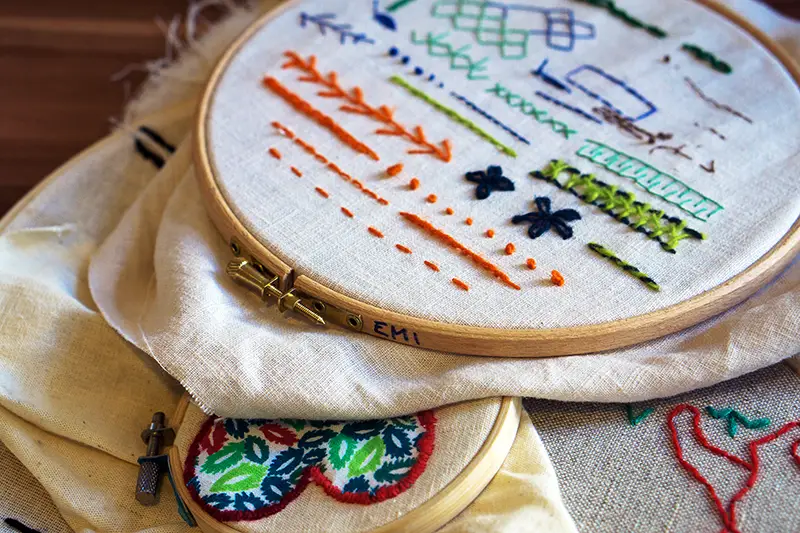 Quarantine has opened areas of self-discovery for everyone. Do It Yourself projects have made people try their hand at things they never thought they could do. It turns out there are plenty of hidden artisans among us.
Handmade has been a rage with everyone bored at home. Social media has made sure you knew of your neighbor's macramé bags and your aunt's home-baked apple pies. All over Facebook or Instagram, you see posts are snapshots of their latest hobby from paper making to their latest embroidery kit.
It did not take long for everyone to start pricing their crafts. The cash in from the little trinkets may not be much but getting paid by doing something you are good at is a win-win. Here are handcrafts you can turn into extra cash.
1. Needlecraft
Needles are scary little things. On the other hand with a needle, thread, and fabric you can construct beautiful embroidery and you can also find free embroidery designs to be able to embroider them. These embroidery kits are a good way to get beginners started but not limited to starter packs."
Kits contain basic supplies such as embroidery hoops, scissors, and embroidery floss, needles, and fabric. There are different inclusions like thimbles, untwist tools, patterns in other kits. You can order them online or in your local craft shop.
Needlework may look complicated. If you break it down into steps, it is a series of interlocking loops or stitches using an ordinary or hooked needle. Quilting, crochet, bead weaving, tatting, machine embroidery, and lace-making are needlework as well.
2. Pastries and Homemade Food
The best con of home-cooked goods is, that it is easy to start. You already have a kitchen, baking tools, cooking utensils, and the knowledge of cooking. All you need is to whip up something to serve.
You can add your own twist to the regular bread, cakes, cookies, pies, and pastries. You can invent recipes that would cater to a specific diet like vegans, gluten-free and organic. If you are not into baking, you can cook comfort food, soul food, or regional native dishes.
Home-cooked goods are well received and therefore a big market. The good thing is there is always a hungry tummy for yummy baked goods. You can sell it locally or online, depending on the food's perishability and shipping capability.
3. Macramé
Macramé or Knotting is a versatile form of fiber art. Primary knots used in macramé are the square or reef knot and various combinations of half-hitches. These are simple knots you learn as a boy or girl scout or through your sailor dad.
You would need materials like cotton twine, jute, hemp, or yarn. With a combination of knots, you can make a simple plant hanger, a bracelet, or a purse. Macramé can also be more complex like hammocks, curtains, tablecloths, bedspreads, and even clothing items.
You can even incorporate embellishments like glass or wooden beads and dyed threads into the design or item you are making. You can knot a plant hanger during an online class or in between working hours. It requires time and labor but less expense on your part.
4. Pottery
Starting pottery as a hobby is a bit expensive. You will first have to buy a kiln and a potter's wheel. Although once you have bought quality materials, restocking will be cheaper. Basic materials for pottery include clay, glazes, sculpting and trimming tools, ribs, and wires.
You can use your garage, attic, or spare room for your work area and storage room. Your produce can range from mugs, plates, teapots, jugs, vases, tiles, or jewelry, depending on the clay you would use. You can personalize items or mass produce generic wares for a higher price. Pottery does not require immediate high-level skill as long as you know the basics of pottery making. You can opt to have it as a side hustle or a full-time business.
5. Jewelry
Jewelry can be classified into fine and fashion. Fine jewelry by Puravida Bracelets is made with solid gold, silver, or platinum and topped with genuine gemstones. On the other hand, Fashion jewelry is crafted with base metals and simulated stones, metal alloys, leather, and textile.
It is easier to source materials for fashion jewelry also known as artificial or costume jewelry. You can use almost anything and everything for costume jewelry like wood, shells, glass, cloth, and more. You can buy a jewelry tool kit to start and then purchase better tools.
Consider your budget in choosing which kind to produce as well as fashion trends. The latest trends in jewelry include pearls, chains, hoops, charm jewelry, long big earrings, and silver.
Get Crafty
The pandemic has closed businesses causing some people to lose their jobs. Yet with the bad came the good. One by one, people started their own small businesses using the skills they learned and doing the things they love.
You can start your own business. Identify your skill, plan your business, source your materials, and create and market. Be consistent and build it up. It seems difficult but it takes a little courage and a little risk. Get crafty and earn smart. For your starter kits, check out Storables.com!
You may also like: Looking for Extra Income? Consider Some of These Side Job Opportunities
Image source: Shutterstock.com