Click here to get this post in PDF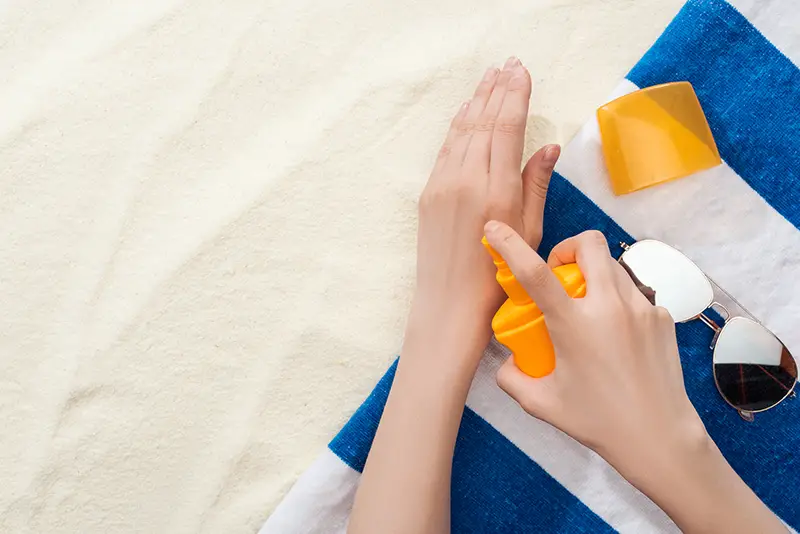 Summer is here, and that means it's time to get that sun-kissed glow without exposing yourself to harmful UV rays. Spray tans have become a popular alternative to traditional tanning methods, and with good reason! A spray tan solution is quick, convenient, and gives you the perfect shade of tan without any fuss.
But how do you maintain that flawless bronze look for longer? Fear not, we've got you covered. In this guide, we'll take you through everything you need to know to help your salon clients keep their spray tan looking fresh and flawless for days to come.
Prep the Skin
Before getting spray tan applied to your skin, it's essential to make sure the skin is clean, exfoliated and devoid of any oils, deodorant, or makeup. First, use a gentle exfoliator to slough off any dead skin cells around the knees, elbows, and ankles. Then, ensure that your clients don't apply any skin lotions or other products on their skin a few hours prior to getting sprayed. These things can create a barrier between the spray tan and the skin, causing uneven colour and fading in certain areas.
Moisturise
Maintaining the spray tan is all about keeping your skin hydrated – both before and after spray tan application. Advise clients to apply a lightweight moisturiser to their skin immediately after the spray tan has dried. This step will help seal the bronze colour on the skin, making it last longer. Use an oil-free, fragrance-free lotion; as anything with oil, fragrance, or alcohol can break down the spray tan and cause it to fade more quicker.
Avoid Hot Showers or Sweating Excessively
It's best to avoid hot showers or any activity that will make you sweat excessively for at least eight hours after your spray tan application. Excessive sweating can cause streaks and make your spray tan fade unevenly. Instead, advise them to opt for cold showers and avoid long periods in the shower – by doing so, the spray tan will last longer.
Apply Bronzing Products
To keep the spray tan looking radiant and glowing, it's a good idea to incorporate some self-tanning products into their routines. It is a good idea to use a gradual self-tanner and apply it after they shower (7-8 hours after spray tan), to prolong the tan's longevity. By doing so, it can intensify the colour and help to extend the life of the spray tan.
Wear Loose Fitting Clothes
Finally, it's essential to wear loose-fitting clothes immediately after a spray tan is applied – this is because tight-fitting clothes can rub against the skin and cause the spray tan to fade unevenly. Choose clothes made from natural materials such as cotton, so that the skin can breathe smoothly. Also, try to avoid wearing tight shoes or boots, as this can also result in uneven fading.
Advising customers to follow these tips can not only prolong the lifespan of their spray tan but also ensure it stays consistent and flawless
From prepping the skin to using self-tanning products, maintaining a spray tan is all about giving the skin the care it needs. While it may seem like a lot of work, taking proper care of their spray tan will make sure it lasts for days and is always looking its best. With a bit of effort, they can enjoy their bronzed glow all summer long. Good luck!
You may also like: Improve Your Health and Fitness Even When You Work Long Hours
Image source: Depositphotos.com