Click here to get this post in PDF
Did you know that your user count can inevitably improve your brand's visibility in the market and generate more revenue? But to get there and make your users opt-in for your push messages, the road is often bumpy with no clear directions. So how to go about it? This is when having a push notification marketing strategy comes to your rescue. Push notifications are clickable messages that are sent by a website browser or a mobile app to subscribers.
As a general thumb rule, avoid sending generic and batch push messages to your users. Instead, consider your target demographic and craft appropriate messages to each user. But that is not enough, you need to craft a smart push notification marketing strategy according to your business requirements and marketing goals. This blog is a comprehensive guide that will teach how to establish a push notification marketing strategy for your business.
Let's look into some of the best practices when leveraging push notifications.
Best practices for push notifications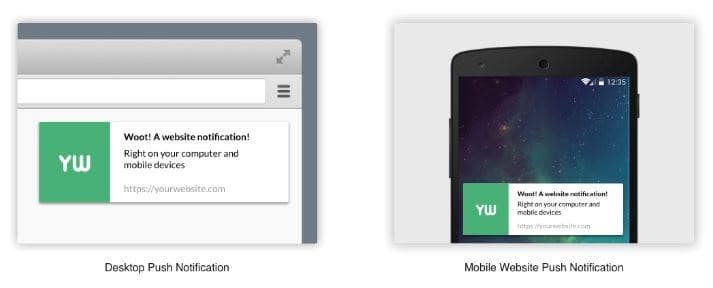 Push notifications are powerful marketing tools used by businesses in different ways to grow their brand. You have to send personalized push notifications to your users at the times they are most likely to see them. We have listed some of the best practices to create a successful push notification strategy here.
Personalize your notifications
When creating push messages, instead of sending general messages, make sure you craft the message that your users are interested in. Push notifications that are targeted to specific segments have a 50% higher click-through rate than push messages that don't use segmentation. You must experiment with your targeting until you achieve optimized performance to a level where you are happy with the end results.
Integrate rich media
Rich push notifications are push messages that have images, action buttons, emoji's, short videos, and icons. As users are not always going to subscribe to your notifications, making your push messages visually rich will help to compel your users to opt-in for your messages.
While rich notifications do not always work, they can work as a powerful tool when used in the right way. Send the latest highlights or images of a product on sales to show your users what they could be missing out.
Think when to send
Sending out your push messages to your user base at random times is not a good strategy. No matter how appealing your push messages are, sending them out at the wrong time will not have any effect. Hence you must make sure you are sending your push notifications at the best time suitable for your users.
For example, according to the user base and the type of your push messages, you can categorize them into the following.
Sending immediately– Works great for urgent messages like a piece of breaking news. 
By user time zone– Craft messages based on the active time of users.
Smart delivery– Send out messages when each user is most likely to engage with your messages.
Change the way you prompt
If a user rejects the prompt to enable your push messages, the only option they have is to enable it through their phone's settings. Due to this, it is critical not to miss the opportunity of subscribing. It's critical to choose the right moment when a subscription prompt will be sent out so that you utilize the best chance to get users to subscribe. Along with personalizing your notifications, clearly tell your users why they must be receiving these notifications so users will know the value they get out of subscribing to your messages.
Plan for receiving opt-ins
Unless your users opt-in to receive your messages from your website or app, you cannot deliver your push notifications to them. For web push notifications, you must get the permission of users to subscribe to your messages. Fortunately, Android users opt-in to mobile app push notifications by default right after installing an app. But, iOS apps don't offer this feature, it has to manually ask every user after app installation to opt-in to push notifications.
Most users do not allow any sites or apps to get access to their data and hesitate to give permissions to receive alerts. To address the privacy concerns of your users, you need to make the value of your notifications clear so that users understand what they are subscribing to.
Test it before sending out
Like any other marketing strategy, you need to test your push notifications and their performance. To learn which method is more effective, you must experiment and measure results. A/B testing is a never-ending process to become a part of your push notification strategy. When trying out a different approach, make it a practice to test it out, try different content, experiment with tones and timing to understand what interests, and engage your users the most. Understanding what makes your audience respond to your push messages will help you to develop the most effective push notification strategy.
Focus on the content
One of the most important aspects of a good push notification strategy is the content of your push messages. The content of your push notification must be short, specific, informative, and engaging. Try to spark the interest of your users with your content. Take a personal approach by using names and details about the last activity performed by the user on the website or the application.
For example, Netflix sends out personalized push notifications like a simple reminder about a series that a user has been watching.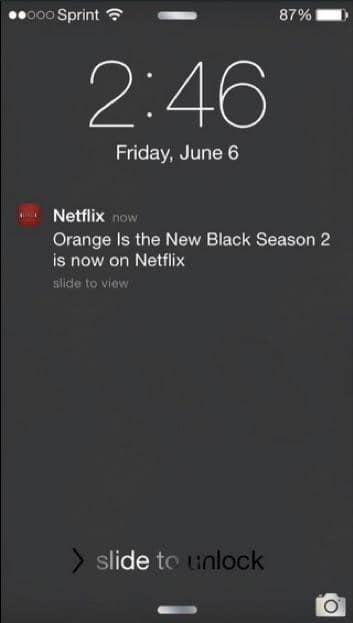 Push message segmentation
If you are planning to offer personalized notifications to your subscribers, this is where you should begin- Divide your users into groups by focusing on certain characteristics and the type of people you are addressing. For example, you can segment your users based on gender, age, location, interests, or any other personal data. To take segmentation to the next level, you must address user behavior as well.
Specific push notifications are used to learn the way users respond and interact to find out how actively they use your website or application. To draw the attention of your users, send them to push notifications that include messages that evoke their interest.
How frequent is ideal?
Some business becomes too enthusiastic when sending out push notifications. Sometimes it leads to sending a lot of messages in a short span of time. Sending out push messages too frequently might irritate your subscribers and can have a negative effect. A good push notification strategy allows you to find out the perfect balance to connect with users without becoming a disturbance. Testing helps you to find the right frequency of your push messages.
Plan Geo-fencing with push messages
Location-based push messages are one of the popular categories of push notifications. Utilizing Geo-targeting not only helps to increase open rates but also increase the conversion rates. Geo-fencing allows you to specify a location radius so that when users enter or leave the website or apps, it triggers an automated push message. Additionally, you can also use segmentation as a part of your Geo-fencing push notification marketing strategy.
Use the ideal length
When it comes to the length of push messages, it depends on the type of your push messages. Basically, 90 characters are the ideal length to catch user attention and get clicks. However, for promotions and offers, it is recommended to keep the character limit to 20-25. You can also increase the number of characters for any type of industry. For example, if your business belongs to travel or entertainment, you can pull off longer push messages. However, it comes to industry types like education, it is ideal to keep the character length of your messages short.
Conclusion
From user segmentation to Geo-fencing, there are several ways to better target your push messages. When it comes to the content of your push notifications, use rich and dynamic content and get the timing and frequency right for the best impact. Don't forget the testing part as well.
The key to success is both relevance and timing. Personalizing your messages makes them relevant to the user base. Localizations also ensure you are reaching the right user group at the right time, you don't want your push notifications to interrupt your users. Before adding push messages to your overall marketing strategy, consider these best practices will be beneficial to reap great results.
You may also like: Marketing Methods that are Best for Your Business Growth
Author Bio

I'm the Marketing consultant, Self-driven budding entrepreneur, Work together with the clients by implementing different marketing strategies in their businesses. Currently marketing consultant at https://www.pushmaze.com/