Click here to get this post in PDF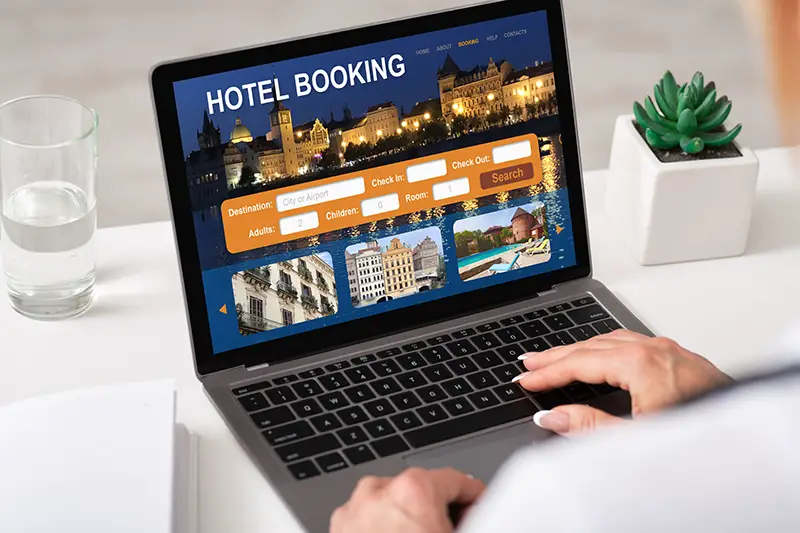 Do you want to increase the conversion rates of your website? If so, do not just post a few photos of your luxurious hotel. It is easy to use content to make your website visitors want to book. It is also easy to use digital marketing to grow a hotel or any business. 
In fact, 20% of the marketing budgets of most hotels go to content marketing. However, you need to use a proven content marketing technique to promote your hotel on the internet. 
According to CMA's, content marketing creates useful and relevant content and distributes the content to different platforms and media channels to get more customers and grow the brand. 
You can use content marketing to build your online reputation. It is easy to use a content marketing strategy to build trust, making it easy for your potential guests to trust your hotel. 
Here is how to use content marketing to build trust: 
Tell Your Story
You need to tell the story of your hotel. Tell your story to stand out from your competitors. Once you identify the unique selling points (USPs) of your hotel, create content about it. Make sure your content connects you with your guests. 
For instance, you may know the importance of human connection, offering your guests free WiFi in the lounge. This is where your guests will meet and hang out. You can also provide a spa on your hotel premises. If possible, you can make your hotel pet-friendly since most people travel with their pets these days. Finally, do not forget to hire a great staff. You can use video tours, professional photos, and real guest testimonials with visual storytelling to convey your story to your website visitors. 
From skift.com, "Hotel groups, such as SBE, Joie de Vivre, and Thompson, rely more on stories on the internet. They use stories to promote their hotels. In fact, Kimpton Hotels built a new website to interact with their website visitors on a more personal level. They use the site to engage their website visitors throughout the year." 
However, you need to create content to help you achieve your specific goals, including increase your online presence and increasing the number of direct bookings. 
You can also use email marketing to build an audience. Therefore, use your current customer lists to get repeat business and increase customer loyalty. 
Create Quality Content, Not More Content 
It is much better to focus on the quality of content than to focus on the quantity of the content. Hire professional content creators to create high-quality content for your website. 
Remember to optimize your content for the search engines. Optimize your content with relevant keywords and update the content regularly to rank higher in the search results.  
You can use your website and blogs to get targeted traffic, so create content targeting your specific audience, including families, business guests, gen x, gen y, generation cohort, or generation cohort.
Provide useful information, focusing on trending topics and local topics. Make sure your content can help you achieve your business goals. 
Distribute Your Content Online 
Distribute your content on the internet to increase the impact of the content. You can even publish your content on multiple offline mediums, such as directories, hotel guides, and print advertising.
Share the promotions of your hotel on multiple social media channels. Ask your social media followers to like and share the content of your hotel with their followers and even their friends. 
It is beneficial to upload high-quality photos. According to studies, you can increase re-tweets by 35 percent and Facebook interaction by 87 percent by using photos. 
Depending on the source of your traffic, you need to consider the localization requirements of your site. For instance, you can allow your guests to book in multiple currencies and languages. 
It is easy to differentiate yourself from your competitors. How? You offer a great experience to potential guests on your social media platforms and website. Second, offer the best experience to increase direct bookings. 
Be Mobile
Ensure your guests can easily access your website on their devices, including laptops, tablets, Blackberry or Android smartphones, or iPhones. This increases your traffic and sales.
Around 40% of website visitors abandon the website if it takes over three seconds to load. Therefore, potential guests are not patient to wait for a website to load on their device. You can use responsive design to increase your mobile traffic and conversions. Make sure it is easy for your guests to book on their mobile devices. 
Customer Experience and Loyalty 
Create content to help your guests through the different stages. It can take lots of effort to convert some website visitors. Therefore, make sure your content can convince them to book your hotel. You can even create timely and personalized content to encourage guest loyalty. 
Use your social media platforms and your website to promote your leading events, seasonal promotions, and special offers. Use personalized offers and incentives to increase your bookings. It is even better to use email marketing to promote your offers. 
Use Content Marketing to Get More Guests 
There are several digital channels these days. Therefore, you need to create personalized and informative content to increase the chance of ranking in the search engines. Create useful, interactive, and useful content for your potential guests to build trust and brand. 
It is much better to create content that helps potential guests. You can use the content to build your brand and drive bookings.
You may also like: Why Video Is The Future Of Content Marketing
Image source: Dreamstime.com