Click here to get this post in PDF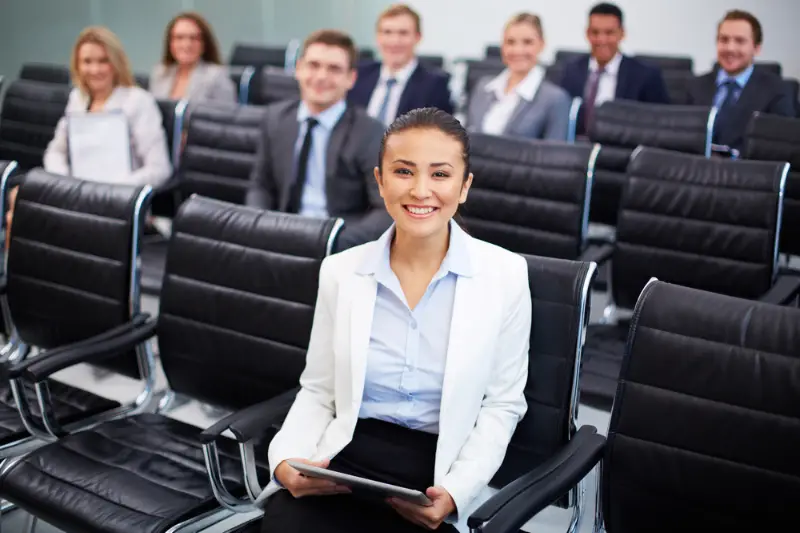 If you're stepping out of college with a business management degree in hand, the world is truly your oyster. It's a degree that offers you not just education but also versatility. 
It equips you with skills that are valued in just about any industry you can think of—be it tech firms, healthcare organizations, financial companies, or even non-profits. You've learned how to manage teams, create and stick to budgets, understand the intricacies of marketing, and sift through financial data to make informed decisions. 
This broad skill set allows you to explore numerous exciting career paths. In this article, we'll look into some promising careers that can offer not only a substantial paycheck but also a sense of accomplishment and opportunities for growth.
Human Resources Manager
In any organization, Human Resources Managers are pivotal in forming the work culture and overall performance. They oversee crucial responsibilities like recruiting skilled staff, resolving workplace disputes, and administering employee training. 
Their role also encompasses payroll management, adhering to employment laws, and supervising employee benefits such as healthcare and retirement packages. Your business management degree equips you well for this role. Effective communication skills are essential, as you'll interact with both team members and senior management. In addition, you'll craft strategic initiatives to enhance worker satisfaction and organizational culture.
 With a comprehensive grasp of business basics, this career path lets you put your managerial acumen to good use. If you are still contemplating your career path and asking yourself what can you do with a business management degree, human resources management stands out as a field where your educational background will be highly applicable. 
Financial Analyst
As a financial analyst, your main role is to evaluate the fiscal well-being of a company or a specific industry. You delve into monetary figures to provide valuable information that helps shape executive choices. You might examine market dynamics, economic variables, and corporate financial records to decide if a particular stock is underpriced or inflated. 
You could also assess the economic impact of possible corporate actions like mergers or new product launches. Your analyses assist businesses in making well-informed choices regarding investment and strategic planning. The conclusions you draw significantly affect the organization's future growth and revenue streams. 
Sales Manager
As a sales manager, you set sales targets and provide a roadmap to achieve them. Using your management skills, you'll monitor team performance by digging into sales data and drawing actionable insights. This data helps you understand what works and what doesn't, enabling you to fine-tune strategies on the go.
One of your most important responsibilities will be to inspire your team. Motivation is often the secret ingredient to high sales performance, and it's your job to keep spirits high and minds focused. You'll need to spot and nurture talent, deal with underperformance tactfully, and ensure everyone is rowing in the same direction.
Your success will not just be your own but will reflect in the collective achievement of your team. Therefore, strong leadership skills are not just beneficial but essential for this role.
Marketing Manager
As a Marketing Manager, your primary role is to drive the company's growth by planning and executing well-rounded marketing strategies. Some days, you may be developing a compelling advertising campaign to highlight a new product, while on other occasions, you may dig into consumer research to identify new trends and customer behaviors. 
This role gives you a unique opportunity to mix creative flair with solid business judgment, offering both challenges and avenues for personal growth. Working closely with other departments, such as sales and product development, you make sure your marketing efforts are in line with the broader goals of the company. 
Your decision-making skills become vital when you are responsible for allocating budgets, choosing the best platforms for promotions, and assessing the impact of your marketing campaigns.
Business Consultant
As a business consultant, you're essentially a problem-solver who aids companies in enhancing their efficiency and results. You work hand-in-hand with senior executives to pin down the hurdles they're encountering. 
Your job then becomes a deep dive into various aspects of the business—be it the work processes, staff performance, financial metrics, or organizational culture. The aim is to spot vulnerabilities and opportunities for improvement. Armed with these insights, you'll formulate a strategic plan to tackle the issues at hand, which could involve suggesting new tech solutions, changes in company structure, or skill-building sessions for the staff. 
Beyond planning, you'll also often take part in carrying out these changes to make sure they are effectively executed.
Operations Manager
As an Operations Manager, you're the person who keeps the engine of a company running efficiently. You juggle a variety of duties designed to facilitate seamless business operations day in and day out. A core responsibility involves supervising either the manufacturing process or the delivery of services, depending on the company's focus.
 You're tasked with making certain that production lines operate at maximum efficiency or that services meet or exceed customer standards. Managing the supply chain is another key aspect of your role, making sure products or materials transition effortlessly from the supplier end to the consumer. Your job also entails rigorous quality assurance measures. Given these multifaceted responsibilities, strong planning and sound decision-making abilities are essential. 
Information Systems Manager
As an Information Systems Manager, you'll play a key role in shaping the tech landscape of your organization. You're in charge of supervising the full range of computer systems within the company, aiming for seamless and safe operations. When it comes to choosing new technologies, you are the primary decision-maker, and you will lead the crew responsible for the rollout and ongoing care of these systems.
One of your critical responsibilities involves ensuring the network remains operational at all times. This requires you to liaise with different departments to confirm they have the technological support required. Cybersecurity is another major focus for you; to safeguard the company's digital assets, you'll establish firewalls, conduct frequent security scans, and institute safety guidelines. 
Entrepreneur
Choosing the entrepreneurial route can be both challenging and rewarding. With a degree in business management, you already have essential skills that can set you up for success. As an entrepreneur, you will oversee every aspect of your business, from developing your business plan to hiring your first employees. 
You'll have to budget wisely and monitor cash flows to ensure that the business stays profitable. You'll also be responsible for marketing—finding the right ways to promote your product or service to potential customers. Relationship building is crucial, as you'll need to form meaningful connections with suppliers, clients, and other stakeholders. 
Conclusion
Embarking on a career journey with a business management degree opens up a myriad of possibilities for you. Whether your interests lie in crunching numbers, managing teams, spearheading marketing campaigns, or even starting your own venture, this degree offers you the versatility to pursue a fulfilling and prosperous career.
You may also like: 7 Fast Facts About Business Management Consulting
Image source: Depositphotos.com