Click here to get this post in PDF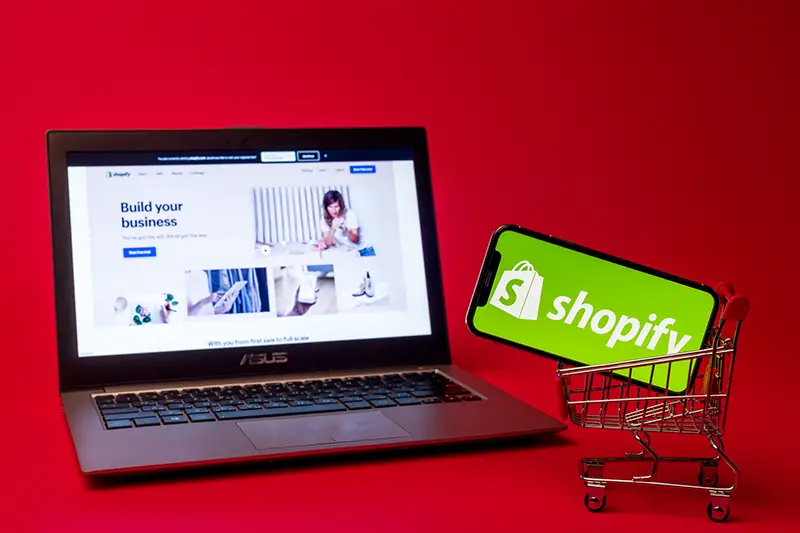 Shopify is the ultimate resource for anyone to start an eCommerce business.
Yes, you can go the do-it-yourself route with Shopify's template model (which is quite simple to set up).
An easy set-up is also a basic one.
Buyers are not attracted to basic online eCommerce stores. 
Online stores that are not showcased in their best professional light simply do not make as much money as ones that are done right.
1. Let's Break Down Some Numbers.
There are over one million Shopify users that trust the platform to get them the exposure they need to make money.
Speaking of making money, Shopify users have over 100 billion dollars in combined sales done on the platform.
Shopify has changed the eCommerce game and has become a huge growing force behind businesses.
Shopify is a Saas platform with its very own hosting and security,
It is user-friendly and customizable, but things can be taken up a notch (wink, wink) when you have a Shopify Development Partner. 
2. How Can A Shopify Partner Boost My Online Business?
A Shopify Development Partner is a Shopify user's best asset and ace in their pocket. 
Shopify Development Company offers a wide variety of specialized services. 
These partners make your Shopify store get the reach and business it needs to be to turn a profit and be successful.  
Your Shopify Development Partner will amplify your online presence with the following services listed below:
Build and/or Migrate Stores If Needed
Your Shopify Development Partner can set up your online store from scratch literally building it to your specifications, wants, and needs to completely take over that creative process for you with ease. They can also migrate and re-platform your Shopify store to be showcased in its best light using the Shopify store's design, development, and marketing skills which all help to generate more revenue.
Your Shopify Development Partner Can Create Apps
Most merchants rely on apps to run their online businesses. Your Shopify Development Partner can create apps as well as customized templates based on what you and your online store need.
Your Shopify Partner Can Show You How To Grow 
If you're an eCommerce newbie it is always a smart idea to have someone in your corner before an online store opens. A Shopify Development Partner is an expert in the world of eCommerce and they can build and maintain a lucrative online store. 
3. What You Need To Know & Look For In A Shopify Partner. 
Online shopping has never been more prevalent! If you ever wanted to get into eCommerce and sell what you've got now is the time. 
But there is a lot of heavy-lifting that goes into creating a successful online store. 
You need branding, a marketing strategy (market research, advertising, etc) before you even start to think about showing off what you're selling.
It really doesn't matter if you're new to eCommerce or not, a Shopify Development Partner can change the online business game for you and grow your business to higher levels of success.
Below are important tips for you to follow when looking to hire Shopify Development Partner:
Be Sure Of What You Want & Need
It is important to know what your basic requirements are. Those are your wants and needs that you need to be able to explain to your Shopify Development Partner. You should be able to communicate openly to your Shopify Development Partner about your expectations, this way they have a reference to what you need, and they figure out all the details. There is also the option if you really are not what you want and need, or even who your competition is, your Shopify Development Partner can help you figure that out with market research to guide you in the best path possible for your online store success.
Plan and Discuss Your Goals & Your Budget.
When you decide to hire any type of external help for your business it is going to cost you money on some level. The more you need to be done in terms of support will add up quickly. You need to understand that when you hire a Shopify Development Partner it is an investment into the development and growth of your online business. Even if you're not new to the eCommerce world you may need support from a Shopify Development Partner to gain further success than you have done on your own. So let your Shopify Development Partner know your goals and your budget so you can work within your financial means to help get you the best results possible out of your online store. Working together towards the same goal will help the Shopify Development Partner understand what you need as well as you have a clearer idea of what they can do for you within your budget.
Check Out The Shopify Partner Agency Portfolio & Reviews
In life, it doesn't really matter what job needs to be done when making a hire (electrician, landscaper, digital marketing agency, whatever). In this case a Shopify Development Partner, you need to do your research into the potential hire.  You need to know if the Shopify Development Partner has had successful partnerships and if these businesses grew their brand and business because of the Shopify Development Partner. Look at case studies, client reviews, and/or testimonials and how many successes the Shopify Partner Agency has under its belt. This will help you to determine who is the best candidate to help you on your eCommerce journey.
Scope Out The Services Offered To You
There are so many different Shopify services available from builds, customization to integrations, marketing, post-launch support, and more. You need a Shopify Partner who can offer you clear solutions to make your online store a winner. These Shopify experts know what needs to be done and how to get it done. So, just make sure the Shopify Partner Agency you are looking into offers you a wide variety of services.
These are services that a Shopify Partner should be able to offer you these Shopify services:
Products
Inventory management
Product variations
Import/Export
Product organization
Unlimited products
Multiple images
SEO & Marketing 
Search engine optimized
Generated sitemap.xml
Product reviews
Sell on Social Media platforms
Discounts and Gift cards
Social media integration
Web Hosting
Unlimited bandwidth
SSL certificate
Email forwarding
Upgrades
24/7 monitoring
Analytics
Dashboard
Google analytics
Product reports
Traffic/referral reports
Mobile App
Order fulfillment
Orders synced with Shopify
Mobile dashboard
Mobile inventory
Email or call customers
Support Available To You 
Dedicated support team on your side
You Get Post-Development Support
When your online store has been developed successfully, your Shopify Partner remains in your eCommerce corner. Your Shopify Development Partner should have a post-development service available to you so that if you have any issues, questions, or concerns with regard to your online store you have a support team available to you. Your Shopify Development Partner will always be there to continuously work to ensure you and your online store reach newer levels of success.
In Conclusion.
There you have it, everything you need to know about hiring a Shopify Development Partner! I hope this article will serve you well on your eCommerce path and that you find a truly successful Shopify Development Partnership to get your online store seen by all your buyers.
You may also like: Best Ecommerce Website Builders for Online Stores
Image source: Dreamstime.com