Click here to get this post in PDF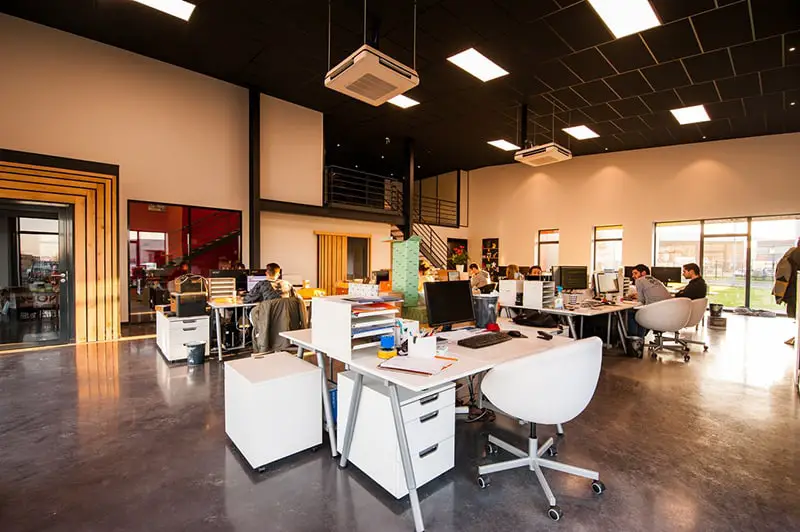 One of the most significant impacts COVID-19 has had is on the way we work. Now, more than ever, the workspace of the future has to support working remotely, social distancing and clean and efficient workspaces. This is the new normal according to Contact One; Specialist office fit-out company.
The World Health Organisation recommends providing sufficient space, at least 10 square meters, for every worker. This will require the modification of workstations and the use of common areas.
So, what design trends are set to make their mark?
Larger Individual Workstations 
Over the year's office desks have shrunk due to office density. With the advent of the pandemic, desk size could increase to adhere to government guidelines. Predictions are that the open-plan layout favoured by many businesses will evolve to accommodate workstations that are glassed in with safety features for employees.
Furniture and Finishes
Set to shift sharply is the focus on furniture and finishes that makes office space more efficient. Furniture will need to be adaptable and lightweight that is easily moveable. Materials used and couches need to be easy to sanitise and antimicrobial. 
Finishes such as floors and curtains or blinds all need to be addressed in the office design for ease of cleaning daily. Being mooted, are self-cleaning surfaces for desks and floors with the use of antimicrobial technology to protect against microbes permanently.
Touchless Technology
Staff protection is key, and they will want to eliminate touching as many surfaces as possible. By adding touch-less automated technology, employees will feel more comfortable knowing they do not have to touch potentially contaminated surfaces.
Motion lights and motion sensors for turning on taps and opening doors are some of the more common features. At the same time, employees' smartphones could control electronic systems such as lifts.
Touchdown Rooms
The trend of employees working remotely from home looks set to stay for the foreseeable future. For the past couple of months, managers and employees have shown they can work and collaborate effectively from home.
The creation of touchdown rooms to accommodate one to two people at a time, while still maintaining social distancing protocols is one of the most significant shifts expected in office design.
These rooms will not belong to one person but allow staff members working remotely to come into the office on the days they please and have a place to work.
Scrub Room
With the myriad of protocol checks required by the government, set to change are the entry spaces to offices. Businesses will need to incorporate into the office design a scrub room near the entrance of the office to accept driver deliveries, provide space for visitors to sanitise their hands, conduct temperature checks, and sign in.
Step into The Future of Office Design
The way we work is changing. Modifying your existing space and offering your employees a safer space from which to work is vital. Look to a specialist office fit-out company who will take onboard your organisations' specific requirements and goals and transform them into reality, and help keep your business abreast of challenges and changes.
Also read: Office Design Trends That Suit the Millennial Lifestyle
Image Source: Pexels.com