Click here to get this post in PDF
A lot happens when you get into a car accident. There's adrenaline, confusion, and pain. Often times you'll forget what to do in this situation. No amount of preparation, training and reading can prepare you for what you will experience. With this in mind, here are some simple steps to do after a car accident. And because it may be hard to remember, feel free to download and put this infographic in your car so you can remember what to do after a car accident.
Check for Injuries
Before exchanging insurance cards or calling the police, make sure that no one is in critical condition. Checking for car accident injuries is important. If there are fractures or blood anywhere, see if you can't help that person. If anyone is in poor condition, be sure to get them to a car accident doctor immediately.
Call 911 & Exchange Information
Alert authorities by calling 911 immediately. Watch your language thought by avoiding anything that could hurt you in a lawsuit. Avoid saying phrases that make it seem like you're ok and haven't sustained injuries. This is to protect yourself. Get to a safe area and allow the cops to record the situation. Here is where you will talk with the other driver and exchange information. Be very careful in what you reveal to the other driver, whether you or they were at fault. Check the infographic for the specific things you should exchange with the other driver.
Document Damage and Save Information
Proper documentation is really important. It can make or break your case, so make sure you take pictures and record anything you need to. If you visit a chiropractor or other doctor, be sure to record those expenses. You may need to share these records for legal purposes.
Schedule a Call with Your Insurance
A couple of days after the accident you'll need to get things squared away with the insurance company. Be sure to share everything that happened at the crash and what you've done since then. They will need information on the other driver as well. They will take care of car repairs and anything else needed to cover losses from the accident.
See A Doctor
No matter what, you should schedule a consultation with a doctor. They'll be able to help see if there were any significant injuries. Often times a chiropractor will align you over the course of a couple of weeks in case you're dealing with whiplash or back pain.
Take Care of Legal and Financial Matters
The last thing you'll need to be aware of is getting legal help if needed. Depending on the case, you may be entitled to compensation. At this point, you will also need to pay a deductible for any outstanding bills that your insurance didn't cover. Make sure to finish and complete any car repairs so that you can get your vehicle back on the road.
AICA Orthopedics Infographic
Below is an infographic you can print and place in your car the next time you're in an accident. Our team at AICA Orthopedics wishes you safety, but we also know that accidents happen!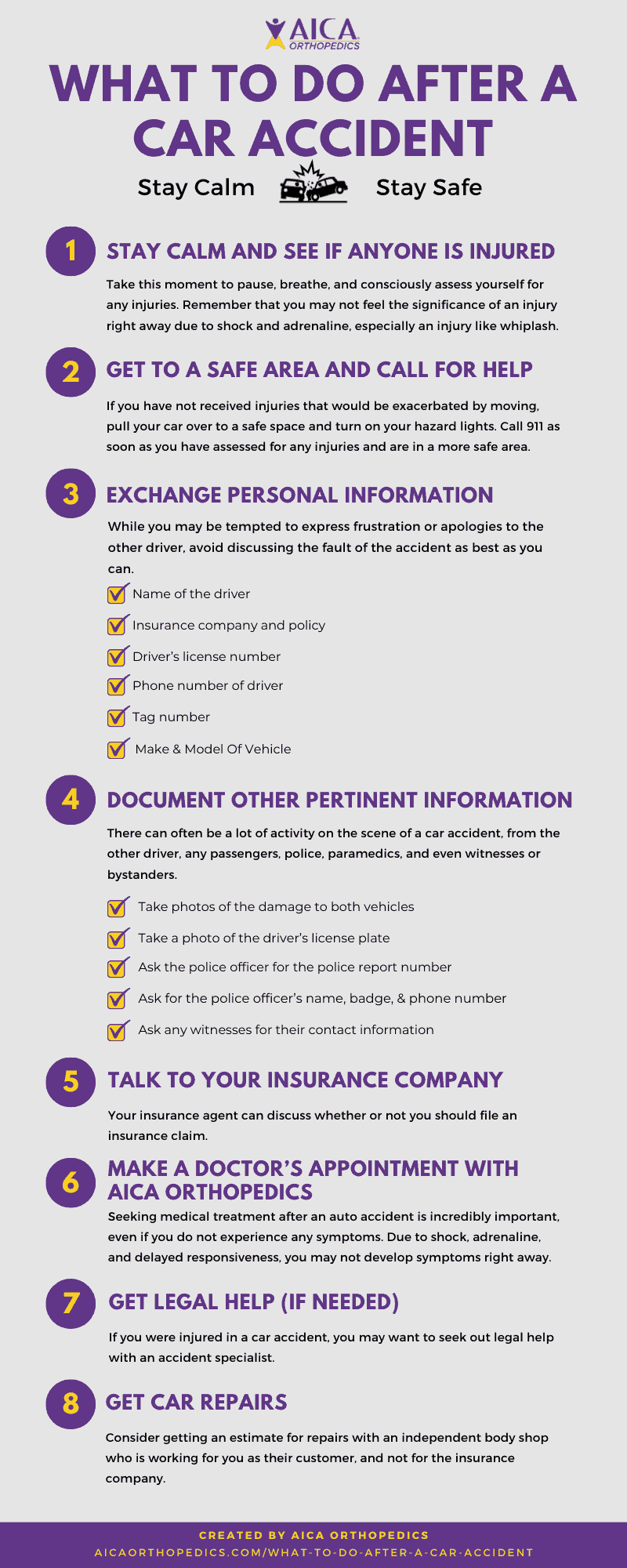 Infographic by aica.com
You may also like: What to do after a traffic collision