Click here to get this post in PDF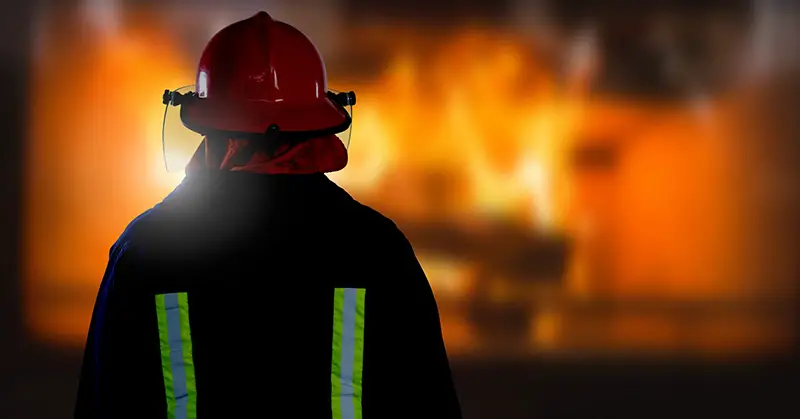 Fire safety is a major concern for any business owner, and having a good understanding of fire safety and procedures is crucial to ensure the safety and well-being of your staff and customers.
To help with this, we have put together some of the key elements you need to consider when evaluating fire safety and the main factors that office managers and business owners should put in place to ensure workers' long-term safety and security.
Fire Safety in the Workplace: The Basics
The first step in ensuring that you are safe from fire is understanding what it is and how it becomes an issue. A fire can be defined as an uncontrolled combustion process that produces heat and light. It is caused by the ignition of flammable materials such as paper, wood or cloth. Fires can occur anywhere, but they usually start in enclosed spaces where there is fuel (such as paper) and oxygen (from the air).
There are several possible causes for fires, and some of the most common include:
According to the stats, faulty equipment and appliances are the leading cause of workplace accidents and fires. This includes items like fridges, microwaves, and ovens, which all require regular maintenance and attention to ensure their safety.
If you store combustible material in poorly ventilated areas, this could lead to a fire. For example, if you keep paper on top of a desk, then it will catch alight easily. If you lack adequate ventilation, this could also lead to smoke inhalation.
Poorly maintained electrical equipment can pose a severe risk to your employees and clients. Therefore, electrical wiring needs to be checked regularly, and any damaged wires must be repaired immediately.
Employees who lack training may not know how to handle dangerous situations, increasing the fire risk.
Some practices can increase the risk of a fire starting, including smoking inside offices, using candles or incense sticks, and leaving lighters unattended.
Fire Safety Factors Offices Must Consider
Once you have identified potential risks, you need to take action to reduce them. There are several things you can do to make sure that your office is safe from fire, and these include:
1. Regular Inspections
It is important to check your premises regularly for signs of damage, leaks, and other issues that could lead to a fire breaking out. Inspections should include key areas such as the roof, walls, windows, doors, and floors.
During the inspection, look at particular high-risk areas, such as electrical outlets, heating systems, and ventilation ducts. Check that all electrical items are up-to-date and that they meet regulations.
Ensure that all lighting is working correctly and that there are no exposed bulbs or cables. You should also take the time to ensure that there are no loose papers around – these can be a real fire hazard – and that adequate numbers of extinguishers are available, with training available for the appropriate staff members.
2. A Clear Fire Plan
You should always have a clear plan for dealing with a fire emergency and ensure that this is well documented and rehearsed so that everyone knows what to do when one occurs. Your plan should cover everything from evacuation procedures to firefighting techniques.
The plan should include details about where the nearest exits are located and whether sprinklers are installed in the building. Make sure that all staff members know where the fire alarm system is located and that they understand how to use it. Staff should be trained to respond quickly and calmly and to follow instructions given by the fire brigade, and there should be an appointed fire marshal to oversee the situation.
3. Set Up The Office For Fire Prevention
There are many ways to prevent fires from starting, but some are more effective than others, and you should ensure that you plan every aspect of your office design and layout to help prevent fires. 
This includes ensuring that there are no flammable materials stored near heat sources and no open flames or hot surfaces nearby.
If you have a computer room, then you should install a fire suppression system to protect against overheating. You should also consider installing smoke detectors throughout the building and making sure that they are connected to a central monitoring station.
There are many different types of fire safety equipment on the market today, and you will find that most offer similar features. However, not all products are suitable for all environments, so you should carefully choose the right type for your needs.
Final Thoughts
Fire prevention is essential to any business, and it is vital that you take steps to ensure that your office is protected from fire. By following the advice above and undertaking regular fire system maintenance, you will be able to keep your employees and customers safe and reduce the physical, financial and emotional costs associated with a fire.
You may also like: Understanding Wildfire Risks for Your Business
Image source: Depositphotos.com