Click here to get this post in PDF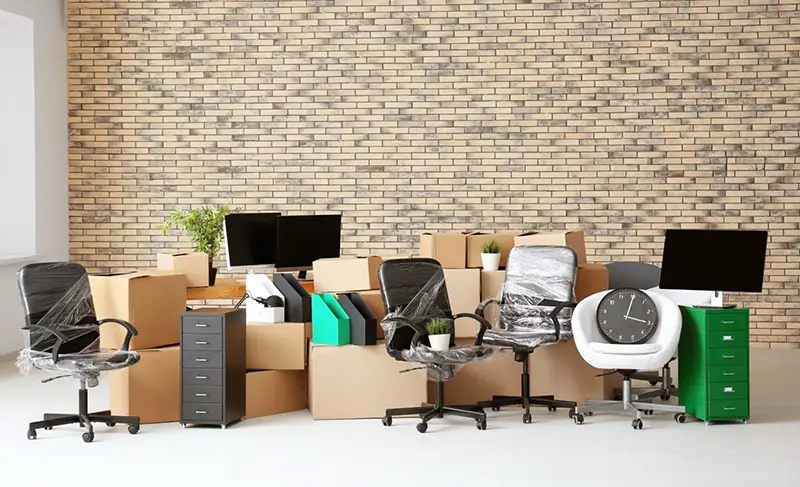 There comes a time in every small business's life where you outgrow your office.
Most of the time, having to go through office relocation is a good thing. It probably means that your business has grown to the point of needing more space to accommodate more employees, inventory, production, etc. However, that doesn't make relocating any less stressful.
In this post, we're going to give you 5 tips to streamline your big move. It's easy to get overwhelmed by office relocation, but the more prepared you are ahead of time, the more smoothly and quickly it'll go. Keep reading to learn what you need to do.
1. Don't Try to Do It Yourself
There are numerous reasons why a business might try to relocate by themselves, the main one being cost-cutting. Although this might seem enticing on the surface, you have to realize what asking your employees to help you relocate and move will do for morale and productivity.
By hiring a moving company, you can effectively run your business as normal. Working alongside them, you'll be able to figure out the most efficient way to pack and move your things so that it gets done quickly. There are numerous other reasons why hiring movers can help you, so click here to find out.
2. Taking Stock Before You Pack
The key to a smooth move is preparation and the first bit of preparation you can do before you move is to take stock of what you've got. Many small businesses are inundated with supplies and paperwork that don't need to be there, causing clutter and hurting productivity, among other things.
Figure out what you can purge so that you aren't taking this clutter to the next office. It's less for you to move and you'll be able to get a fresh start in a new space.
3. Prep the New Office
You should always survey the new office space before moving anything. Doing so will allow you to map out where you want everything to go when the movers bring it in, which prevents you from having to move it again later.
In reality, you should have a full floorplan for the new office, not just to streamline the move, but to be able to get right to work when the move is complete. 
4. Labeling Is Everything
The better you label your boxes, the easier unpacking will be. If you don't instruct your employees or movers to label boxes the right way, then you're going to be spending weeks, if not months, looking for things in the wrong place. 
One great tip is to color-code each room in the new office and label each item with the corresponding color. This way, everything generally ends up in the correct place and you can quickly get unpacked.
5. Keeping People Updated
Lastly, get all of your websites, socials, and listings changed to reflect your change in location. The last thing you want is to find out that customers have been looking for you in the wrong place!
You can even send out an email blast to clients and customers to inform them of an upcoming move so that they know in advance.
Office Relocation Made Easy
Don't let your office relocation intimidate you. As long as you follow these tips and stay prepared throughout the process, it can go by in a flash and you'll be enjoying your new digs before you know. If you are interested to know more about office removals, read more here.
Did you find this post helpful? Come back again for more great business tips.
You may also like: Office Relocation: Guide to Moving to a Bigger Office
Image source: Depositphotos.com