Click here to get this post in PDF
Are you considering buying a rental property to supplement your income?
Owning a rental house can be an excellent investment. After all, the tenant's payment typically covers your mortgage and some, so you will get to enjoy the monthly income and build equity over time.
However, there are many nuances to owning rental property, and becoming a first-time landlord is no easy task.
No one should decide that they want to own a rental house and go out and purchase the first home they find. There is quite a bit of research that goes into finding a property that will meet your financial goals.
If you're considering buying a rental property but are unsure of what you're getting into, this article is for you!
We've covered the financial considerations, where to look for a rental, and how to manage it.
Keep reading to learn the fundamentals of buying a rental property!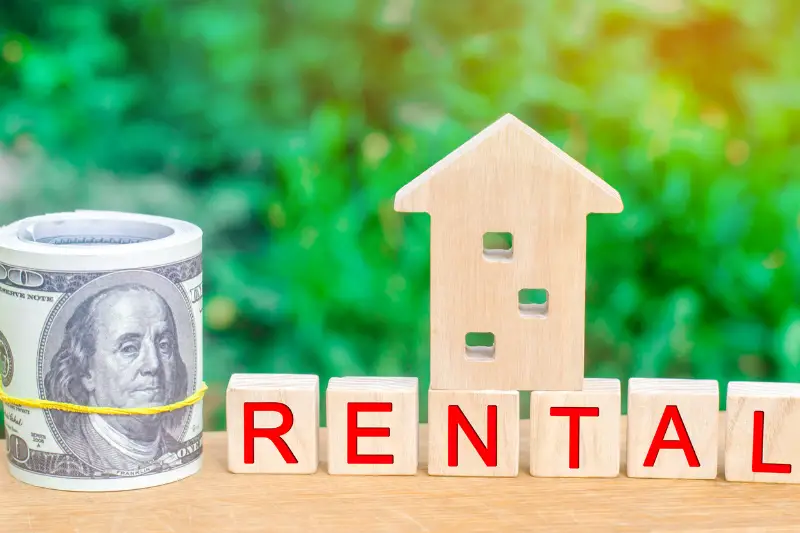 Where to Find Rental Properties
Finding rental houses that make sense financially is one of the most challenging parts of the process. Unfortunately, buying an investment property is unlike going to the grocery store. If you buy the first one you see, you will likely be disappointed with the returns you receive.
So where should you be looking for rentals? Here are some guidelines to help you get started.
Areas at Median Price Point and Below
In general, the higher the value of a home, the higher the rent price. However, these values don't increase at the same rate – rent prices typically increase slower than home prices. That's why most investors usually look to buy rentals that are valued at or below the median sales price of their area.
Think about it this way. If the ratio between rent price and home value increases with lower-priced homes, it would make sense to buy rentals on the lower end of the spectrum. This would maximize the rent you receive per dollar you spend to buy the house.
To find these areas, you must research your market and find neighborhoods you want to invest in. Find a local real estate agent who can provide market data and guide you in your decisions.
How to Find Discounted Properties
Ultimately, the cheaper you can buy a rental house, the better your returns will be.
But how do you find discounted properties?
There are countless strategies that investors use to find them, and many have spent years honing their skills. Unless you want to buy several houses per year, it is likely not worth it for you to start marketing for deals yourself.
Your best bet for finding a rental house that meets your criteria is by connecting with a company that buys houses in your area. These companies specialize in buying homes in tough situations and will likely be able to pass some deals your way if they know what you're looking for.
Financial Considerations for an Investment Property
Even when looking in the right areas, you'll need to evaluate each deal to see if it fits your buying criteria.
One decision you need to make is if you want to buy a turn-key property or a fixer-upper. While a rent-ready house is much more convenient, you can generally receive much higher returns on a home that needs repairs. This is because you can typically buy these at greater discounts and utilize strategies such as the BRRRR method.
You'll ultimately need to assess your skills, resources, and goals to determine what type of property will work for you. While a distressed house might offer higher returns, it doesn't matter if you don't have the means to renovate it.
Evaluating the Cash-on-Cash Return of a Rental
One of the key metrics that seasoned landlords track is cash-on-cash return (COCR). This value gives investors a sense of how their investments are performing by telling them what return they are getting from the money they have invested.
Cash-on-cash return is calculated by dividing a property's annual net operating income by the amount of money you have invested.
The net operating income is not simply the rent price of the house. Many expenses must be accounted for, such as mortgage payments, taxes, insurance, property management fees, vacancies, and maintenance. Rookie landlords often forget to account for the last few when evaluating deals and end up making much less rental income than they expected.
The amount of money you have invested in a deal will vary greatly depending on the purchase price and your financing strategy. Some investors prefer to make a cash offer on a house, while others work with a lender. Even when getting a loan to purchase a rental house, most banks will require a 20% down payment.
COCR is helpful for investors because it lets you know if a property is worth the investment. Not every rental house will provide the return you are looking for. Also, different investors have COCR thresholds. A good rule of thumb is to set a minimum COCR when buying your first investment property and try to get higher than that on each subsequent house. This will gradually increase the profitability of your portfolio.
Managing a Rental Property
Once you buy a rental property, you must manage it carefully to ensure it remains profitable. The most vital components of rental property management are screening tenants, maintaining tenant relations, and ensuring the house remains in good condition.
Should You Hire a Property Manager?
Ultimately, this depends on your goals and how involved you want to be with your rental property. A property manager will perform all of the tasks mentioned above, allowing you to be much more hands-off. Also, they have significant experience with rentals and tenants, so they are well-equipped to avoid the pitfalls that first-time landlords make.
Most property managers charge 10% of the monthly rent price for their services. You will need to consider this when evaluating deals if you plan to use one.
If you only plan to buy one rental house, you can likely manage it yourself and save the money. Just know that it can be stressful to find the right tenants, collect payments, and respond to maintenance issues. Most investors who own multiple properties use a property manager to manage their portfolios.
How to Find the Right Tenants
If you decide to manage your rental property yourself, everything will be on you, including screening tenants. Finding the right tenants can make or break your experience as a landlord.
When a prospective renter is interested in your property, the first step is to have them fill out an online rental application. You'll want to look at their job history, income, background check, and credit report. Significant red flags here will likely indicate they are not a good fit.
Aside from a rental application, one of the best ways to determine if a tenant will be a good fit for you is to contact their former landlords. Don't make the mistake of calling their current landlord because they could lie to you to get rid of them if they've been troublesome. However, a former landlord is more likely, to be honest with you.
Responding to Maintenance Requests
If you own rental houses long enough, dealing with maintenance issues is not a matter of if, but when. It will make your life much easier if you are prepared for them ahead of time. Some problems can be emergencies and calling the wrong contractor can cost you an arm and a leg. Here are some contractors you should develop a good relationship with:
Roofer
Plumber
Electrician
Handyman
HVAC Contractor
If you develop relationships with reputable contractors in each of these disciplines, you will be prepared for 90% of the issues your tenants will call you about.
Get Out and Find a Rental Property to Buy!
Owning rental houses can be a very profitable investment. However, you must know what you're doing before getting into it. If you follow the advice given here, you'll be well on your way to finding an investment opportunity with great returns.
The key in real estate investing is taking action. Many people think about buying a rental house for years, but they never take action and end up sitting on the sidelines.
If you are serious about owning rental properties, then take the advice here, keep learning more, and start talking with other real estate professionals in your area. You'll be making some great cash flow in no time!
You may also like: Top Advantages of Hiring a Property Management Firm