Click here to get this post in PDF
Most businesses are always juggling multiple tasks, projects, plans, and resources. A lot of time is wasted on non-value adding tasks and doing more work than is important. It's also tough to keep a track of which team member is working on what. Collaboration among teams is not efficient, which further leads to deadlines being missed and unhappy clients. Imagine if there was a solution available that could help in keeping everything organized. Something that could enable planning and managing projects, in such a way that is accurate and profitable. Utilizing good project management software can bring in a lot of benefits. It takes care of everything right from project planning, resource scheduling, time management, and change management. 
What is Project Management Software?
A tool or construction scheduling software used by various industries for planning their projects, handling resource allocation, management, and tracking utilization and productivity. Project management software is a very useful tool that can help organizations in more competitive and differentiate you from the others in your industry. It helps project managers and their teams to control the budget, handle quality management throughout a project. Project management software also serves as a key platform for facilitating collaboration among the team members and project stakeholders to ensure seamless execution.
Work Smarter with eResource Scheduler (eRS)
If you opt for eRS Cloud, you would get a best-in-class system that allows you to deliver flawless deliveries — on-time and within the budget. An intuitive and feature-rich interface, the competitive price or eRS makes it easy to get and use for both small and big businesses. It is one of the leading workflow scheduling, capacity planning, and project management software.
Why only eRS – The USPs of the Tool 
 eRS is used by many top global organizations, and even start-up's, and mid-sized businesses around the world. This project management software acts as your guides at each step when you do resource planning, utilization, project planning or teamwork scheduling. With this tool, it becomes easy for you to provide all your stakeholders like project managers, team leads, clients and other members with all the visibility they need. eResource Scheduler also helps in assigning the most suitable people to your projects, manage schedules perfectly, and deliver the work flawlessly, and within the budget and timelines. If you need to find how your resources are being utilized, eRS will help you find the actual time spent by your team members on different projects. The detailed reports it offers can give you insights and in-depth information on any gaps, future forecasting, and also related financials. 
Key features of eResource Scheduler:
Easy to use 
High level of configurability
Multiple calendars and feature of daily monitoring
Graphical and comprehensive reports
Drag and drop interface
Automated alerts and email notifications 
Key differentiators and advantages of eResource Scheduler
The unique feature of eRS is that it matches projects with best-fitting resources. This helps you to align the most suitable and best team members to projects as per their skill-set, experience, and availability. What's more? You can create comprehensive reports by opting for appropriate filters and gain an insight into past process/project data. You can also pull out forecasts on your team's utilization, track the project budget, and plan efficiently for projects in the pipeline.  
Some other key advantages of eRS are:
Scalable
Offers efficient scheduling
Documents time and effort spent  
Simplifies the process of resource allocation
Industry expertise
Offers detailed resource and project or job profiling
Drag and drop scheduling, and recurrence, or split booking options
Detailed reporting of data that provides in-depth view or analysis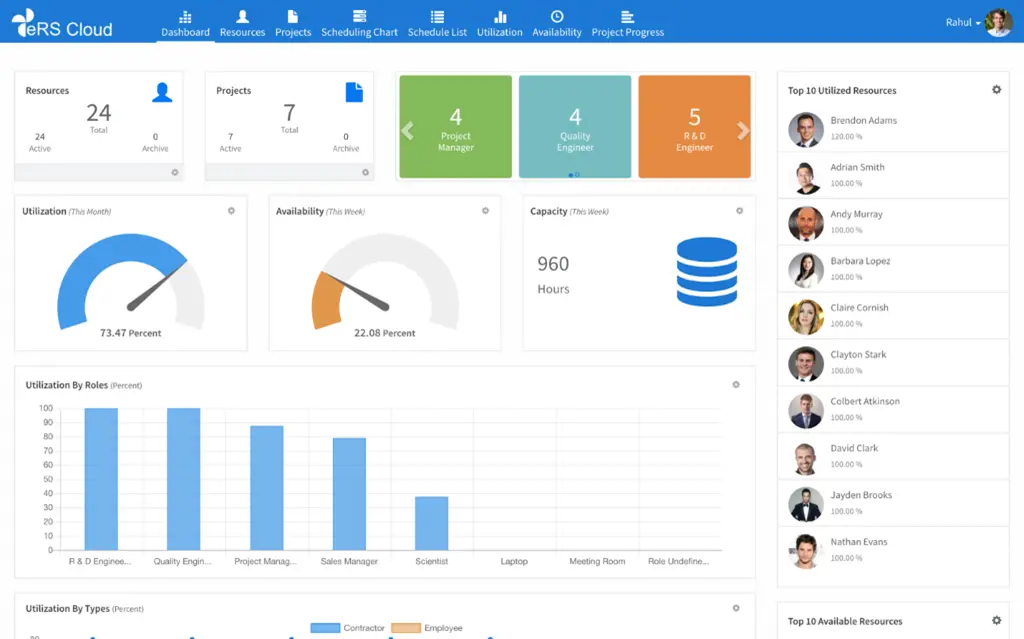 Highly Configurable 
eRS stand out from its competitors because of its highly-configurable filters, fields, views, and forms. This feature makes it the first choice of various organizations across industries. This wing-to-wing solution can assist you in managing your available resources, doing team allocation, scheduling tasks and work, planning projects, and analyzing your profitability. It uses different custom-defined fields and forms that could easily be designed as per individual requirements. You can simply pick different forms for various projects and resources. It's also possible to manage multiple working calendars and different holidays while ensuring accurate resource capacity in all scenarios.  
 Visual Graphical Snapshots and Comprehensive Reports 
 The life of project managers would be simplified with effective utilization and various reports and visual snapshots. Availability of key data that helps you in making informed decisions and aids in maximizing resource utilization and profits. eRS helps in pulling out real-time utilization for each team member and does automated skill matching. This state-of-the-art tool enables you to plan your resource requirement, project pipeline, manage capacity, and even assign multiple tasks to one resource. What's more? You can configure the reporting views in just a few simple steps to better understand the data. Apply color coding to find over- and under-utilized resources using the configurable filters. The configurable graphs offer a visual representation of complex data that is easy to understand and helps in faster decision making. 
Drag n Drop Planning and Through Dashboards 
eRS helps you make billability charts and Gantt charts that enable you to drill-down the tasks, multiple projects, and your resource availability to the minutest details. You can do resource planning for several projects in a breeze and in much lesser time and effort. Make dashboards of a completely new level using the informative widgets of eRS. It's also possible to configure the dashboard widgets in multiple units and date ranges and give a summary view of the project, total resource count, utilization, overall capacity, and availability along with other information needed for scheduling resources. 
Confidentiality and Compliance of User Access Rights
eRS offers flexibility in user access rights depending on different screens, groupings and also custom-defined fields. This helps organizations to define which level of access they wish to offer to each user as per their specific requirements. Advance access rules enable organizations to separate data as per their structure while ensuring complete data confidentiality and conforming to requirements. 
Free Trial along with Personalized Support 
Choose the best-suited plan of this project management software for your business as per your resources and requirements. Get a free trial topped with personalized support to help you configure the tool as per your business requirements. That's not all! Get other features such as unlimited users, unlimited projects and bookings, user access rights, resource request, gap reporting, and timesheet module. You also get the utilization and availability reporting, project cost and revenue module, financial reporting, and offer of updates and fixes along with it. 
eRS is Your Best Bet When it Comes to Project Management Software! 
Yes, eRS would tick off all the boxes when it comes to its amazing features and reasonable cost. This resource and project management software is also quite easy to use, simple for anyone to learn and adapt to. Enbraun offers its personalized Account Manager Support to help you to create and configure various fields and forms and download reports which are especially suited for your business. Worrying about getting attuned to this tool? The company also provides online training, webinars, and detailed documentation to assist you to mitigate any risks. So, are you still thinking? Get in touch with Enbraun to get a free trial for the top-rated and award-winning tool called eResource Scheduler.
Company Bio
ENBRAUN is a software product and service company. eResource Scheduler is its flagship software product