Click here to get this post in PDF
Your blogging and email marketing efforts are like a needle and thread. When you need to fix your favorite jacket, you need them both.
Your blog is an excellent place for getting attention online, building authority, and making search engines love your content. But if you want to multiply your power and connect with your audience on a more intimate level, you need to involve email communication. Before starting any Email Campaign, make sure you clean your mailing list with email checker tools.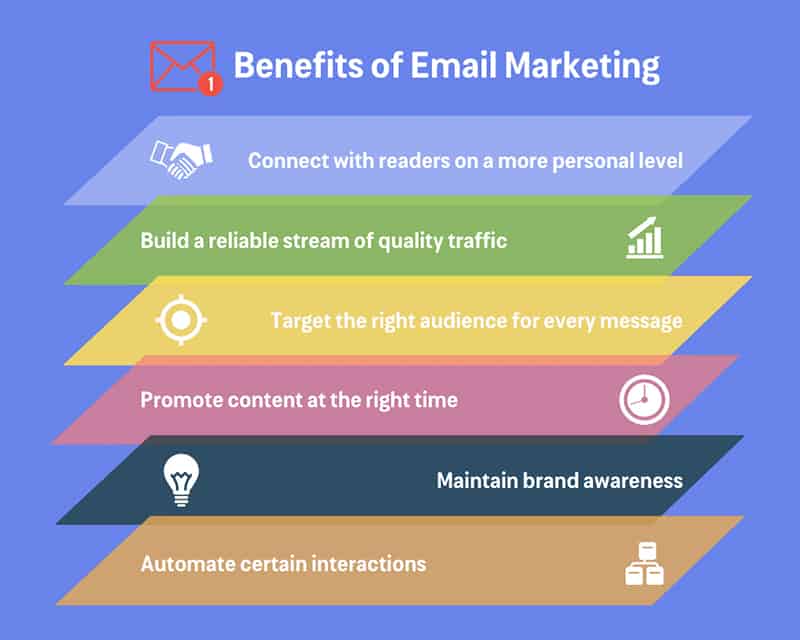 Beyond that, email can become a useful tool for making relevant offers to your supporters. For example, if you are selling some products (e.g., eBooks, online courses, subscription boxes, and so on) or services (e.g., consultations, private coaching, etc.), it would be a wise idea to promote these things via email too.
In this article, you will learn how to use email marketing to increase your blog readership and get the most out of it. Let's go straight to the tips.
Tip #1: Create email newsletters and ask followers to subscribe
Someone comes to your blog and finds your content interesting. What is next? Undoubtedly, you don't want to lose a visitor who shows interest in your stuff. So, you need to find a way of staying in touch with them. Maybe, you can ask their email address in exchange for your valuable content? Yes, you can. And your blog is the perfect place to collect the email addresses. Place a sign-up form in the most prominent places of your blog (blog sidebar, underneath each blog article, about page, a pop-up) and start building your email list.
Original content, such as an email newsletter, is an excellent way to keep your audience informed on what has happened on the blog and what is to come. On top of that, the email newsletter will help you deliver your content to the maximum amount of readers possible. Keep in mind that your email content should lead back to your blog in some way if you want to get more traffic.
Tip #2: Notify subscribers about giveaways
Email marketing is a great tool that can help you boost your giveaway. You can announce the giveaway, send welcome messages, reminders, and winners' announcements – all by email.
Thought about adding email contacts to your email newsletter campaign list? There are tools online such as an email scraper that can help you find the right emails for you to send your marketing emails to. Sometimes going for the extra mile will save you more further efforts in the future or potentially make you more business.
Tip #3: Use an email signature with links to your profiles
As a blogger, you will probably be emailing your followers, sponsors, or other bloggers. Obviously, you would want to look professional in their eyes. That's why we recommend you create an email signature that includes your name, photo, area of expertise (for example, "blogging about women in business," or "healthy food and lifestyle blogger"), website, social media buttons, etc. It's free!
Email signatures can also give your emails a more human look.
Have a look at our blogger email signature examples below.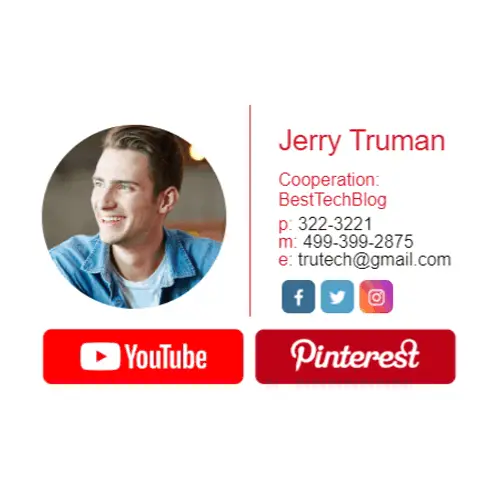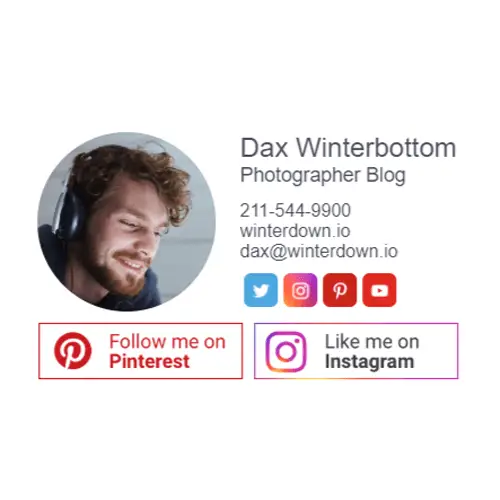 Tip #4: Promote your latest content with banners
Banners are an efficient method of spreading your blogging material to people and getting bigger engagement. Simply add banner to an email signature and let recipients access your recent blog content easier.
Sure, you can promote your blog posts through the plain text links, but the banners look more attractive and make people click on your email five times more frequently than on plain-text messages.
See how successful banner ads for bloggers look like.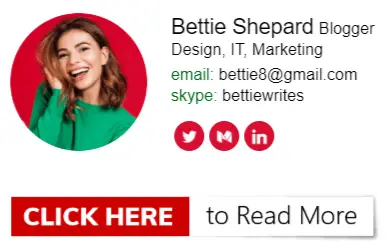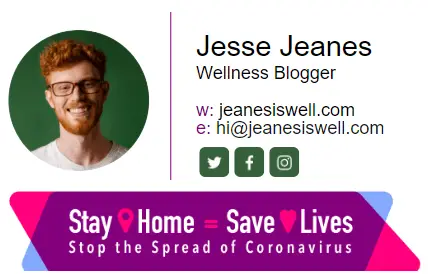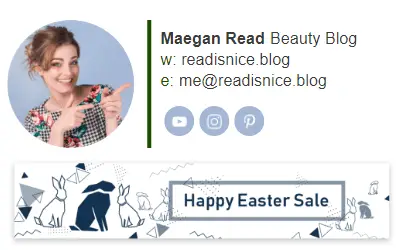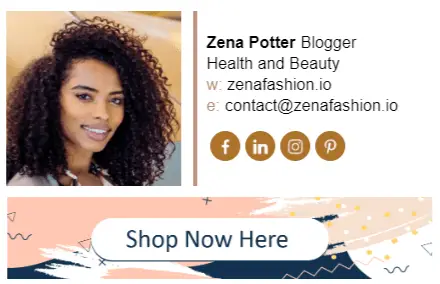 Tip #5 Make sure your email is accessible from social profiles
As a blogger who wants to grow the audience, you need to take every opportunity in social networks to encourage your followers to read and support your blog. By letting your social media fans to send emails to you, you will grow your email list faster.
Conclusion
You are probably spending many hours creating and publishing great blog content that deserves to be seen by more people. Blogging and email marketing can work together really well and form a successful strategy. If executed properly, you can get larger amounts of traffic, sell your products and services more efficiently, and build stronger relationships with your readers.
Now it's up to you to follow our simple tips and boost your blog traffic. Good luck!
You may also like: 5 Steps to Becoming a Travel Blogger