Click here to get this post in PDF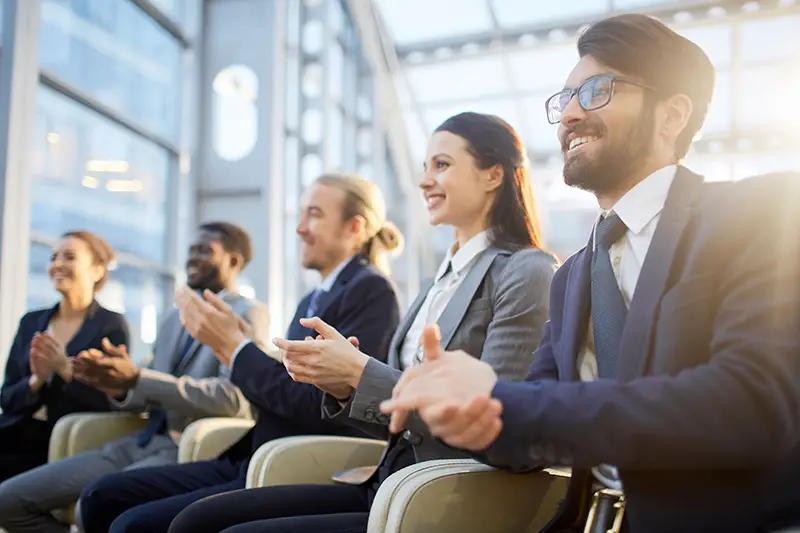 Conferences are an invaluable resource. Whether your professional focus is in academia, design, entrepreneurship, or other disciplines, conferences can be a great way to network and share knowledge with experts in the field and acquaint yourself with some of the different opportunities that exist. Here are eight benefits of attending conferences:
1. Networking Opportunities Grow with Conference
The more conferences you attend, the more opportunities you have to network. For example, attending a medical conference in the first year of medical school will allow you to network with medical professionals and other students, says a founder of CoatConnect.com. However, attending the same conference five years later as a resident will provide much more opportunity for networking as you will now be able to network with fellow residents, practicing physicians, and even doctors in different specialties. Thus, attending conferences grows exponentially as your involvement does.
2. You Build a Community
Establishing strong connections with others in your field is critical to any professional life. Still, it can seem more difficult if you live in a different city than your colleagues. That's why conferences can be so helpful; by attending them and meeting new people, you are making connections, one of the most beneficial tools for building your professional network. Once you have connected with people at a conference, make it a point to follow up with them through email and social media to foster those relationships and keep the connection going
3. You Learn from People Outside of Your Field
You may have heard the saying that you can learn a lot more from your competitors than you realize. The same principle applies to learning from other professionals in different fields; by attending conferences where these people are experts, you will be able to bring more perspectives and ideas into your field. And conversely, by sharing what you know with these people, you may have new ideas for your own professional life.
4. You Meet Leaders in The Industry
By going to conferences and introducing yourself to conference presenters and fellow attendees, you are establishing a professional connection that can benefit both yourself and the speaker or other attendees. While you may not be able to offer many opportunities at this point, you can certainly be an enthusiastic supporter and network with these individuals. In addition, by attending conferences over the years, you will connect with more and more leaders in your industry, building a database of contacts that can help you expand your professional life.
5. Team Building Opportunities
Whether you are a solo entrepreneur or part of a small team, conferences can be one of the best ways to build and strengthen your team. By regularly attending conferences with your team, you will learn from their perspectives and experiences and grow together over time. Even better, during the conference, you can talk to each other about how to work together more effectively once the conference is over. This can help people get back into productive work routines after a conference or help your company plan for additional work in the coming weeks or months.
6. You Find Out How Other People Are Thinking
Most conferences provide presentations and labs where you can see what other people are thinking. It's a great way to find out if there is a lot of overlap in how you think about issues. When people get together with colleagues, they sometimes have different things on their minds. By getting together with other professionals at a conference, you can learn something new, which is good for everyone involved. By making it a point to attend conferences, you can help others grow professionally and benefit from your ideas and expertise.
7. You Receive a Personal Development Plan
When you attend a conference, you often have the chance to ask different presenters and other attendees what their next steps are regarding their work. This can help you develop your network of people to follow–and potentially connect with–in the future. It also gives you a unique insight into how other people think and look at issues in your industry; by comparing your personal development goals with those of others, you can learn even more about how you can grow over time. This is one of the most important benefits of attending conferences.
8. It's Fun
Yes, that's right; conferences can be fun. While you may be more focused on work at the conference, you can make it a point to enjoy yourself and have a good time. Try a few new social activities with other attendees, including outings for dinner or drinks after the conference is over. You can also play games or engage in cultural activities during the conference and talk to others about them afterwards. If you are in large groups or have your team of people to go with, many different activities make conferences fun anyway–and you will enjoy them no matter what they are.
Conventions and conferences provide you with many benefits in your professional life and will continue to do so as long as you attend them. They are a great way to build connections, get new perspectives, benefit from colleagues' experiences, learn more about your industry and establish yourself as an authority in your field.
You may also like: 5 Cool Ideas For Corporate Events
Image source: Shutterstock.com