Click here to get this post in PDF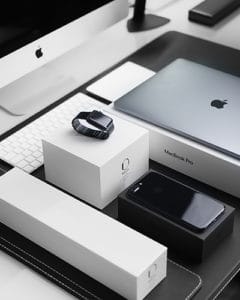 'Packaging can be theatre; it can create a story.' With these words, Steve Jobs perfectly encapsulated the impact of packaging on a product's success. Product packaging isn't an element you can overlook. It's an extension of your product and brand and thereby, needs to be more than an afterthought.
The packaging of a product is a blank canvas that you can use to your advantage. It's your product's profile picture, the first face it presents to the world.
Let's take a look at how packaging plays a role in a product's success:
Protection
A product's packaging is responsible for keeping it preserved and safe. With the help of packaging, you can improve a product's shelf life.
Attraction
Product packaging is the first thing that customers notice. They might not know anything about the product or the brand, but the packaging can entice them. Attractive product packaging can persuade prospective customers to abandon their brand loyalty and switch to your product.
Information
Product packaging is essential for communicating all the information about the product. From cooking instructions to safety warnings, it's an effective way to keep your customers informed.
Practicality
In addition to protection, packaging can also add to a consumer's convenience in terms of usage. For instance, certain instant noodles are packaged in a cup with a foldable fork. So, when you need an on-the-go snack, you are likely to reach for this brand rather than something more elaborate.
Differentiation
Packaging helps customers differentiate your brand from competitors. Your company's name, logo, brand and so on are displayed on the packaging. 
Wondering how you can make your product packaging stand out? Keeping the above elements in mind, we've put together some tips you can apply to create packaging that appeals to your customer.
Focus on Simplicity
Slapping a bunch of gaudy colours along with over-the-top texts is not going to work unless you are marketing your products to 5-year-olds. By looking at your packaging, a customer should have a positive psychological impression instead of feeling overwhelmed.
The packaging is a communication tool. Within a few seconds of viewing a product, your prospective customer should be able to comprehend essential details about it. Avoid exaggerating and focus on making the product's brand and purpose visible at first glance.
Consider Marketplace Type
For designing impactful packaging, you need to take into consideration your selling platform. Are you marketing your product over the internet? Or will they be supplied through a physical store? The importance of packaging further increases when you're selling through an online store, as your customers can't touch or feel the products. Their final decision will rely on packaging design. For bespoke packaging solutions, check out Direct Packaging Solutions.
Clear Typography
Getting creative with the typography is certainly a step forward. But you have to ensure that it remains legible. No one would buy a product if they can't understand what's inside the packaging.  Carefully choose a colour palette that's easy on the eye.
Think of Shelf Impact
It's highly unlikely that your product will have a shelf exclusively dedicated to it. Your product will be displayed among a sea of competitors. The packaging should be distinct and appealing enough to reel customers in. You can imitate a store's shelf display by placing rows of your product and then analyse the collective visual impact.
While you want to use an attractive packaging design that's going to entice consumers to buy, you should be careful not to overdo it so that the packaging outshines the product. For instance, this punchy packaging for a soda pop makes use of a clean, stylish design that's easily eye catching yet does not upstage the product itself. The packaging design serves to highlight and build hype around the product. 
Utility
As mentioned earlier, packaging can add to the utility of your products. Who wants to struggle with a glass ketchup bottle, when a squeezy bottle is much more convenient? When two products are similarly priced, a customer will likely gravitate towards the one that's easier to use.
Make it Green
There is a growing concern for the environment and rightfully so. You can showcase your company's environmental values with the help of packaging. Customers show a preference for biodegradable and sustainable packaging. In addition to this, you can use packaging to encourage consumers to recycle.
Add a Fun Element
Have you seen cereal boxes with puzzles on the back? Or chewing gums with fun facts? These little things make customers excited about the products. Such elements of oomph in packaging can set your product apart.
Hopefully, these tips help you in creating unique and effective product packaging.
You may also like: 9 Gorgeous Packaging Design Trends to Try This 2019
This content first appeared on the site 01/10/19 and has been updated.