Click here to get this post in PDF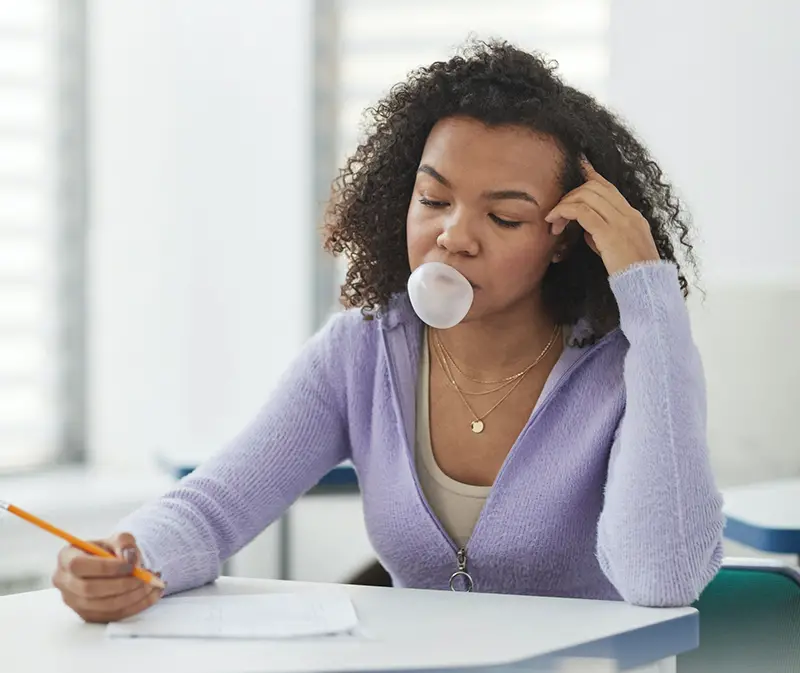 There are a lot of test taking superstitions that people believe in. Some people think that it's bad luck to bring anything with you into the test room, while others think that it's bad luck to sit in a certain spot. Some people think that you can't say the word "pass" out loud, and others think that you have to have a good breakfast before the test.
The list of test taking superstitions goes on and on. And one of the most prevailing superstitions is the act of chewing a stick of gum just before taking the test. In fact, most people do this when taking an important test like the Series 7.
But does chewing gum help you pass the series 7 exam? And what is the analogy behind this weird belief?
Get to know more about this topic as you continue reading today's article.
About The Series 7 Licensure Exam
The Series 7 licensure exam is a test that is administered by the Financial Industry Regulatory Authority (FINRA) to individuals who are looking to become registered representatives. The exam consists of 250 questions, and test-takers have six hours to complete it. The questions on the exam cover a wide range of topics, including investment products, securities, suitability, and client disclosure. It is one of the core exams required for individuals looking to become registered reps and move on into more complex securities.
Why do Some People believe The Gum-Chewing Before Test Superstition?
Some people believe that chewing gum helps them concentrate and stay focused on the exam. Others believe that the act of chewing helps them to relax and calm down before the test. Still, others think that the gum keeps them from getting nervous or stressed out.
There are many different reasons why people might chew gum before an exam, but most people think that it helps them perform better on the test.
Are There Scientific Studies To Back Up This Belief?
So does chewing gum help you pass the Series 7 exam? There hasn't been a lot of research conducted on the topic of gum-chewing and test performance, but a few studies have been conducted on the topic. One study found that chewing gum helped participants to focus better and improved their task performance. Another study found that chewing gum helped participants to relax and improved their test anxiety levels. The results of these studies suggest that chewing gum may help test-takers to perform better on tests.
Even though there aren't enough scientific studies about this topic, there may be something to these superstitions, though. That's because some test-takers have found that the act of chewing gum helps them to stay calm and relaxed during a stressful exam, even if it doesn't actually affect their performance. In reality, this may be because the repetition of the action makes people want to relax and stay calm. The simple act of being soothed is one reason why people might believe in superstitions, even if it doesn't have much of an effect on their test performance.
Moreover, there's a lot of debate as to whether or not chewing gum is actually helpful as a test-taking strategy. There are plenty of people who think that it has no effect on your performance, and some even think it might hurt you instead of helping. Some students believe that chewing constantly makes them thirsty and causes them to spend the first ten minutes of the test in the bathroom. They also argue that it might distract other students around them.
The Bottom Line
There are a lot of different reasons why people might believe in chewing-gum superstitions, but most of them relate to the concept of staying focused and relaxed during important tests. In reality, the best way to stay focused is to make sure you're well-rested and prepared for the test. If you've been studying hard, then the chances are good that you'll be able to do well on your test regardless of whether or not you chew gum. Check out Professional Exam Tutoring's video course for the Series 7 exam if you really want to boost your chances of passing.
You may also like: Examsnap Lean Six Sigma Black Belt: How to Obtain This Certification Using Study Guides, Dumps, and Such?
Image source: Pexels.com