Click here to get this post in PDF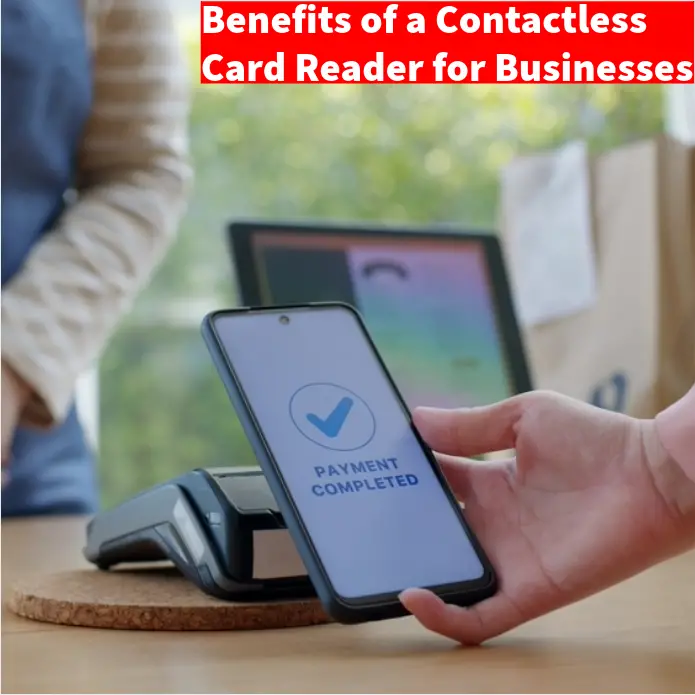 When contactless cards first became available in 2007, they weren't immediately sold to consumers. However, times have undoubtedly changed as millions of people now use it daily. As of September 2017, there were over 119 million contactless cards in use in the UK. According to UK Finance, card and contactless payments overtook cash as the most preferred payment method in the UK last year. In fact, UK has the highest percentage of contactless payments compared to any other country. 
The fastest and easiest payment method is contactless. However, contactless technology is about more than speed. It has benefits over cash, and the technology underlying it goes beyond cards. Also, consumers of today use mobile wallets on everything from phones to smart gadgets, wearable technology, and various contactless payment methods. So, if you are interested in knowing how a contactless card reader can help your business, this blog will tell you all the benefits your business can get by investing in a contactless card reader.
What is Contactless Payment?
Paying with contactless technology eliminates the need for cash or card swipes. Customers can make purchases using contactless payment by simply tapping their card against a contactless terminal. There is no need to sign anything or enter a pin number. At checkout, all you must do is tap or hold your contactless card or smartphone near the compatible card reader. Then the purchase is completed within seconds after the terminal immediately establishes a connection with your bank account. Thanks to contactless card readers, transactions may now be completed quickly, easily, and securely.
Benefits of Contactless Card Reader for Businesses
Fast and Safe
The core of contactless technology is security. But few know that contactless purchases offer the same level of security as chip and PIN transactions. To begin with, you are certain of receiving money without issue, and like other card payment methods, it is protected against fraud by the issuing bank, safeguarding both you and your client. The contactless system itself contains safeguards to prevent users from paying twice for the same item. All transactions are encrypted, as one of several security safeguards enabled in the background. And account holder information is replaced with a "token value" instead of a secure code that secures transaction and account information. Also, if you or a customer needs to investigate a transaction you can instantly bring up an audit trail and check all transactions.
Eliminate Queues
A contactless card reader is more beneficial because it can save your business money in other ways. Payment processes may be delayed for independent firms experiencing recurring busy periods. At the register, large queues can develop during peak hours. And customers using contactless card readers may complete transactions faster because they do not have to spend time counting money. This makes it possible to reduce the queue time.
Low-Cost Transactions
Compared to chip and PIN, contactless is more cost-effective per transaction. It is well known that customers who pay with a credit card are likely to spend more money overall and make more transactions. So, by installing a contactless card reader, consumers can increase the number of low-value impulse purchases. Businesses using contactless card machine have fewer abandoned sales because customers can pay using contactless technology without having to carry exact change for their convenience.
Fewer Processes
With a contactless card reader, business owners spend less time handling cash. Card payments were previously used for large transactions. Since the introduction of contactless, the way people choose to pay has changed. These days, cards can be used even for small purchases. This indicates that contactless card readers enable business owners to complete day-end tasks with less effort.
Improve Customer Satisfaction
In June 2017, 34% of all card payments in the UK were made by contactless device, setting a record for contactless payments that month. Payment methods are now accepted as a normal part of shopping. Ensuring customers have a great shopping experience is essential to gaining repeat business. And making it as simple as you can encourage customers to revisit your business. A contactless card reader makes it simple to make payments, resulting in a faster checkout process. The fact that the technology isn't restricted to cards is another advantage of using a contactless card reader.
Receipts and Refunds 
Contactless card reader allows you to print a receipt from your card machine, depending on how your card reader is connected to the EPOS. Contactless card reader also facilitates contactless refunds. Once the refund is processed through your EPOS, customers simply tap their card or mobile device to get the money back into their account.
Productivity
If you run a small business, it's likely that your customers appreciate the highly personalised service you provide. On the other hand, large chain stores, are continuously adjusting to new payment patterns because their vast resources enable them to prioritise service speed. Both businesses and individuals benefit from using a contactless card reader. Businesses can reduce queues and handle less cash when customers can complete the checkout process faster than paying with cash or chip and PIN. Independent businesses may feel unable to keep up with big brands and the latest payment trends. However, contactless card readers can significantly improve customer satisfaction and payment speed while remaining inexpensive and simple to use. If you choose the right merchant service provider, your company could start accepting contactless card payments within three days. As a result, transactions are processed faster so you have more time to assist your customers with their queries and concerns.
You may also like: How Does Online Payment Processing Work?
Image source: stock.adobe.com