Click here to get this post in PDF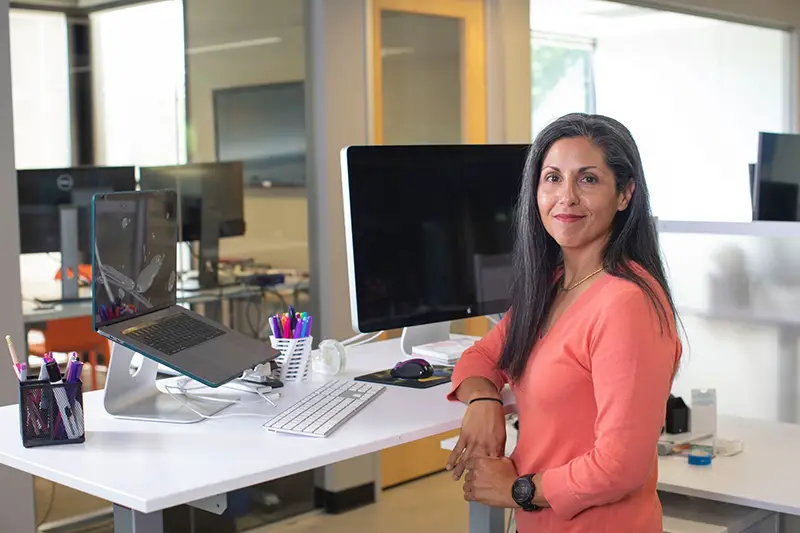 Have you ever wondered why working from home or office can sometimes be tiring and boring? It's because you stay in one position for a long time. This not only drains you mentally but physically.
Sitting too much poses a severe risk to your health like diabetes, weight gain, heart failure, among many other risks. However, you don't need to worry about this when you have a sit-stand desk.
The height-adjustable desks have numerous advantages that will help you have better results at work. In this article, we are going to point out some of these advantages.
Wondering what a Height-Adjustable Desk is?
You don't need to scratch your head too much. This is a desk that allows you to sit or stand while working comfortably.
However, you will meet several versions of this desk during your search.
There are significant health benefits of using these desks.
Here are the benefits:
1. Height-Adjustable desks improve your mood productivity levels.
There is seemingly a positive influence in using this desk in your energy and motivation towards work.
According to a 7-week study, people who used the height-adjustable desks appeared to have less fatigue and stress than those who worked sitting all through.
Averagely, there was an increase in energy in 87% of those who used standing desks all day long. Upon resuming to the old desks, moods went back to their old levels.
2. Height adjustable desks lower the risk of obesity and weight gain.
Eating more calories than you can burn leads to weight gain, and if the trend continues, you topple over to obesity.
However busy you are on your PC with your minds and fingers, if you spend the whole day sitting, it will work against your weight.
On the other hand, standing works in favor of  burning your calories hence there will be no much weight gain.
Your weight increases the risk of metabolic defects and hence enough reason to put it in check.
3. Height-adjustable desks lower the risk of developing cardiovascular disorders.
In the early '50s, researchers found out that standing improves the health of the heart. This was determined through the relationship between heart disease and physical exercise.
The comparison between bus drivers and standing conductors revealed that conductors who stood all day long had half risk of heart disease/death, contrary to their sitting counterparts-drivers.
This study also revealed that a person who lives a sedentary life is at high risk of heart disease by around three times.
On the other hand, they found out that standing reduced the risk of cardiovascular disease. The sedentary lifestyle results are too enormous that even a one-hour intense workout a day cannot revert.
4. Using a Standing Desk May Lower Blood Sugar Levels
When your blood sugar rises after meals, it puts your health in a risky state.
In a selective study of plus-sized office workers, there was an 11%decrease in blood sugar when they oscillated between individuals' sitting and standing at a 30 minutes interval.
In another study, there was a significant drop of 43 % blood sugar in people standing after lunch, contrary to sitting.
 There is a significantly reduced risk of diabetes type 2 or high blood sugar if you spend more time sitting than standing at work.
5. May Increase Life Expectancy
A sedentary lifestyle exposes you to conditions like obesity, diabetes, and cardiovascular disorders. Generally, these are life-threatening issues that shorten your life expectancy.
In a review of 18 studies, those who sit most of the time are 49% more at risk of dying than those who sit less.
If you reduce your sitting time by 3 hours a day, you may increase your life expectancy.
6. Minimizes Back and Neck Pain
There's a common experience of neck and back pain in people who spend most of their time sitting. Other risks that come along are migraines, poor blood circulation, or even jaw pain.
 With conditions such as fibromyalgia or arthritis, long hours of sitting can worsen their state.
In an NIH study, people who used this height-adjustable desk experienced reduced back pain significantly.
Another study by the CDC pointed out that the use of a height-adjustable desk reduced neck pain and upper back pain by 54% within four weeks.
 In two weeks, upon going back to the normal sitting position, there was a reverse in the improvements.
7. Reduces Your Stress-Levels and increases productivity
Stress is a familiar feeling to most workers, and several factors play a role in this. Some of these factors include your managers' pressure at work, uncooperative team, beating the deadline for tasks, or piled work.
People who adjust their positions while working are less worried than those who work from one sitting position.
The tired muscles often get relief when you stand, giving them more blood supply hence a little rejuvenation.
A deep breath also brings down that feeling of anxiety and helps you get back on your task with a more settled psyche. You can breathe deeply when you change positions alternatively.
Some raised concerns that standing desks may hinder your typing may not be true.
In a study including 60 young employees, after being subjected to 4 hrs tasks each day, standing desks had no impact on their typing errors, or characters typed.
However, standing improves your energy and mood; hence standing desks spikes productivity in general.
With an increasing number of remote workers, there is a need to do serious background checks.
Significant factors in the center of this are productivity and well-being. Thanks to the increasing technology such as this Height-Adjustment desk.
This may seem to be a simple subject but is so crucial considering that numbers don't lie. Lower back pain specialists state that there is an increase in cardiovascular conditions and even death, not leaving out overweight and obesity cases when you stay sitting in one position.
If you consider this desk, it will be such a favor to your health and general productivity.
Also read: What Are the Best Standing Desk Options on the Market for Productivity and Well-Being Improvement?
Image source: Unsplash.com