Click here to get this post in PDF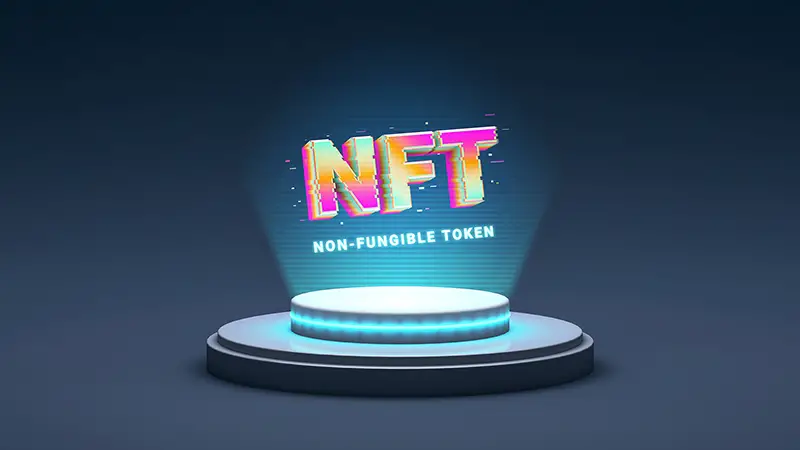 NFTs are a hot topic these days, and some of the biggest names in art and entertainment are entering the arena. Companies like Nike, Samsung, and even Taco Bell have made their mark on the NFT landscape, while mega artists and celebrities like Snoop, Paris Hilton, and Gwyneth Paltrow are either minting their own NFTs or endorsing them.
You've probably heard the term NFT, and maybe you already know a fair bit about what they are and how they operate and are looking for some tips, or maybe you're still relatively in the dark about the whole thing. Either way, we've got all the information you need to start navigating the NFT space completely solo, even how to find and purchase your first NFT. We've got the definitive guide to NFTs for 2022.
What Exactly are NFTs?
The most helpful first step is generally going to be to Define NFT. An NFT is a "non-fungible token", and is a piece of digital art or creation that has been through a process called "minting" which irreversibly integrates the piece into a blockchain of the artist's choice. The most common framework to host NFTs has become the Ethereum blockchain, largely due to its adaptability and inherent programmability.
What Can be Made Into an NFT?
Anything you create or own in the digital space can be minted into an NFT. This can be daily selfies you take before getting ready for work, a GIF you made of your cat falling off the table, art you've made, the music you've made, or just about any form of digital creation. Trusted agencies such as Coinboost.io can work with you to market your NFT and grow your community. The only major caveat is that before you turn something into an NFT, it is vital to make sure you own the property rights to the asset, or you could face a mountain of legal woes.
How to Buy an NFT
If you feel like you're ready to dip your toes in the NFT waters, there's no better time than now. Here is the basic process for getting set up to buy one, as well as some things to consider when looking for one to eventually buy.
Finding an NFT to Buy
You can't get NFTs just anywhere yet, so in the meantime, you'll need to go to where they are sold. These platforms are called NFT marketplaces, and some of the most popular ones are OpenSea and Rarible. There are also niche-specific marketplaces like NBA Top Shot for basketball fans, for example. The differences in the marketplaces impact sellers more than buyers, but it never hurts to shop around.
How NFT Collections Work
Sometimes you'll come across NFT collections, such as CryptoPunks or Bored Ape, which offer a basic framework of NFT with unique and sometimes rare variations or differences. NFTs that are part of a collection can have a much greater value since they are often limited and highly collectible.
Get Your Wallet Ready
Before you buy an NFT, you'll need to get a compatible crypto NFT wallet. Some of the most popular ones include Metamask and Coinbase, and they will allow you to store and view your various NFTs
Link Your Wallet Your NFT Marketplace
Once you have a wallet and a chosen marketplace, you'll need to connect the two. Depending on your choice for each, connecting them can be as simple as a few clicks, or a little more in-depth. Be sure that you don't approve any connection outside of this instance, as it could be a malicious attack to gain control of your wallet. 
Fixed-Price vs. Auction Bidding
Once you've found an NFT that you feel is right for your collection, it's time to buy it. There are a few different ways this can happen. The first is that you can find a fixed-price piece, which means you pay for it, and it's yours. There are also times when you may come across an auction, which will have you bid elevating amounts to eventually win, and while some auctions have time limits, many do not and are only ended when the seller chooses.
NFTs as Investments & Stores of Wealth
If you can buy an NFT, should you? Provided it won't hobble you financially, of course, you should. Not only does it grant you ownership of a specific digital asset, but if someone wants that asset in the future, you may be able to sell it for much more than you paid initially. 
Since most NFTs will be relatively affordable and limited, this makes them a great opportunity for investing and storing wealth. This also comes with a few caveats, though. Be sure you don't invest more than you can afford to lose, and be acutely aware of malicious attempts to phish or hack your NFT collection, just like you would with your crypto purchases and holdings.
Stay Current on NFTs in 2022
The digital asset landscape is constantly changing, evolving, and growing, and while you may end one day knowing everything possible and being completely up-to-date, there will be plenty to catch up on when you wake up. Be sure that you stay current on NFTs, related technology, and underlying architecture so that when you notice a new way to profit from the industry, you'll be ready to capitalize on it.
You may also like: Non-fungible tokens, or NFTs: Where to start?
Image source: Shutterstock.com