Click here to get this post in PDF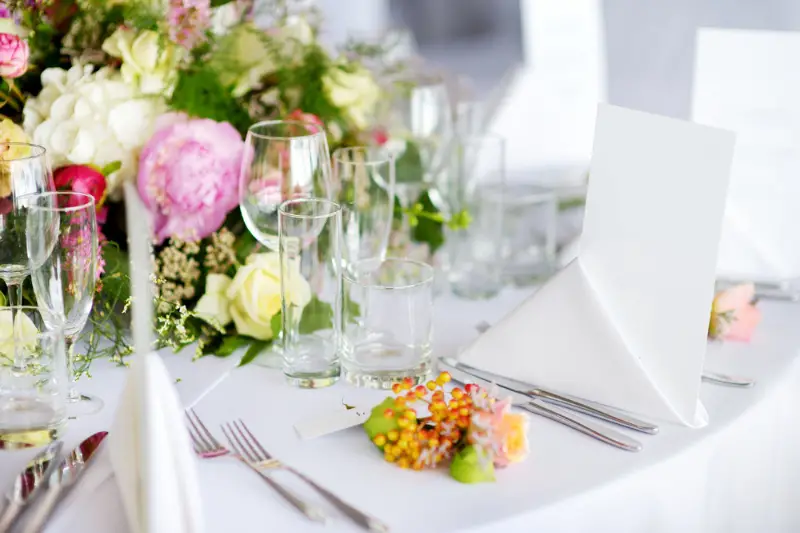 Are you looking for creative ways for wedding water bottle labels?
If you're on a budget and don't have the resources to order name cards, you can opt to get creative with water bottle labels. This can also be an alternative to including table numbers at your wedding.
Water bottles are among the essentials at weddings. Most of these receptions run out of water, so making sure your guests have water at all times is a must.
If you're stuck on how to use water bottle labels at your wedding, here are some creative ways to get inspired with these. Whether you are a wedding planner planning the perfect wedding for your clients or planning your wedding day yourself, these tips will make your wedding more memorable even before your guests get to the venue.
Rustic Romance
If you are looking for a rustic romance creative design idea for your wedding water bottle labels, look no further. This simple yet elegant look will give your big day a special touch. 
Start by using basic brown craft paper for a rustic feel and then add an elegant touch with gold or silver calligraphy. You can personalize the labels with the bride and grooms' names, the date of the wedding, or any other special message you would like to include. To complete your design, use thin twine or ribbon to wrap the bottle to give it a classic look.
Tropical Paradise
For a tropical paradise design, choose a bright, tropical-themed label template and a background image. This will make your guests feel like they've escaped to a lush paradise. Don't forget to include your name, wedding date, and other significant details.
If you're looking to take your design to the next level, consider adding a map of a tropical island, palm trees, and flowers as decorations. To add extra flair, you can even decorate the edges of the label with small hearts or stars. Finally, you can use clear tape to secure the labels to the water bottles for a finished look. 
Whimsical Wonderland
To create the design, the background should be light and airy with a touch of sparkle. The fairy tale elements, such as clouds, castles, and enchanted forests, can be placed around the label. Then add delicate butterflies in varying colors and sizes to the design.
Finishing off this magical look, dreamy swirls, vines, and stars can be added to the background. All these elements together help to bring the whimsical fairy tale world to life.
Modern Minimalism
When creating modern and minimalistic wedding water bottle labels there are a few key elements to keep in mind. First, you want to keep the design simple. Focus on one statement color or pattern, such as a floral pattern, that will pop against a neutral background.
Second, choose a bold font that is still legible. This will allow you to highlight the names or event details while still keeping the design modern and minimalistic.
Finally, be sure to add any relevant details or wording you wish to include. This could include the couple's names, date and venue, or any special statement or quote.
Vintage Elegance
This can be done by choosing a muted color palette, perhaps consisting of navy blues, greys, and soft pastels. The label should also have elements of filigree, such as scrolls and flourishes, to complete the look.
Foil accents can also be included to add an extra touch of sophistication. Fonts such as script and serif will be the best choices to tie in the design. To top off the look, adorn the label with a statement piece such as a monogram or botanical illustration for a look that is classic yet modern.
Bold Botanicals
Start by picking a bold pattern, such as a large branch with vibrant colored flowers on it. The pattern can be printed onto a label that will wrap around the water bottle.
Again, don't forget to include essential information like the date and names of the Bride and Groom. To make the design stand out, you could use a contrasting color for the font. Lastly, you could also get creative by adding paper flowers onto the label for a 3D effect.
Charming Calligraphy
One of the most charming and unique design ideas that can be incorporated is calligraphy design on the wedding water bottles. To design the labels, one needs to find a font that looks great in calligraphy style like a brush script font, and select a color that goes along with the wedding theme.
After guests' names or monograms can be added with the same style of calligraphy and the personalized design is ready. Add a bi-color ribbon to tie around the bottleneck for a whimsical touch. The guests will be sure to appreciate the personalized labels and the charming design.
Cultural Fusion
To design it, couples can fuse their heritage symbols and colors. They can create a collage of the symbols or a pattern to make a border for the design.
Adding the bride and groom's names, the wedding date, and a brief note of love in the center would personalize the designs. Couples can make themselves unique in any way they like.
Different shapes and colors could add vibrancy to the design. Metallic and holographic colors can also be used for a unique look and feel.
And as you prepare for your big day, consider working with a bottled water distributor to turn these design ideas into reality, ensuring your wedding water bottle labels become the talk of the town!
Chic Wedding Water Bottle Labels to Wow Your Guests!
Creative wedding water bottle labels are an inexpensive way to make any special occasion extra special. With a little imagination, you can create a fun way to show your love and appreciation for your guests. Put your creativity to the test and show your guests how much you care.
Try one of the ideas listed in this article today!
Did you enjoy this article? Then check out our blog for more quality content!
You may also like: The Important Role Photographers Play in Wedding Businesses
Image source: Depositphotos.com