Click here to get this post in PDF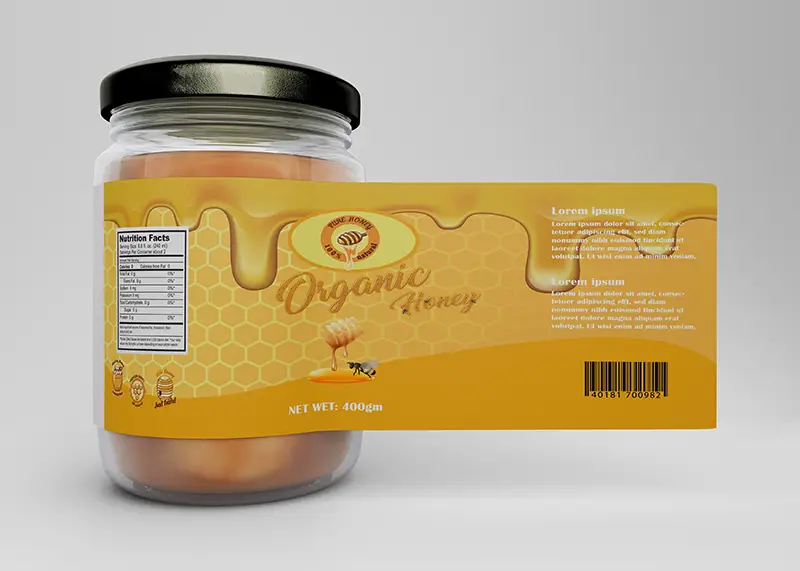 The market is saturated with products. To stand out from the competition and increase the attraction of your product, you need to put thought into the design of your labels.
Labels are one of the most critical aspects of marketing a product. They are what customers see first, so they have a lasting impression. A well-designed label can make a product more attractive and increase its chances of selling.
There are many different trends in label design, and it can be hard to keep up with the latest styles. So, to help you make your product more attractive, we've compiled a list of eight trendy labels sure to turn heads.
1. Metallics
Metallic labels are all the rage right now. They add a touch of luxury and sophistication to any product. If you want your product to look more high-end, consider using metallic labels.
What makes metallic labels different from other labels is their luxurious appearance. They add a touch of elegance and glamour to any product. So, if you want to make your product look more upscale, metallic labels are the way to go.
The psychological effect of metallic labels is that they make a product look more expensive and more desirable. This can be especially useful if you are selling a premium product. As a result, customers will be more likely to purchase a product with a luxurious-looking label.
2. Textured Labels
Textured labels are another popular trend that adds interest and dimension to a product. This label can be printed on many different materials, including paper, fabric, and even leather.
The main advantage of textured labels is that they add visual interest. It can help your product stand out on a crowded shelf. Textured labels are also more tactile, making them more enjoyable to touch and hold.
3. Minimalist Labels
Minimalist labels pair well with simple, sleek products. This type of label is all about clean lines and minimal text. Consider using a minimalist label if you want your product to look modern and chic. They work with a wide range of products, from food to cosmetics. Minimalist labels are also easy to read and understand.
4. Vintage Labels
Vintage labels are perfect for products that have a retro feel. This type of label often features distressed fonts and muted colors. If you want your product to look like it came from another era, consider using a vintage label. Customers usually react positively to the retro feel of your product. Vintage labels can also make a product appear more high-quality and trustworthy.
5. Die-Cut Labels
Die-cut labels are a popular choice for products that are unique in shape. This type of label is cut to fit the contours of your product. Die-cut labels work well on bottles and jars, but they also look great on boxes and other packaging.
The main advantage of die-cut labels is that you can customize them to fit any product. That makes them an excellent choice for products that are irregular in shape. Die-cut labels are also more durable than other types of labels, which makes them ideal for products that will be handled frequently.
6. Clear Labels
Clear labels are perfect for products that need to be tamper-proof. They are made from a clear material that can't be removed without damaging the product. Clear labels are often used on food and beverage products, as well as on cosmetics and cleaning products.
Tips to Make Your Labels More Attractive
Some of the most important factors in label design are color, font, and imagery. These elements can make or break a label. Here are a few tips to keep in mind when designing your labels:
Use high-quality materials
The material you use for your labels is just as important as the design. If you use low-quality materials, your labels will look cheap and flimsy. To make your product more attractive, use high-quality materials for your labels. This will make them look more professional and luxurious.
Use bright colors
Bright colors are eye-catching and can make your product more attractive. If you want your product to stand out, use bright, bold colors for your labels. However, be sure to use color wisely. Too much color can be overwhelming and confusing.
Use simple fonts
When it comes to fonts, less is more. Use simple, easy-to-read fonts for your labels. That will make them more legible and easier to understand. Be sure to use a font that compliments the overall design of your label.
Use attractive imagery
The right image can make your product more attractive and memorable. If you're selling a food product, use pictures of the food on your labels. If you're selling a beauty product, use images of people using the product. The key is to use images that will appeal to your target audience.
Use a label template
Creating a label from scratch can be time-consuming and difficult. To make the process easier, use a label template. Label templates come in a variety of sizes and shapes, so you're sure to find one that fits your needs. Plus, using a template will help you create a professional-looking label.
Hire a professional designer
Lastly, to get attractive and effective labels, hire a professional designer. A professional designer will have the skills and experience necessary to create visually appealing and informative labels. Work with a professional and detail-oriented custom label printer if you want your product labels to look their best.At Quadra Flex, we understand the importance of quality labels. That's why we offer a wide range of printing services designed to meet your specific needs. We use the latest printing technology to create eye-catching and informative labels. Plus, our team of experienced professionals is always here to help. To learn more about our services or get a free quote, visit us online or give us a call today.
You may also like: How to Achieve a Label-Less Look for Eye-Catching Packaging
Image source: Shutterstock.com