Click here to get this post in PDF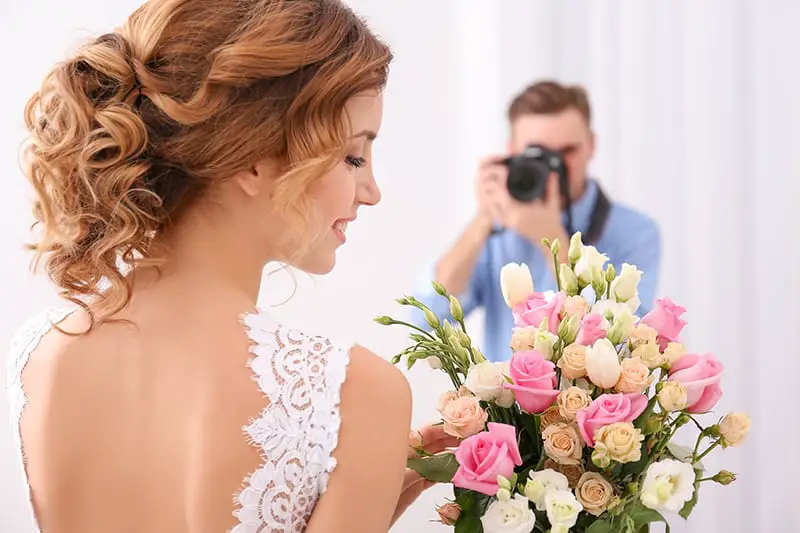 Weddings are important for everyone, and they are especially exciting for a newly married couple to be. It can be understood that as the days go by, it becomes important to begin ticking off all the things on your list to make sure that you have everything covered and taken care of.

And among all the things, wedding photography is one such thing which you can not do without. This is why, it should always be preferred to go in for a professional and seasoned wedding photographer, who can help you to capture and preserve all the precious moments of the most special day of your life.

Unlike amateurs, wedding photographers exactly know how to capture a particular fraction of a second in the most perfect way and then save it for you forever to cherish. There are actually a lot of plus sides of getting to hire a professional wedding photographer and some of the advantages have been listed below.

1. Professionally Experienced
One of the most sought after advantages of choosing a professional photographer is that you get the professional experience of the person in that field. The track record of the photographer talks about the history of his or her work in that profession which can give you the much-needed quality assurance.

The investment that you make is for the person's time and qualitative commitment to the work. And not only that, but you are also going to get the advantage of very high-grade equipment that will be helpful to click the photographs and the videos in very high quality.

2. Beautiful Photographs
Along with good quality pictures, it is also necessary that you get good and innovative poses and angles that capture your personality and add a certain uniqueness to your wedding album. And it is just not possible to think of so many different things all by yourself. So the best thing to do is to leave it all to your wedding photographer.

When the wedding and all the rituals and parties are over, all you have later are the memories that were captured correctly at the right moment, and hiring a wedding photographer can help you take those golden shots in the most amazing way.

3. Attention to Detail
It is absolutely necessary that the wedding pictures are captured in the best possible manner to maintain their splendidness years after. Therefore, it is absolutely necessary that attention to detail is given. It is going to be one of the most important days of your life and every treasured second will hold a special significance in your life.

No matter how small something may seem to be, to a professional photographer's eye, the smallest details sometimes hold the biggest meanings, and therefore, they always try to save it for you. According to the experts at https://somethingbluephotography.net/tucson-wedding-photography/, a professional wedding photographer, will make sure that the smallest details in your wedding ceremony don't go unnoticed. So you can appreciate those moments later in your life.
4. High-Quality Pictures
Another benefit of having a wedding photographer who has got considerable experience in the business is that you could be sure of having really amazing and high-quality pictures since they have the best quality cameras and video equipment. The lenses and other paraphernalia that is required is something that they own and that is why you could always trust them and have faith in them to give you the best pictures ever. Getting a photographer to click weddings means to get flawless photography.

5. Reliability
The dependence and reliability that you have on professional wedding photographers is something that one may have trouble finding with others. They are well experienced and highly trained to deliver what is exactly expected of them and that is why hiring a wedding photographer makes absolute sense.

They know exactly what are the ongoing trends in the industry and how to shoot certain pictures so that they come out well. Also, since they are absolute pros, you can trust them with the quality of their work.

6. Family and Friends at Leisure
It is a fairly common trend to see that many times there are cousins and other family members who are really good at clicking pictures. They are made to be the unofficial wedding photographers. It may help you to save some money in doing that but it may come at a cost of them missing out on the wedding fun themselves.

Your friends and family deserve to let their hair loose at the wedding and enjoy themselves. They should be free to enjoy themselves and not feel pressured or obligated to take pictures for you.
Also read: Trying To Make Your Wedding Invitations More Personal? Learn How
Image source: Shutterstock.com