Click here to get this post in PDF
Social media has made a great impact on this generation. Most people nowadays take selfies while they are traveling out of town or just at home watching Netflix. Even businesses have adapted to the advancement of technology and market their products online. Others use social media as a way to build their personal brand.
This article is sponsored. For full disclosure see here.
Social media platforms wouldn't be complete without images. In fact, many influencers and businesses maximize images for advertising and promotion. And they do what it takes to make it stand out.
While not everyone can afford to hire an expert graphic designer, there is photo-editing software that is worth the try.

Fotor is a free photo-editing tool that helps you create the images you want just by a few clicks. It has three main modes that are automatically shown as you begin the process. It provides a RAW file editing that is rarely offered by a free photo editor. Whether you want to edit a photo, beautify your selfies or make a collage, Fotor covers everything you need for basic online photo editing.
Edit Your Photos with Just a Few Clicks
Some photos are actually great shots. However, they might look terrible at first due to bad lighting or when there are unnecessary subjects that have been captured by your camera.
Here are some steps to make people fall in love with your shots even at first sight:
Step 1: Crop. Cropping a photo is the easiest part of editing a photo. Yet it plays an important role in improving its overall composition. In the photo above, it would look better if we remove the unnecessary element on the lower part of the image to focus on the main subject.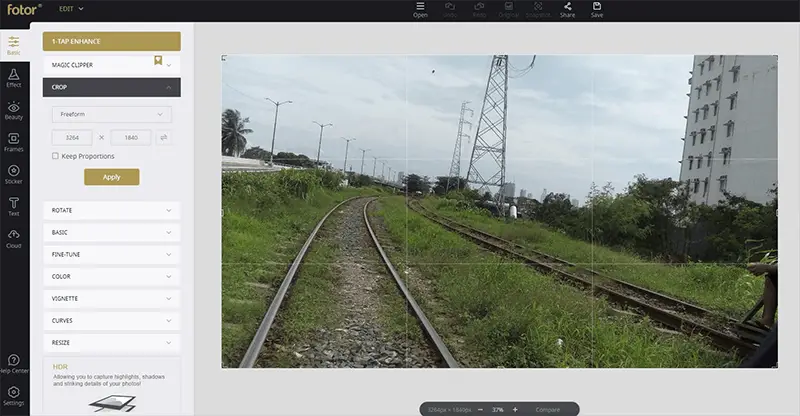 Step 2: Beautify. Beautification is now a common feature on many photo-editing apps. Whether you want to fix blemishes or smooth the look of the image, many people find the importance of beautifying photos. On the image above, you may see a black dot on the upper part of the photo. Using Fotor, a few retouches will make it look better.
Step 3: Adjust the brightness and contrast. Many photos are captured without the best lighting conditions. Some are affected due to the equipment used, especially if you're not using a DSLR camera. This problem is often fixable by adjusting the brightness and contrast of the image. Simple adjustments are enough to lighten the picture without making it look too sharp.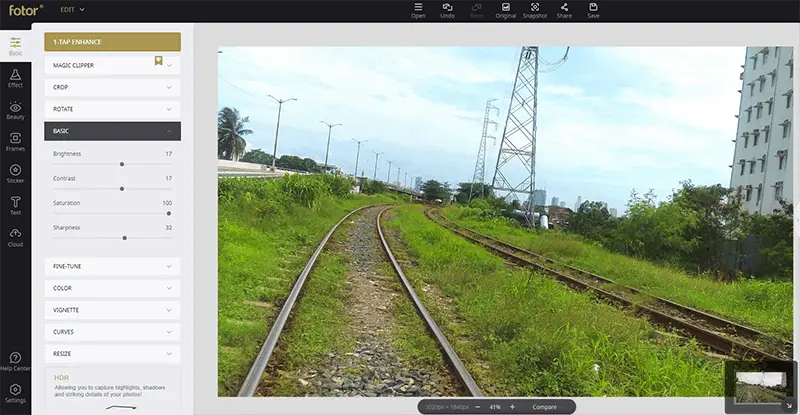 Step 4: Create a filter. Filters are optional but create a greater impact on photos. They are often used to enhance the existing features of a photo or boost its popularity. It also creates an illusive effect to hide the image's imperfections.
Adapting on a black and white effect keeps you away from distractions and helps you focus on the main subject while a sepia filter gives your image a more dramatic and vintage-looking effect.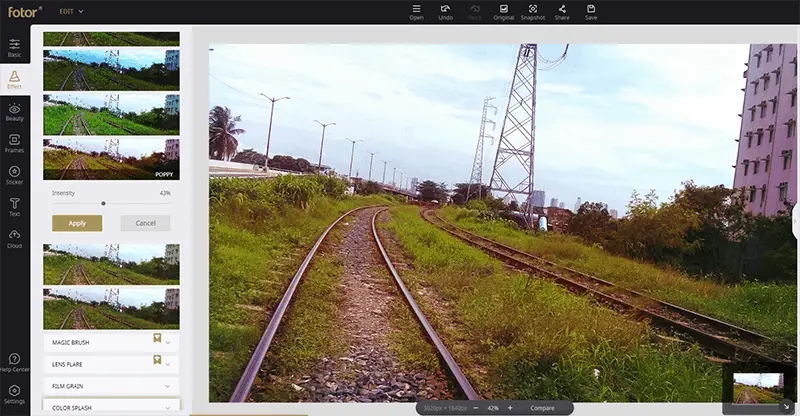 Other Special Effects in Fotor

There are other special effects that are included in the Fotor app: blur, pixelate, and the color splash. While the blur and pixelate effects are already included on many other editing apps, We can find the color splash effect special. Its main purpose is to highlight a chosen detail of a photo which catches more attention. There are photo editing apps that can do color splash effect alone, but Fotor makes it an all-in-one editing program with this added feature.
Fotor for Business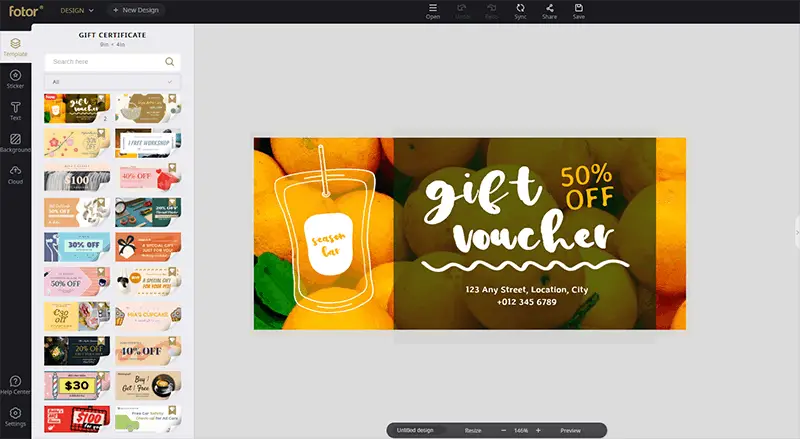 The third main mode of Fotor is creating a design. Built-in templates have made it easy for individuals and businesses to create banner ads, letterheads, and other promotional materials as they are readily available in the app and website. This is functional especially for people who are just starting up their business as you won't have to create designs from scratch nor hire an expert graphic designer to promote your products and services.
While this can't be compared with Photoshop's other features and plugins, Fotor has created lots of ways to edit photos that are worth the try. Its mobile app has even open missions and competitions where amateur photographers can join and win a prize. Who knows, your unique design might be chosen next.
Speak Up through Your Photos
The essence of every picture is communication. Whether our purpose is to educate, to promote or simply to entertain, we always see to it that every photo looks its best. With the help of our creative minds, basic photography skills, and great photo-editing apps, we will always come up with click-worthy images that will surely stand out in social media!
This article is sponsored.
You may also like: 5 Ways to Use Social Media to Promote Your Event
Source of Images: Fotor.com