Click here to get this post in PDF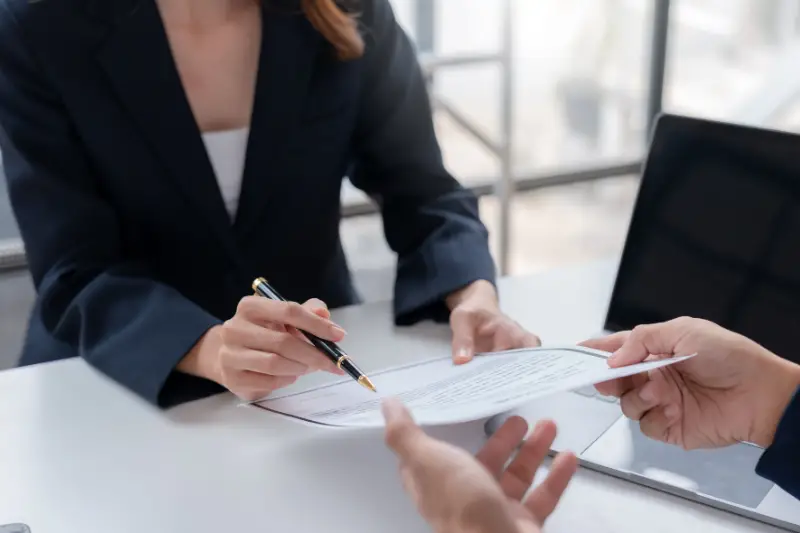 Ahoy, readers! Whether you're a bustling startup or an established company, there's one thing we all have in common: the need to find the right talent. And the first step if you're wondering how to go about filling a new job vacancy? Crafting the perfect job description. Let's dive into this together, step by playful step.
 1. Set the Stage: Job Title & Summary
Job Title: Keep it clear and straightforward.
– Opt for "Graphic Designer" instead of "Visual Artistry Guru".
– Remember, potential candidates often search using common job titles.
Job Summary: A brief 2-3 sentences to give an idea of what's to come. 
– For example, "A dynamic startup seeks a Graphic Designer to revolutionize our brand visuals and amplify our marketing campaigns."
 2. Dive Deep: Roles & Responsibilities
Bullet-point love! List the primary duties in a way that's easy to skim.
– Design & Development: Create compelling visuals for marketing campaigns.
– Team Collaboration: Work closely with the marketing team to align on brand vision.
– Feedback Implementation: Modify designs based on team and client feedback.
Hint: Aim for 5-10 main responsibilities. Too many can overwhelm, too few can be too vague.
 3. Paint the Picture: Qualifications & Skills
A candidate's must-have list! Differentiate between mandatory and desirable.
Mandatory:
– Bachelor's degree in Graphic Design or related field.
– Proficiency in Adobe Creative Suite.
– 2+ years of professional design experience.
Desirable:
– Experience in UX/UI design.
– Knowledge of HTML/CSS.
– Prior startup experience.
 4. Set the Scene: Work Environment & Culture
Give a sneak peek into the company's vibes. Is it a laid-back startup or a formal corporate setting? 
– Workspace: Open-plan office with creative breakout areas.
– Attire: Casual. (P.S. We love funky socks!)
– Team Events: Monthly pizza parties and annual off-site retreats.
 5. Show Me the Money: Salary & Benefits
Transparency is key here. If you can't give exact figures, provide a range or mention that it's negotiable.
– Salary: $50,000 – $60,000 per annum, based on experience.
– Benefits: Health insurance, 401(k), gym membership, and Friday brownies!
 6. Smooth Move: Application Process
Candidates should know what they're in for. Spell out the process.
1. Application: Fill out the online form and attach a portfolio.
2. Interview: 2 rounds – one with HR and another with the Design team.
3. Task: A small design challenge to showcase your skills.
4. Offer: Congrats! Welcome to the fam!
 7. Seal the Deal: A Compelling Conclusion
Finish strong and encourage the candidates to take action.
"Think you're the perfect fit for our buzzing team of creatives? Don't wait! Dive into the application now and let's make magic together."
8. FAQ (Frequently Asked Questions)
Even with a robust job description, candidates might still have some queries. Addressing common questions can save time for both sides. Here are some general ones to consider:
What's the remote work policy? We offer flexibility with two days remote work per week.
Is there room for professional growth? Absolutely! We encourage internal promotions and have regular training sessions.
How often is salary reviewed? Salaries are reviewed annually, or upon a role change/promotion.
9. Contact & Support
Because sometimes, the online form just doesn't cut it. If candidates need a little human touch or have questions not covered in the FAQ, tell them how to get in touch.
General Queries: Email our HR at email@example.com.
Technical Issues: Facing trouble with the online form? Ring up our IT helpline at (123) 456-7890.
Walk-ins: Although we love enthusiasm, it's best to save the date for scheduled interviews!
Hint: Always ensure that there's a friendly face (or voice) at the end of these contact points. First impressions matter, after all!
10. Testimonials: Hear from Our Team!
There's nothing quite like getting insights directly from those already in the mix. Sprinkle in a few words from current employees about their experiences.
11. Location & Commute
It's often overlooked, but the where can be just as crucial as the what for many candidates.
Office Location: 123 DreamJob Lane, Downtown City, 56789.
Nearby Public Transit:
Metro Station: DreamJob Stop (5-minute walk).
Bus Lines: 10, 20, and 35 right around the corner.
Parking: We've got a dedicated parking area for employees. Bikers, we've got a rack for you too!
Bonus: Surrounded by a variety of cafes, eateries, and a beautiful park. Perfect for those lunch break getaways!
Final Thoughts
A job description is like a handshake. It's your first interaction with potential candidates. Making it clear, compelling, and genuine will ensure you not only attract the right talent but also leave a lasting impression. Happy hiring, and may your description bring forth the rockstars you've been searching for!
You may also like: Job Application Form: Making It Smart for High-Quality Responses
Image source: stock.adobe.com