Click here to get this post in PDF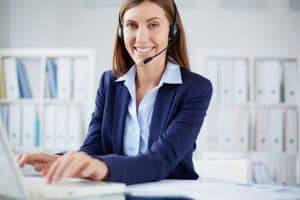 In 2017, around 200,000 new businesses were started in the UK, bringing the grand total up close to 6 million across the country.
This rise in new brands entering the economy presents a problem for others already established in their sectors. Average disposable income is falling. While there are more SMEs around, there is less money to be shared between them.
Remaining competitive in 2018 is all about maintaining an edge over the competition while keeping costs down to compensate for reduced income potential.
Did you know technological innovations can slash operating costs? 40% of SMEs fail within their first five years. Cutting expenditure can drastically lower the chances of that happening to you.
Whether you are a sole trader working from home, or an enterprise with a roster of employees, consider investing in the tech listed below. It could help you secure a stronger financial future.
Virtual Reality Conference Calling
Face-to-face meetings are still important. Despite the rise of conference calling and online chats, clients and customers still see a real value in a proper visual conversation.
But this isn't always possible.
Face-to-face meetings can really stretch budgets, especially if they require travel costs — worse still if said travel is international. Yet, virtual reality can offer a bridge between these worlds. VR technology enables a new kind of video conferencing. It's still remote; it isn't actual human contact but creates the closest possible thing to the environment.
This new tech is a powerful way of streamlining business operation. It allows you to either maintain or build a much more personal rapport with long-distance clients, without expending huge amounts on travel and face-to-face meetings.
3D Printers
Upon release, 3D printers were a marvel of modern design. They promised untold methods of product creation, enabling brands to build concepts and test potential items with ease. The claim was new production capabilities, which would, in turn, lead to businesses being able to build better end products for their customers.  
However, there was a snag: the price tag. For most SMEs, these items were simply unaffordable. Now, though, things are changing.
3D printer prices have been falling for years. The cost of a quality 3D printer that can be used to develop products and generate equipment/parts now sits between £500-£1000. It's still an investment, but a major fall in price from when the technology was initially introduced.
For those brands that produce physical designs and products, no longer do you have to outsource concept creation or the building of bespoke parts. It can be done in-house for much cheaper long-term costs.
Virtual Receptionist
The average receptionist in the UK earns around £18,000 a year. This is a vital role for many SMEs that require calls to be managed in order to make sales, engage consumers and ensure customer satisfaction.
Yet, £18k is a high price to pay, especially for small companies with only a few employees.
A new innovation that brings together both smart technology and old-fashioned call forwarding ideas, virtual receptionists can replace the need for a worker, while completing many of the same essential tasks.
This technology doesn't talk back to users, but it can dictate messages, direct calls through extensions automatically, provide customised brand messages and more. One of the most advantageous qualities of the technology is that it can be programmed to redirect incoming calls at a moments notice, which means if management has to attend a meeting, important calls can be sent elsewhere, so they aren't missed.
Fees for these virtual receptionists can be as little as around £10 per month; a significant saving over a dedicated member of staff.
Ascend to the Cloud
Any business operating in the modern day is going to be storing data. From information on customers to records of sales and even their website files, brands cannot avoid the demand. Physical servers used for storage were, in the past, common practice. However, they are expensive to both buy and maintain and need constant improvements as data needs increase. They also need regular security upgrades and care to stop them breaking down. They are also not impervious to disasters, like floods, fires and other forms of physical damage.
Simply put, physical servers are both a hassle and much more fragile than you might think.
For years now, cloud technology has been on the rise. Secure and backed up, data held on servers such as those owned by Apple or Google tends to be much safer than that stored on your own servers. It's also easier to access, as the cloud can be reached from anywhere.
The core argument of moving from physical services to cloud-based systems, though, is the price. In-house servers can be a huge expense, upwards of thousands a year. Cloud-based storage, conversely, is significantly cheaper. Studies have shown it can reduce fees associated with data storage by up to 80%.
Whether you're looking to revolutionise your entire workplace or cut down on a few unnecessary spends, technology is evolving to meet demands. Failure to utilise these powerful tools means failure to enhance profit margins and adapt to the modern era of business operation. Get ahead, stay ahead, and slash costs with everything from cloud-software to virtual assistants.
You may also like: Implementing Barcode Readers Within Your Company