Click here to get this post in PDF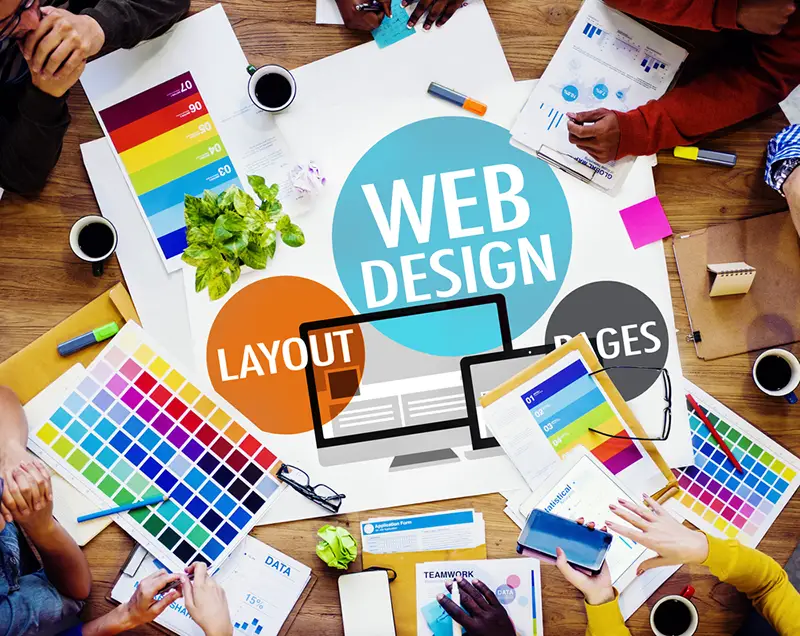 This article contains affiliate links. For more info, see disclosure.
If the design project you have in front of you is for an established brand, there are certainly some restrictions in terms of colors that you can use, so the scope of your color palette selections are limited. However, if your choices are wide open, you are likely seeking some ideas about what color palette to use. Perhaps your only go-to choices are white and black. If that's the case, then you might want to read what follows.
With web design being as competitive of a sector as it is, companies who lack sufficient planning or deliver insufficient, messy results don't stay in business for long. Web designers and web design companies need to be highly adaptable to using new skills and techniques in their work to stay current with the creative trends that keep them relevant. Using color in web designing is one of these essential skills to keep up to date with.
Before you begin, you should start the process by conducting a brief exercise with the customers or the necessary stakeholders in the project. Make a brief list of characteristics that these stakeholders agree the new brand should feature. If you're able to be present for the exercise, have them write down each attribute on a sticker. When everyone has finished, compile the sticky notes and place them on a whiteboard, then observe them and group them by patterns. Pick up and reorganize the stickers so that notes that are related to one another are grouped together, then name each category accordingly with a title that will be generally all-encompassing of the theme or attributes that this group possesses.
The Color Psychology
Once the groupings have been completed, you should have a list of high-level attributes that have backing from most of the stakeholders you queried in the exercise mentioned earlier. Now, your goal is to elicit these qualities in the brand you are working with. For this, you will need to leverage the methodology known as "color psychology." Remember that the brand's colors should not be defined according to your or anyone else's color preference, but rather use colors that evoke a response from the target audience, as their response will be affected by it. There is a lot more that can be told about the audience, but that is a conversation best saved for another time.
The short version is that colors have different effects on different people based on their cultural backgrounds. This is because our societies all influence how we see colors. Understanding these nuances is the key to conquering the essential knowledge of how to brand using color psychology to cultures all over the globe.
This article will focus on Western interpretations of color. It is necessary to note that the color's shade can influence the interpretive meaning as well. In any case, this is how they break down:
White: Represents purity, innocence, grace, and cleanliness.
Black: Represents strength, elegance, and power.
Grey: Represents the modern feel, luxury, and a conservative perspective.
Green: Represents luck and cleanliness, as well as, nature (depending on the shade)
Blue: Represents trust, corporate culture, reliability, calmness, and sadness.
Purple: Represents royalty, luxury, spirituality, and creativity.
Pink: Represents innovation, energy, romance, sensitivity, and femininity.
Red: Represents love, danger, war, and anger, as well as elegance when the shades of red are darker.
Orange: Represents vitality and energy, as well as the autumn season.
Yellow: While a golden shade represents wealth, most of the time yellow is associated with happiness, warnings, and cowardice.
Constructing A Color Palette
With the comprehension of psychology, it is now time to set up the color palette for a particular site project. To do so, we'll start with your brand's newest selected color as the foundation for your palette, and then choose any complementary colors to pair with it thereby designing your color palette. You can choose from a variety of color rules and append them to the palette. The Chromatic Circle, also known as the Color Wheel, is a valuable tool for creating color variations.
Complementary colors: Colors located on opposing sides of the Chromatic Circle.
Analogous colors: Color located adjacent to each other on the Chromatic Circle.
Triadic colors: Colors derived from the overlap of an equilateral triangle on the Chromatic Circle.
Split-complementary colors: Obtaining complementary colors by matching the primary color to the two colors adjacent to its color on the opposing side of the Chromatic Circle.
Square colors: Colors obtained by overlapping a square over the Chromatic Circle.
Other color combinations: Using other geometric figures over the Chromatic Circle to create color combinations.
Avoiding Color Vibration
When compiling a complementary palette, it is not only important to identify the hues but to also consider saturation/chroma and the value of your colors to achieve a harmonious color balance or risk the quite literal vibration of the colors. As colors that are equally saturated from opposite ends of the Chromatic Circle are positioned close to one another, they tend to vibrate, creating a particularly unpleasant visual illusion that should never be applied.
Final Thought
If you wish to advance and grow as a web designer or you are determined to run a successful web design firm, you must always remember the importance of color palette use. If you have not been doing so already, consider all of the aforementioned suggestions and implement them into any future web designs to achieve a visually pleasing and culturally appropriate final result that helps your brand resonate with the target audience.
You may also like: The Psychology of Colour