Click here to get this post in PDF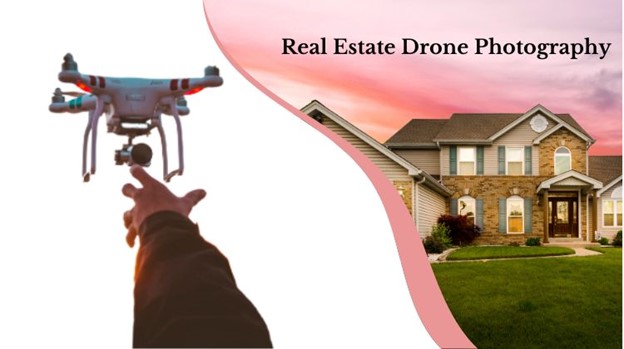 Recent research has found that properties featuring birds' eye images on the listing have a higher chance of selling than those without. In light of this, we can state that drone aerial photography is essential if you wish to become an excellent real estate broker and increase the likelihood of successfully selling a house. Drones are a cutting-edge method for obtaining unimaginable overhead photographs that provide clear knowledge of how the entire house appears in reference to its surroundings. Drones can be utilized to take aerial photos of any type of property advertisement. The usage of drone technology in residential and commercial property is also at an all-time high! Residential real estate buyers are likely to demand at least eight to ten spectacular aerial photographs from which to choose. So, what really is drone photography real estate? Let's see in this comprehensive guide.
The importance of drone photographs
Previously, a real estate photographer didn't require a drone, but nowadays, it's nearly a given that one will be required for important shots, especially in highly competitive real estate markets. 
A drone provides a completely different viewpoint of the estate, enables the broker or realtor to highlight the lot's grandeur and surrounds, and simply has that eye-catching and dramatic appearance that helps a listing pop off the website. Drone images are crucial for displaying the actual size of properties. You can take pictures from multiple angles and from above to display the home in its surroundings. 
Since the mobile phone and small cameras have improved, realtors only require a real estate photographer who can provide a service they cannot get done on their own. A broker can quickly snap a picture of the home with their iPhone at a wide angle and consider it done. So, they are only willing to spend money on complicated services.
Drones are also one of the most practical methods for capturing massive estates. A drone is absolutely necessary to display the full scope of the property. A skilled professional real estate videographer like Alex Drone Photography can also provide you with more high-end services such as mapping, retouching, aerial videos, and editing. 
Different kinds of real estate that can use drone photography
Drone photography real estate is a versatile tool that can be used for so many various types of properties. They are-
 It includes houses, complexes, and communities. A drone can give potential customers a perspective of the area or neighborhood from above or emphasize the architecture, lawn, and scale of large real estate.
 It can include office buildings, shopping centers, restaurants, and golf courses. Drone photography is an excellent approach to displaying different aspects of the property that are challenging to shoot from the ground.
Farms, vineyards, or undeveloped building sites all of these come under this category. Drones give the property's location and surroundings a wider context.
How to choose the perfect drone for real estate photography?
There are a lot of great drone choices available for real estate photography, with prices typically ranging between $500 and $2,000.
While you are looking for a camera drone for real estate work, keep the following in mind:
You'll need a camera of decent quality for professional-level photography, preferably one made for specialists.
You would want an hour or over of flying time for a typical property shoot, and you'll likely require a lot more for commercial real estate photography; hence take that into account while selecting a drone. Running out of battery in the middle of the shoot would be terrible.
Many drones have unique pre-programmed flying settings that enable you to automatically capture unique photos. Such settings can help you get exciting photos for real estate, whether you're a novice or a seasoned pro.
As you grow professionally, you will definitely add new cameras to the drone, so you'll need to check if the drone you buy supports customizable loads.
Hacks for real drone photography
1. Adjust the lighting
The optimum time of day for the perfect property photo is usually around noon when the sun reaches its peak and produces the least distractingly long shadows. However, if you prefer dramatic images, choose either sunset or sunrise.
2. Select the points of focus
When using a drone to take photos, scale is sacrificed for precision. But be careful to find the right balance. Select some of the estate's prominent points to emphasize and focus your photos on them.
3. Practice
Practice as much as it takes to make sure you are confident flying the drone in all kinds of weather so that you will not be concerned about it while attempting to grab the perfect photo.
Conclusion
Drones are essential to real estate photography these days because they can catch details that neither a DSLR nor a skilled photographer or real estate videographer on the ground could. Only drones can take overhead pictures, and these pictures are crucial for highlighting a property's best features. This article covers all the basics you need to learn to get an idea of real estate drone photography. I hope you find it helpful.
You may also like: Real Estate Management in the Metaverse: What You Need to Know