Click here to get this post in PDF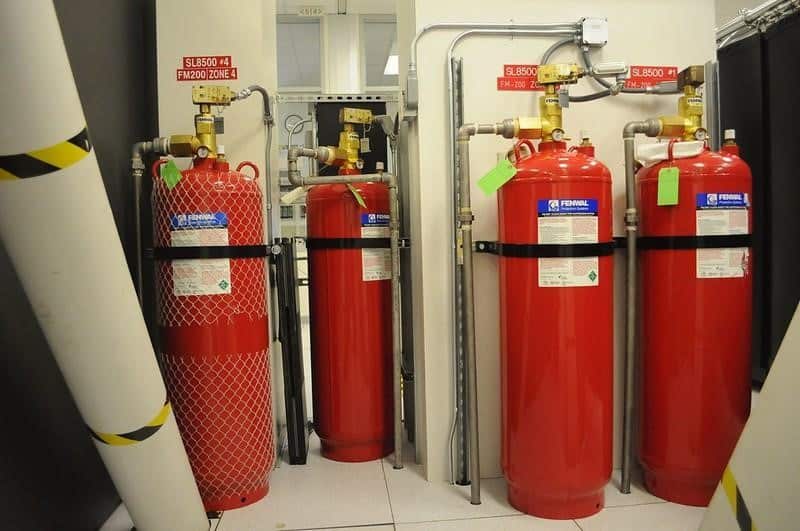 Fire protection systems are essential for the safety of any property, whether commercial or residential. These systems are designed to detect and/or suppress fires that break out in these buildings. If you are considering getting a fire protection system for your property, you should familiarise yourself with the different types of fire protection systems and how to maintain them.
What does a fire protection system consist of?
When most people think of fire protection systems, they think alarms and sprinklers. However, these are just a few of the many components that contribute towards fire safety in a building.
Fire protection systems also include building exit systems and other alert systems that help residents get to safety and alert fire services.
What types of fire protection systems are there?
All fire protection systems fall into one of two categories: passive protection systems and active protection systems.
Passive protection systems
Passive fire protection systems focus on confining a fire and preventing the property structure from collapsing. These protection systems are created during the building's construction and play a passive role in ensuring that the building does not sustain significant damage from a fire.
For example, structural steel and other joint components are used in construction for their fire resistant properties. Similarly, fireproof materials such as plaster and concrete are also used in the construction of these buildings.
Passive protection systems also attempt to confine fires to a limited space. Fire doors and windows can work together to prevent smoke and fire from crossing over into other parts of the building.
Active protection systems
Active fire protection systems focus on alerting building occupants and attempting to reduce or extinguish the fire. They consist of different components such as fire/smoke alarm systems, sprinkler systems, and fire hoses and extinguishers.
How do fire protection systems work?
Whenever a fire breaks out, the fire/smoke detector sends a message to the fire alarm control panel. This control hub then activates an alarm which alerts residents about the fire. The panel also sends an alert to fire services.
If the building has a fire suppression system or a sprinkler system, the control hub will automatically trigger it. These systems attempt to slow down the spread of the fire until fire services arrive, or they may extinguish it completely. Occupants may also be able to put out minor fires by using handheld fire extinguishers.
How to install a fire protection system?
As mentioned earlier, passive fire protection systems are added during the building's construction, so you may not be able to install them later without performing significant renovations.
However, you can install an active fire protection system in your building after its construction has been completed. Before doing this, you may first need to review the fire safety guidelines in your city.
You can than purchase components such as a fire control panel, alarm hand panels, handheld fire extinguishers, and sprinkler systems. After acquiring these items, you will than need to set up each one in accordance with fire safety guidelines.
Once this is complete, you will need to contact a fire systems certifier and get a fire systems certification. This certificate serves as proof that your fire protection system complies with codes and standards.
Property owners can also get their active protection systems installed by professionals. This ensures that their building passes fire safety certification.
Maintaining your fire protection system
According to Australian Standards 1851 section 6, building fire alarm systems have to be inspected once a month. These inspections include checking the protection system's different components and maintaining a log of inspections and tests.
The inspection and maintenance guidelines for fire protection systems in Australia include:
Testing alarms
Automatic fire detection and alarm systems need to be inspected once a month. This will include tests to see if the alarm is still active.
Building owners will also need to ensure that any dust on or around the fire/smoke detectors is vacuumed away during maintenance.
Inspecting fire extinguishers
All fire extinguishers in the building have to be inspected and tested every 6 months. These inspections involve checking the tank's pressure gauge, or checking the tank's weight to determine if any extinguishing agent has leaked or discharged.
The extinguisher tanks should feature tags or labels with their last inspection date listed.
Your property's fire extinguishers also need to be pressure tested and refilled every 5 years. They will also need to be refilled immediately if they have been discharged.
Checking automatic fire sprinkler systems
Automatic sprinkler systems need to be inspected on a monthly basis. This inspection is performed by testing the sprinkler's control valve, checking gauge readings, and activating the sprinkler system itself. 
The water storage tanks for these systems are also inspected on a monthly basis. Property owners will also need to maintain a logbook near the sprinkler system that includes results from previous inspections.
Fire sprinkler systems are an important component in your fire protection system, so you should have it maintained by a qualified fire protection specialist.
Inspect fire doors
Fire doors are inspected every six months. This process includes:
Ensuring labels are clearly visible and legible.
Looking for holes or gaps in the door and the door frame.
Checking to see if the door, frame, and hinges are secured and undamaged.
As you can see, inspecting and maintaining your fire protection system involves many different activities. Some of these inspections can be performed by your property management staff. However, some inspections and tests may require the help of a qualified fire protection specialist.
You should never compromise on the safety of your building and its occupants. So remember to inspect and maintain your fire protection system regularly.
---
How Fire Safety Training Can Help Employees at Work
---
About the Author
Ken Thomas is the director at Total Fire Solutions, fire safety solutions providers in the Pacific Rim and one of the top 3 independent distributors for the Asia Pacific region. His vision is to create a 'one stop shop' fire protection company committed to NSW mining and heavy industry. He is passionate for and excited by the latest developments in fire protection technology.