Click here to get this post in PDF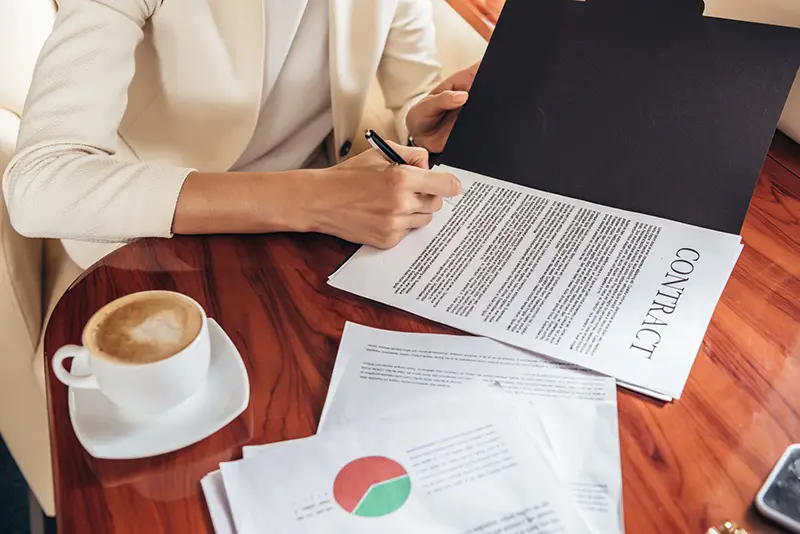 When it comes to running a successful business, commercial contracts are essential. They are used to partner with vendors, bring on new customers, and hire new employees. But what goes into a commercial contract? This blog explores some of the most common clauses in commercial contracts and tips for effectively managing these agreements throughout the contracting process.
Commercial contracts are legally binding agreements between two or more parties. They provide a framework for how the parties should conduct themselves during the agreement and outline any rules, regulations, and expectations that must be followed to remain compliant.
Commercial contracts can be complex and require a deep understanding of how the law works. Therefore, it's vital to ensure that any contract you enter into is written correctly and includes the necessary clauses to be valid and enforceable.
A contract is enforceable when it meets all legal requirements, such as the capacity of both parties to enter into a contract, consideration, and free consent. In addition to these basic requirements, a commercial contract typically includes certain essential clauses for it to be valid and enforceable.
Common Clauses
When drafting a commercial contract, certain clauses should be included to ensure the agreement is valid and enforceable. Here are some of the most common clauses found in commercial contracts:
Confidentiality: This clause states that all parties must keep the information regarding the contract confidential. It prevents any confidential information from being shared with third parties without permission. This clause is particularly important when dealing with sensitive information such as trade secrets, customer lists, and pricing.
Indemnification: This clause states that one party agrees to hold the other harmless from any liability or loss incurred in a dispute between them. This can be used to protect both parties if there is a breach of contract or if either party suffers financial harm due to the actions of the other.
Exclusion of Liability: The liability clause of a commercial contract specifies the amount of financial responsibility both parties assume if either one fails to fulfill their contractual obligations. This is important in order to protect each party from potential losses resulting from any breach in the agreement. Depending on the specific details of the contract, this clause may limit or even exclude certain types of damages suffered by a party due to another's failure to comply with their agreed-upon duties and responsibilities.

The exact language used within this section should be carefully considered since it will determine how much each side can expect as recompense if there is a breach in the contract.
Force Majeure: This clause, often referred to as a 'force majeure' or 'act of God' clause, releases both parties from their contractual obligations if an event outside of their control occurs. These events could include natural disasters such as floods, earthquakes, or hurricanes; pandemics such as the Coronavirus (COVID-19); civil unrest and political instability; labor strikes and other disruptions that render either party unable to fulfill its contractual obligations.

This clause is important for protecting both parties in the event of unforeseen circumstances that are beyond their control.
Jurisdiction: The jurisdiction clause is an essential part of any commercial contract as it determines which court will be responsible for hearing and resolving any disputes that arise from the contract. The parties to a contract can agree to have the courts in their own country or another country deal with matters related to the agreement.

Without this clause, both parties would have no idea which court they should turn to if they disagreed over issues related to the contract. It is important that this particular clause be negotiated carefully so that all parties are aware of who has jurisdiction in case of legal action being taken.
Dispute Resolution: Dispute resolution clauses are essential to any commercial contract. This clause outlines how both parties will go about resolving any disagreements or disputes that may arise throughout the duration of the contract. Having a clear and concise dispute resolution clause in place is important as it helps avoid potential legal conflict later on.

The clause often includes alternative dispute resolution methods such as arbitration, mediation, or other forms of negotiation between the two parties. If no agreement can be reached through these methods, then usually, one party will take legal action against the other and address their grievances in court.
Termination Triggers: The termination clause of a commercial contract outlines the conditions and circumstances under which either party can terminate the agreement. These triggers are typically breach of contract, failure to meet performance standards, or any other mutually agreed upon criteria outlined in the agreement.

This clause also includes details on how each party should provide notice to the other when terminating and what happens after the termination has occurred. In some cases, this may include provisions such as liquidated damages for breach of contract or payment for services rendered prior to termination. It is important that both parties understand these terms before signing a commercial contract in order to protect their interests and avoid potential issues down the line.
It's important to make sure that any commercial contract you enter includes all of these clauses to ensure that it is valid and enforceable.
Effective Management of Commercial Contracts
Once a commercial contract is drafted, it's important to manage it effectively to ensure that both parties are meeting their obligations. Here are some tips for effectively managing these agreements throughout the contracting process:
Review the contract regularly to ensure that all parties meet their obligations.
Monitor performance to ensure that all deadlines are being met and performance standards are being upheld.
Make sure that both parties have access to the most up-to-date version of the agreement.
Track any changes that have been made to the agreement and document them accordingly.
Stay organized by keeping all documents related to the contract in one secure place.
It's important to have a system in place for managing commercial contracts so that any issues or disputes can be addressed quickly and efficiently.
Conclusion
Commercial contracts are essential for any business to partner with vendors, bring on new customers, or hire new employees. When drafting a commercial contract, it's important to include certain clauses in order for it to be valid and enforceable. It's also important to manage these agreements effectively throughout the contracting process to ensure that both parties meet their obligations.
You may also like: 3 Essential Things to Have In Your General Contractor Contract
Image source: Depositphotos.com