Click here to get this post in PDF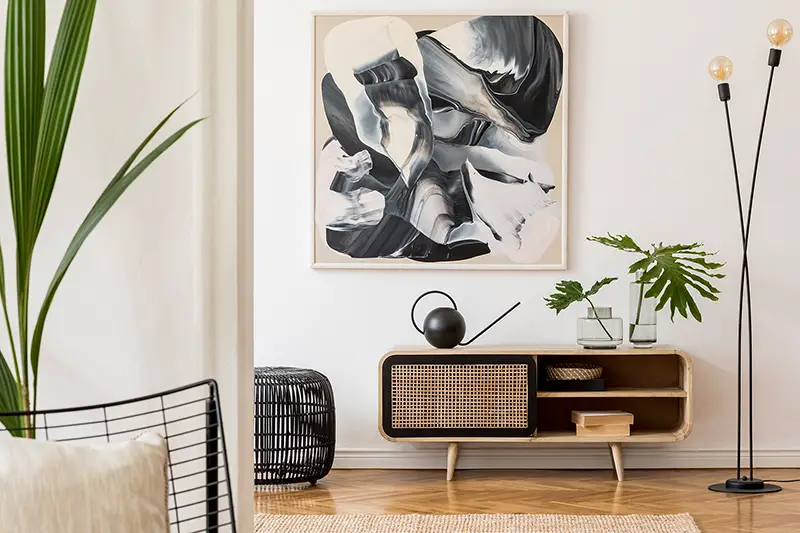 One of the most valuable ways to enhance your living space is to add some artwork as decorative elements. Nothing speaks of elegance and luxury more than hanging and displaying contemporary art pieces in your room. However, there are essential things to consider when choosing the right art décor.
While it's true that art can be subjective depending on the person's taste, it's still helpful to have some pointers on finding the best contemporary art for your space. When everything is matched altogether, you'll definitely come up with the best interior design that looks like the ones you found in your favorite magazine. You no longer need to worry about how to elevate your plain and boring space as you invest in the right contemporary art piece to make your focal point. The good news is that you can now buy contemporary art online from online stockrooms that offer both budget-friendly and luxurious art pieces that are perfect for your workplace or office space. 
Consider the following advice if you want to select the right contemporary art for your space: 
1. Consider Budget 
When you purchase art, you should consider your budget first. Although you can buy some pieces with cheaper price tags, they can come in thousands to millions of dollars, especially when crafted by a famous and world-renowned artist. Hence, setting a budget and considering any financial constraints is crucial. Then, depending on your budget, you can work your way through different art deals, from famous artists to newbies.
Another benefit of investing in these art assets is that they can be claimed as a tax deduction. Now, that's another reason why they're worthwhile investments. Artworks are depreciating assets that allow you to include them on your tax filing forms. The key is to find the best contemporary art that suits your taste and budget limits.
2. Go For The Style You Love 
Since you'll be investing your monetary resources in an art asset, it's only best to choose those at par with your personal taste. One way to expand your selections is to conduct enough research and find the right sources for your modern art. Then, take the time to browse different styles of contemporary art. The more you conduct your research, the better you realize which designs or styles you personally love. 
Even when hiring an interior designer for your home, it's still vital to follow your preference when choosing art pieces. Whether you're an art collector or an amateur art lover, you may explore thousands of modern art styles created by diverse artists worldwide. It's essential to spend your time searching for a statement piece that you will love looking at every day and feel happy to have in your home. After all, these are permanent decors that you want to keep for the longest time. 

3. Find Pieces From Physical And Online Galleries 
When shopping for artwork, it's wise not to limit yourself to the famous galleries that you know of. Although you might prefer to see and hold those artworks before finally purchasing them, there are also a lot of valuable modern art collections available online nowadays.  
Buying them online can be practical if you're already familiar with the piece you're interested in. With the proper shipment and logistics processes, you can conveniently have your contemporary house art decor shipped right to your door. On the other hand, if you prefer to experience the conventional art shopping experience, you're always welcome to visit galleries and speak with art collectors, traders, and experts. 
You can apply tips for beginner art investors and attend auctions where you can find valuable pieces with higher worth and value than those you find online. It's vital that you know what you want and be open-minded about the diverse choices available to you. It is also possible to search by color, style, size, and type of work. With more exposure, you gain more appreciation and form your own tastes.
4. Match It With Your Space Size 
Art pieces can come in different forms, shapes, materials, textures, and sizes. One of the most important considerations is its size. It should be perfectly matched to your space size. Some homeowners fail to choose the right art decor when they don't measure their living space early on. 
For instance, you might purchase wall art that looks tiny on your expansive plain walls. Or maybe you've bought a very tall art decor that won't fit right through your door. Hence, before you click that add to cart button, or raise your hand during an art auction, know your space requirements and match it with the details of your chosen contemporary art piece. 
There needs to be a connection between the furniture and the art in your home. Consider your furniture and other home features and imagine how they can work together with your artwork. You can read some online advice on what size of artwork would best fit the size of your bedroom or living room. For instance, when choosing bedroom art, you can find wall art of the same width as your bedroom's headboard. 
Imagine the blueprint of the art's placement when you finally dismantle them in your home. Finally, the most crucial step is to know your home's measurements. Measure your bed, headboards, tables, sofas, and other major furniture at home. The size of your contemporary art matters more than you realize. 
Conclusion 
Your home will have more character when you display modern art that showcases your personality, tastes, and style. If you follow these basic guidelines above, you'll likely find the best contemporary artwork that can instantly transform your home. You can make your home look and feel better with contemporary art. 
You may also like: Office Design Trends That Suit the Millennial Lifestyle
Image source: AdobeStock