Click here to get this post in PDF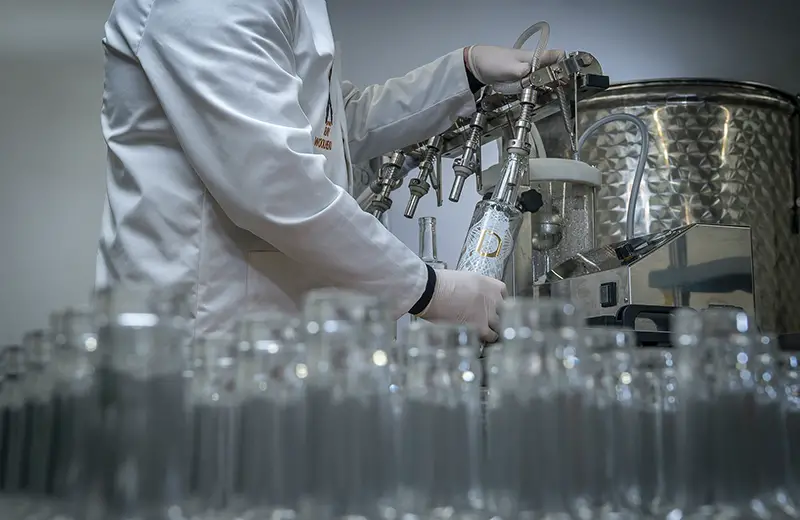 A liquid filling machine is an essential piece of equipment found in several industries. Whether you want to package your products in bottles or bags, the right machine is critical. Most liquid filling machines come in contact with your products. So, you should pick one that won't mess with the product quality or hygiene. 
We've highlighted some factors to consider when choosing a bottle filling machine. They will make your work easier as you sought through the many manufacturers. Let's look at these factors below.
1.  Know Your Product's Specs 
Before making any move in the market, first, start with the product you have in-house. Begin by understanding the characteristics of the liquid. What is its viscosity? Is it water-like or thick and sticky? Is it corrosive, reactive, flammable, or stable?
Answering all the questions above will make your search more straightforward. Depending on your industry, there could be some special requirements to prioritize. For instance, the food or pharmaceutical industry requires aseptic filling and packaging. Here, the types of liquid filling machines needed will change. A rule of thumb is first to understand your product's specifications.
2.  Which Containers Will You Be Working With?
Once you know the product's specs, what follows is to decide the containers to use. That is, if you are just getting started with the production process. Otherwise, you should choose filling equipment that matches the existing containers. 
As far as these containers are concerned, consider the shape, size, and material. Some bottle-filling machines offer a higher level of flexibility than others. For instance, some can handle different materials such as plastics and glass. Others can handle containers of different shapes and sizes. 
Where possible, you should also choose a bottle filling machine that labels your containers. This will cut the cost of having to buy a separate labeling machine.
3.  Floor Space 
The available floor space is another vital consideration to keep in mind. Regardless of the filling machine, the available space will be a limiting factor. In most cases, the expected production capacity will determine the size of the machine. If the size of the filling machine doesn't fit the floor space, you'll need a plan B. Often, the first choice is to go for a smaller machine without compromising the production rate. Or to make some extra floor space. 
That said, the physical size of the machine isn't all you need to know. Ensure you understand the measurements of the accompanying equipment. Such as conveyors and turntables.  
4.  Maintenance, Changeover, and Cleaning.
Most liquid filling machines promise an easy-to-clean surface. What they don't tell you is that you have to disassemble the machine to clean the surface. And that's where the catch is. 
To be on the safer side, pick an electric liquid filling machine with a clean-in-place (CIP) system. This system will clean the machine without you having to dismantle it. In other words, it makes your work easier and more convenient. 
If you are interested in a manual liquid filling machine, always consider the ease of cleaning. Choose one that's easy to clean and change over. That is, in case you are changing the liquid or product. 
5.  Other Production Requirements 
Apart from the factors discussed above, there are several other aspects you should consider. Some of the production requirements you want to pay attention to are capacity and accuracy. The production capacity determines the machine's automation level. That is, how many bottles do you need to fill per hour, day or week?
Flexibility is another key aspect to prioritize as this will lower your running costs. Often, an automatic liquid filling machine guarantees higher efficiency. But that doesn't mean it's always the best option. At times, a semi-automatic liquid filling machine is best for small-scale production.
To avoid confusion, work with a production professional who understands these nuances. That way, you'll even dig deeper to consider things like energy consumption and efficiency. 
Choosing a Liquid Filling Machine Manufacturer 
Regardless of the type of filling machine you need, choosing the right manufacturer is a priority. A manufacturer that offers the best quality products could be costly. But it's better to spend a little more for something worth its price. 
So, whether you are looking for a large or small-scale bottle filling machine, always do your homework. Paying attention to the five factors above is a great place to start. But your research doesn't end here. 
Last but not least is the product's warranty. And perhaps the additional services offered by the manufacturer. A filling machine whose warranty is below two years may not be the best for you. That said, popular manufacturers offer up to a five-year warranty. You should keep in mind that a used liquid filling machine won't come with a warranty. So be very specific with what you want before making a buying decision.
You may also like: In the Name of Efficiency: 5 Maintenance Tips for Your Laser Cutting Machine
Image source: Unsplash.com