Click here to get this post in PDF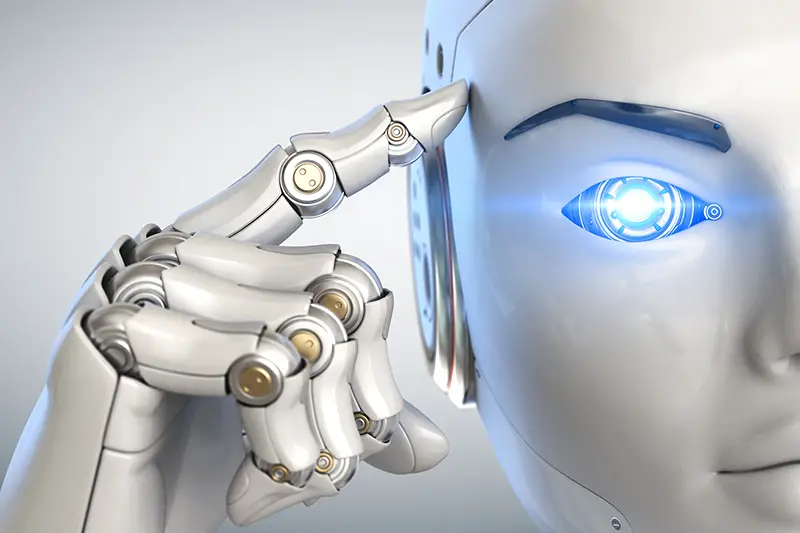 Let's face it: AI is all around us. So ingrained is it now within our daily lives that we increasingly take its existence for granted. 40% of us use voice assistants on a daily basis, for example (to check the weather forecast, ask for directions or to request our favorite songs and albums). Still, we probably don't appreciate the role of AI in these staples of our modern homes. 
But AI is having just as significant an impact on how we do business as on how we live our lives. So in an era where AI and machine learning technologies increase agility and empower businesses to make quicker, better decisions, can your business afford not to embrace artificial intelligence?
Let's look at how AI benefits modern enterprises and assess whether the future of your business depends on AI.
How Can AI Support Your Business?
AI is increasingly helping businesses to evolve, streamline and adapt. Almost all areas of a business could benefit from the intervention of AI and machine learning, but there are three very specific benefits it offers:
AI streamlines business processes
Automation is a key benefit of artificial intelligence, enabling businesses to optimize efficiency and maximize productivity. As consumer demands increase and costs spiral, it's becoming increasingly crucial for businesses to streamline their processes and empower their teams to focus on what matters. Unfortunately, mundane, manual tasks can take up precious hours in the day (not to mention their soul-destroying capabilities) and can mean that talent is often wasted performing tasks that an intelligent machine could do in a fraction of the time. 
An AI-powered tool such as Levity is tailored towards automating workflows (those involving documents, images or text, for example) and taking repetitive daily tasks off the shoulders of your staff, enhancing their productivity and helping to avoid burnout in the process. With less focus on these important but often burdensome tasks, you can deploy your resources more strategically, enabling your teams to focus on more valuable tasks and objectives, like enhancing your marketing capabilities or finding ways to better serve your customers.
AI improves customer engagement 
One of the key advantages of incorporating AI into your business is that you can be more agile regarding vital customer interactions. While there's no replacing a human customer care team (AI will never be able to truly replicate the human-to-human experience), shifting consumer demands and expectations mean that it's impossible for customer service agents to be on call at every hour of the day. And that's where AI-powered solutions come in; they can offer a 24/7, 'always on' service, and ensure that your customers have access to support even when your human employees have clocked off for the night. 
Chatbot software is nothing new, but online businesses are increasingly leaning on this technology to facilitate instant connections between customers and their brands. Crisp's automated chatbot software, for example, will ensure visitors to your website are not left waiting hours for a response, even out-of-hours. The most sophisticated bots (referred to as Natural Language Processing [NLP] chatbots) utilize AI to further enhance the customer experience: they have the ability to interpret user input, understand a user's request and then construct the most accurate answer. This ensures your customers are not only getting a quick solution; they're getting a highly relevant one, too.
AI offers actionable insights through data
In any business, it's important to leverage data and analytics to help understand the overall landscape you're operating in; for instance, data can help businesses to assess their markets, analyze their competitors and, more importantly than all, gain a deeper understanding of their customers. AI is increasing capabilities when it comes to accessing, analyzing and learning from data. With AI, we have access to an expanding pool of actionable insights, and AI solutions can actively make recommendations about how to use those insights effectively. 
When it comes to leveraging data to gain a better understanding of your customers, a powerful analytics platform like Helixa uses AI to create detailed customer personas based on demographics, interests and psychographics, helping businesses to better interpret their customers' needs, build a deeper connection with their customers and deliver more personalized (and therefore more relevant) recommendations and solutions — ultimately helping to foster more meaningful relationships between customer and brand.
Does Your Business Need AI to Survive? 
Based on the benefits we've already covered (plus additional advantages like improved forecasting abilities, reduced human error rates and cost savings), it would be difficult to argue against the adoption of at least some AI capabilities within your business. There's still widespread reluctance, sure, with concerns over cost and complexity, the most common reasons businesses have for shunning AI technology, at least in the short term.
However, adopting an AI strategy doesn't have to be overly complex or financially crippling. In truth, it's only as complicated or costly as you make it. Even for smaller businesses, AI adoption isn't out of the question. Take a little-by-little approach (gradually incorporating AI technologies into your workflows). You can start to reap the benefits of AI without it disrupting business processes, draining resources or burning through cash. Go at it all-guns-blazing, and you'll likely find your business struggling to adjust.  
If you're worried about the potential of AI to eliminate jobs that a human would otherwise carry out, then you're right to be concerned: 85 million jobs will be wiped out by AI by 2025, it's expected. On the flip side, however, 97 million new jobs will be created — so AI will ultimately lead to more jobs, not fewer. And with AI absorbing the burden of mundane, repetitive work, workforces will be progressively dynamic, increasingly productive and with more diverse skill sets.
In conclusion, it's clear that AI technology offers a multitude of benefits to businesses, and with more and more organizations tapping into AI capabilities to optimize workflows, leverage insights and offer a better customer experience, it's inevitable that the more AI-phobic businesses will eventually be left behind.
You may also like: Choosing The Right Blockchain API Provider For Your Business
Image source: Shutterstock.com