Click here to get this post in PDF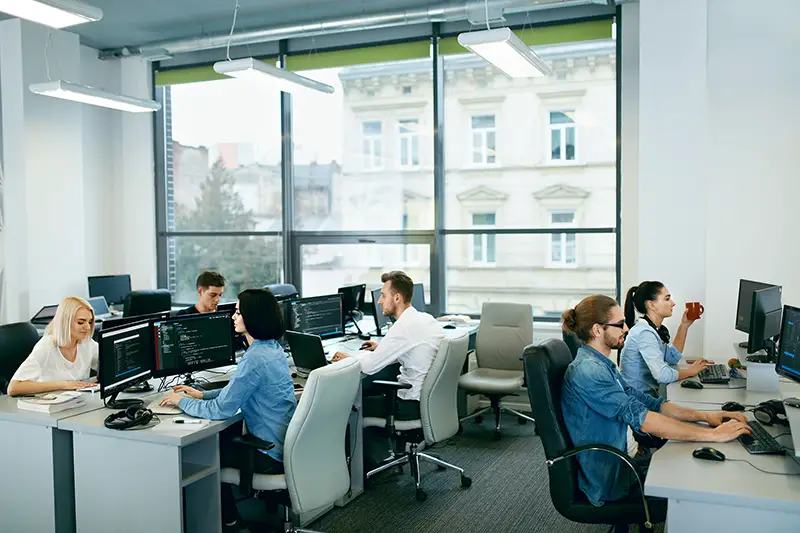 What exactly is a 'flexible workspace'? The term could be deemed more colloquial than technical, with the 'flexible' part potentially referring to anything from the workspace's location to the contract a company signs in order to rent that workspace.
Of course, the COVID-19 pandemic has demonstrated the importance of flexibility in a corporate context, with many people switching to working from home and, as the COVID threat has subsided, considering the option of splitting their work hours between home and the office.
If you run a business, now could be an ideal time for you to take up a flexible workspace — especially with confidence in the UK's economic prospects having faded since the more optimistic picture that we saw in early 2022. 
The UK has been on an economic rollercoaster  
As official statistics shared by the Institute of Directors have revealed, the UK's GDP plummeted by 9.4% in 2020 as the COVID crisis took hold. However, the following year, as COVID vaccines were rolled out, the UK economy grew by 7.5% — the fastest rate since 1941.
Even despite the Omicron variant's emergence later in the year, the economy grew by 1% in 2021's final quarter. However, the UK has subsequently been rocked by rising inflation, a labour shortage and concern about the impact of the war in Ukraine.
How a flexible workspace could help your firm to counter various risks 
There has been strong competition for talent recently, with private-sector role vacancies having increased by 61% despite application numbers declining by 11%. 
Fortunately, investing in a flexible workspace could give your company a valuable edge over its competitors when it comes to recruitment efforts. For a start, you should consider that, in a Microsoft survey, 73% of workers expressed a wish for flexible remote work options to stay.
Of course, having a flexible workspace would make it easier for your business to continue offering these options — options you could then advertise in job listings.
Even the office contract you sign can be flexible 
Business Reporter explains that "companies no longer need to be tied to a fixed lease, meaning they can enjoy greater flexibility as market conditions change, but they only pay for the workstations that are occupied." 
Naturally, if many of your workers are happy to work remotely, the number of workstations your workspace does need could be lower than you had expected. Consequently, the rental fees for the office as a whole could also be favourable to a surprisingly large degree.
This point would be especially applicable if you use an office broker in your search for a new workplace. The broker could, on your behalf, peruse office options that meet a range of criteria crucial to your business.
In one scenario, a broker like Office Freedom could, on your request, search listings for various serviced offices in Marylebone. This Central London area is already home to a prominent business community, which you could use for networking purposes in order to further strengthen how your company weathers the economic storm.
You may also like: 4 Must-Have Components of a Virtual Workspace
Image source: Shutterstock.com