Click here to get this post in PDF
Tell us a little about your journey to date and about the gap in the market that led you to co-found Inflyte.
Inflyte started to lift around 2012 when I had just left the BBC where I was working as a DJ and presenter on one of the first electronic radio shows in Ireland. I was also touring a lot at the time internationally. I was getting hundreds of promos every week on a multitude of different platforms, most of which weren't very good and none of which had any mobile functionality at all. Our idea was to build a mobile app that would offer offline sync and cloud storage integration so that touring DJs, in particular, could access their promos on the road, while also addressing a lot of the other issues we had experienced in the promo space and develop a platform that would provide an unrivalled user experience for both clients and users. We launched it in 2014 and pretty quickly had some huge labels on-board like Defected, Cocoon, CR2 and so on. We've grown from there really and now have a client list of thousands of labels in over one hundred countries worldwide.
Inflyte has some impressive statistics (Inflyte has sent over 30million promos for clients in over 100 countries. The company manage millions of campaign assets and data points for everyone from mall indies to major labels). How has the Inflyte platform made things easier for promo management?
We spend a lot of time speaking with our labels and users to help us really shape our product roadmap and develop the tools and functionality that will improve their promo management workflows. Our client list ranges from major labels, indies to large PR companies and smaller boutique agencies. They are all very different types of customers, with very different needs, so getting the right product/market fit is something that has been fundamental to the success of the platform. At the other end of the spectrum, we have our users; the DJs and tastemakers who are active on Inflyte 24/7. Our users can access promos a multitude of ways, from mobile to email to web dashboard even Amazon Alexa integration. So it's about giving them as many options as possible to engage with the content our clients send them and providing them with best user experience for listening to promos, we try to make it that simple that it's almost invisible. 
Congratulations on your exciting new partnerships with Pioneer DJ and its newly released Rekordbox 6.0 application.  How will this partnership help the users of the platform?
The integration with Rekordbox further streamlines the process of promo downloading and all the associated file management that goes with it. It's super-efficient as users can now respond to promos on any device they want and know that the files will be delivered automatically into their Rekordbox accounts. It centralises the entire file management process in a very user-friendly way. We've been delighted with the response so far.
As well as the benefits that you have just mentioned, tell us about some of the key features of the platform.
The workflow on most promo system revolves around listening, rating, leaving feedback. As soon as the files are downloaded from a promo platform, the DJ never sees the feedback again and will most likely not remember which track they favourite on a particular promo. The Rekordbox integration for the first time ever, saves the information DJs leave on Inflyte promos and presents it in Rekordbox, so DJs can now see the feedback they have left, the tracks they have favourited and so on. They can also sync their Dropbox accounts to Rekordbox and have every promo they rate on Inflyte appear automatically with all the meta-data in place and track analysis performed automatically. For DJs who get lots of promos, this will save a huge amount of time for them.
To finish off, tell us how you see the music industry evolving due to the current pandemic and beyond?
I think we all just want to see clubs and festivals back on the agenda as soon as it is safe to do so. The impact on our industry has been nothing short of catastrophic, for the live sector in particular. However, when things do start to pick up again and the industry bounces back, we would do well to remember these times and how bad it has been for a lot of people. The industry needs to get better and supporting those who most need support. There have been a lot of really positive initiatives developed during the pandemic that have shone a light on how positive this industry can be when people work together and support each other.  I'd like to see more of that, I'd like to see the industry become a nicer place overall, instead of the cut-throat beast it had developed into. Hopefully, this is a reset moment and brighter times are on the horizon.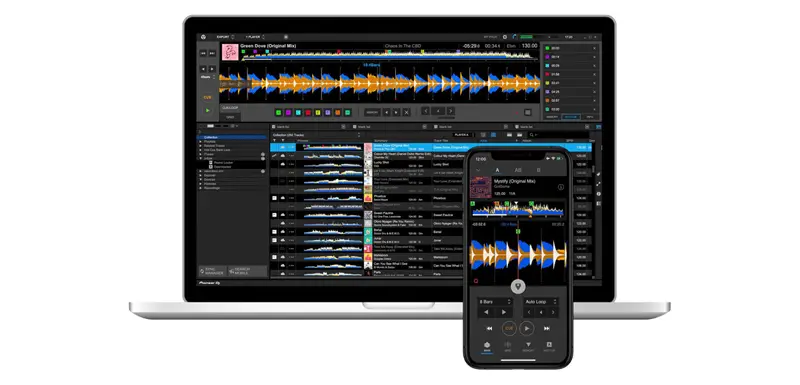 Inflyte Co-Founder and CEO Paul Hamill comments, "Inflyte's collaboration with the market leader in DJ hardware and software, is one of the most significant advancements in pre-release promo delivery in recent years, that uniquely positions Inflyte and our clients deep in the heart of the Pioneer DJ rekordbox ecosystem. We are hugely excited that our clients are now a couple of clicks short of getting their promos directly on to DJs USB sticks and this presents a massive opportunity for the labels and PR agencies using our service. We know that over 75% of Inflyte users are already on rekordbox and these users are set to enjoy an entirely new time-saving workflow for their promo management. Working side-by-side with the Pioneer DJ team, it was clear from the start that both companies share a similar vision of the future and as a company, we're incredibly proud to be part of the next chapter in the rekordbox journey."
---
Business in the Spotlight: House of Tracks
Business in the Spotlight: Songstats
---