Click here to get this post in PDF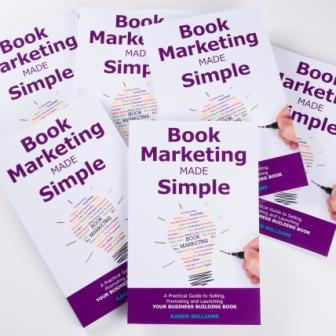 As a business owner, it is likely that you have struggled at times to get yourself and your business services known.  A good way to stand out and get known is to write a book. When done well it can catapult you to the top… you become a person of influence, an expert, an authority figure!
However, writing a book is not enough. If no-one knows about it – your book will not serve you. Whether you are thinking about writing a book, part way through or have finished your book – "Book Marketing Made Simple" by Karen Williams will help you to get your finished book out there!
Karen's book is packed full of practical tips and broken down into three sections – pre-launch, launch and ongoing marketing strategies (post-launch). Whatever stage you are at, you can dip into the book to the section that is relevant to you, but having said that I would definitely recommend you read it from start to finish and then go through it again! The important thing to bear in mind is that the marketing of your book should be started as soon as possible… even before you start writing your book.
Karen has a great writing style that is easy to follow and as an experienced coach and mentor, and author of 5 books, she has plenty of experiences to share. This is coupled with additional tips from industry experts.  You will find case studies galore and plenty to think about.
This book forces you to get clear about who you are writing for and why. With this in mind, you will be prompted to pause and reflect throughout the book writing and marketing process. When you start exploring the marketing options it is easy to get overwhelmed but Karen helps to keep you grounded. She recommends that you pick three key ways to market your book and once you have your systems in place to introduce more strategies.
There are plenty of strategies suggested to cater for the introvert or extrovert; for a big budget or smaller budget; and for different types of businesses.
You may also like: Publish to Flourish
Get started on your marketing immediately, and if you implement the strategies suggested by Karen, you too may become an Amazon bestseller like Karen.
You can find out more about the book at her website and if you want additional support Karen provides mentoring services and a book writing retreat.