Click here to get this post in PDF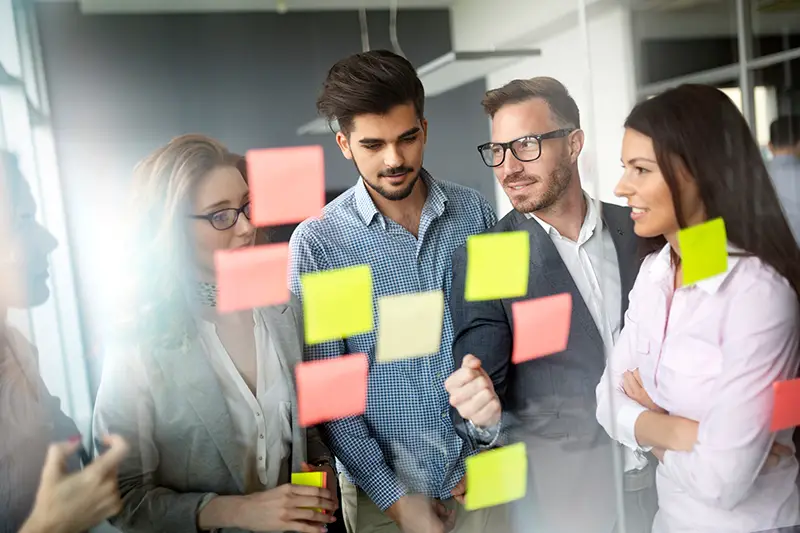 Business success requires more than having qualified people and using the right tools. Managers must also achieve strategic alignment between each business unit or department and organizational objectives. This approach can improve communication, facilitate decision-making, and ensure optimal resource allocation. 
Strategic alignment has the power to shape organizations, driving change and innovation. At the same time, it can streamline workflows, reduce friction, and foster team collaboration. As a result, it may increase efficiency across teams and departments in the long run, leading to business growth. 
However, achieving this kind of cooperation is a challenging feat. As a manager or CEO, you need to put all the pieces together without losing sight of the big picture. For example, align marketing and sales, IT and business development, or other processes, and then connect the dots to lay the foundation for organizational success. 
What Is Strategic Alignment and Why Does It Matter?
Most startup founders handle everything themselves or have a small team in charge of sales, customer service, HR, and other activities. But as their business grows, these processes increase in complexity and can no longer be handled by one or two people. When that happens, you need to hire specialized staff and build multiple teams, each with a well-defined role. 
Your work continues, though. 
You must also align your business activities, teams, departments, and resources with the company's mission. These elements should work cohesively together and in line with your organizational goals. That's what strategic alignment is all about. 
As the Harvard Business Review (HBR) notes, a company's purpose mostly stays the same over the years. However, its internal structure and strategies continue to evolve; therefore, you want to ensure they align with your organizational mission. 
Strategically aligned companies are 72% more profitable than the average business. They also grow faster, retain more clients, and have more engaged employees. 
On the other hand, organizational misalignment can hurt work performance, customer satisfaction, and employee engagement. Moreover, misaligned companies generate 50% lower returns on investment and lose $109 million for every $1 billion spent on projects.
The lack of a cohesive strategy can affect nearly every aspect of business, including:
Tax efficiency
Resource allocation
Enterprise risk management
Performance monitoring
Sales and marketing
Product development
Customer service
Employee retention 
Vendor relationships
Organizational growth
Let's say a company's finance and project management teams are misaligned. Each business unit does a great job, but the communication between the two could be faster and more efficient. These problems can lead to budgetary challenges, poor resource allocation, incorrect financial statements, etc. 
For example, the project management team may plan and execute projects without considering the limitations set by the finance team. This behavior may result in overspending and inefficient resource allocation, affecting the company's bottom line. 
How to Achieve Strategic Alignment 
Strategic alignment ensures everyone in the organization moves in the same direction. Over time, it can help eliminate silos, optimize resources, and drive business growth. 
However, this process is more complex and requires continuous monitoring, evaluation, and adjustment. Organizations must continually assess and improve their alignment to adapt to changing market conditions, customer needs, and internal dynamics.
Getting started is the hardest part, but you don't have to do it all at once. First, use the strategies below to align project management practices with other business activities for higher efficiency.
Evaluate Your Processes
Start by identifying the areas where business alignment is needed. These may include, but are not limited to:
Project management 
Talent retention
Human resources
IT systems/technology
Communications
Let's say you want to align your email marketing efforts with your business goals. First, try to determine what works and what doesn't. 
For example, you may realize your email response rate is lower than the average. This problem can affect your ability to reach your target audience and generate revenue. 
One solution is using an email checker and verification tool to identify invalid, inactive, or non-existent email addresses. Next, you can remove those contacts and focus on the customers who read and respond to your emails. 
The result? Higher deliverability rates, lower marketing costs, and more accurate customer data. 
Later, you can tap into this data to align marketing and sales, create better products, and seize growth opportunities. 
Set Strategic Objectives 
Define what success looks like for your business and set clear, strategic objectives for each team or department. Ensure everyone in the company understands your vision and works toward a common goal. 
Let's assume you want to achieve better alignment between the finance and marketing departments. 
Start by evaluating the performance of each department to identify areas for improvement. After that, set short- and long-term goals for each business unit, such as:
Finance department: Cut costs, reduce friction, maximize efficiency, or raise capital
Marketing department: Acquire more customers, drive brand awareness, generate higher quality leads, or increase customer value
For example, one way to make your finance team more efficient is to automate certain functions, such as accounts payable (AP). 
Automation will increase efficiency, reduce human error, and result in more accurate reporting. This guide explains how to keep track of invoices with AP automation, so you should check it out. 
Next, connect these objectives based on cause and effect. 
For instance, an efficient finance department can provide marketing teams with more accurate and timely financial information. As a result, your marketing team can better allocate resources, make data-driven decisions, and measure key performance metrics. 
Identify Areas of Overlap
Most companies, especially large enterprises, encounter redundancies in their operations. 
For example, two departments within an organization may subscribe to software programs that serve the same function. Consolidating these subscriptions can reduce operational costs while enhancing overall efficiency and alignment. 
Identifying and eliminating redundancies may also improve collaboration across teams. Moreover, this step can simplify processes and workflows, boost productivity, and make your business more agile. 
Streamline Your Work Process
Business alignment is challenging enough; you don't need to complicate it further. Therefore, keeping your work processes as simple as possible makes sense. 
For starters, use story points to help agile teams work more efficiently. These measurement units enable users to estimate the time needed to complete specific tasks. 
You'll also want to evaluate your existing workflows and rank them based on importance. Determine which ones are necessary and which ones you can do without. Try to streamline those that seem tedious or costly, and decide whether you should automate, outsource, or eliminate them. 
For example, drafting contracts and other legal documents can take up much of your day. Plus, it often requires collaboration between multiple teams and departments, leading to inconsistencies. 
Automating this process could save more than 80% of your time. 
Document and Communicate Your Strategy
As a manager or business owner, you don't need to explain your actions to others. The problem is that your team members may only understand what's expected of them if you're clear about it. 
With that in mind, document and communicate your strategy to all relevant parties, including employees, vendors, stakeholders, etc. Clearly describe your organizational goals and where business alignment is needed. 
Write everything down and send the document to your staff. Consider holding a meeting to go into further detail. BravoEcho CEO Georgia Everse recommends the following:
Keep your message simple so that everyone can understand it;
Frame your message in a way that inspires and educates employees;
Hold training sessions, webinars, and other events to reinforce your message;
Be human and avoid corporate speak;
Harness the power of storytelling to get your point across;
Provide real-life examples to help your staff understand the reasoning behind your strategy.
Most importantly, get your employees involved in the process. Request their feedback, discuss their needs, and be clear about their role in the given situation.
Break your strategy into small, actionable steps for the best results, and show employees how they can contribute. Describe how their efforts support the company's overall strategic objectives and devise a plan to track their progress. 
Align individual goals with organizational goals
Achieving business alignment requires a team effort. You should focus on running your company like a well-oiled machine where each piece has a place. 
That said, aligning individual, team, and organizational goals is crucial when implementing your strategy. With this approach, your employees will understand how their work fits into the bigger picture, which can boost their engagement and morale. 
Discuss these goals at executive meetings, team meetings, and other corporate events. The whole point is to communicate your objectives on every level. Be clear about how they benefit each employee, team, or department and the organization as a whole.
Strategic Alignment Is an Ongoing Process 
The Great Resignation, quiet quitting, and other HR trends are shaping the corporate world, leading to unprecedented disruptions. The only way to overcome these challenges is to align and prioritize your company's strategic initiatives. 
Most organizations seek strategic alignment in four major areas: marketing, technology, HR, and product development. However, this approach can be applied to almost every project and business activity, depending on your business goals. 
Strategic alignment involves getting your teams and departments to work together toward a shared goal. If done right, it can improve performance, collaboration, planning, decision-making, and other aspects of business success. Over time, it may result in lower costs and higher profits. 
Finally, note that strategic alignment is an ongoing process, not something you can set and forget. Commit to continuous improvement, reassess your goals, and develop strategic priorities to drive your business forward. Remember to involve your employees and align their goals with the company's. 
You may also like: Mastering Business Strategy Execution: The Ultimate Guide for Entrepreneurs
Image source: Depositphotos.com