Click here to get this post in PDF
With 3.5 billion active users, social media has undoubtedly, become an integral part of our lives. This is why more and more businesses are incorporating social media in their marketing or branding strategies to put their products or services in front of the masses. 
As a business owner, if you aim to elevate your presence on social platforms or grow any of your social channels, you might want to use social media tools to make the entire process seamless. 
You can find a plethora of such tools in the result of only one search. However, ensure the tool you opt for brings benefits and cuts distractions. 
When deciding on those tools, look for:
Easy integration 
Rich functionality
Because a tool with easy integration allows you to connect it with other tools, such as MailChimp and Google Analytics. Its functionality will enable you to access insights and analytics to track your performance. 
Read on if you're up to exploring useful and innovative tools for your social media pages. 
Best Social Media Tools to Try
Check out the following tool to keep your social platforms up and to run. 
1. BrandWatch
Image Source: BrandWatch
Formerly known as Falcon.io, Brandwatch is effective for social media marketing. And if you're looking for a reliable solution to manage customer experience, it can help you with that, too. It comes with certain features, such as content publishing, customer data management, social media listening, and engagement. Other than BrandWatch there are also very good buffer alternatives which help in scheduling your posts, content, and videos.
Auto-queue posting and visual planning enable you to plan and schedule monthly posts in just a few minutes, which is why it seems like a perfect tool for solopreneurs. Moreover, for effective social monitoring and listening, you can use its Social Inbox feature. Even without the Influencer Search feature, it has essential features that'll help you run a business, regardless of size. 
2. Zoomsphere
Image Source: Zoomsphere
Are you looking for ways to manage your different social media profiles in one place? If so, Zoomsphere is here to do the job. Its scheduling features and powerful analytics make managing multiple social media pages quicker and easier, saving you time and providing desired outcomes. 
If your work requires collaboration with others, you can use its collaboration features, such as instant messaging, log activity, or project and task assignment. You can even add several collaborators if needed for better productivity. What's more exciting? You can give it a try free of cost! 
3. Social Pilot
Image Source: Social Pilot
A leading option in the social media tool category, Fortune 500 companies and bigger agencies use Social Pilot that carries out marketing campaigns globally. One of the considerable benefits of using Social Pilot is leveraging its scheduling and analytics features in the way it benefits you. 
You can cater requirements of different social media platforms, as the tool lets you tailor and schedule the content. Then, it'll publish the posts automatically. Social Pilot also allows you to use various social media profiles in one place, just like Zoomsphere. Its intuitive interface sets it apart from other tools. 
4. Hootsuite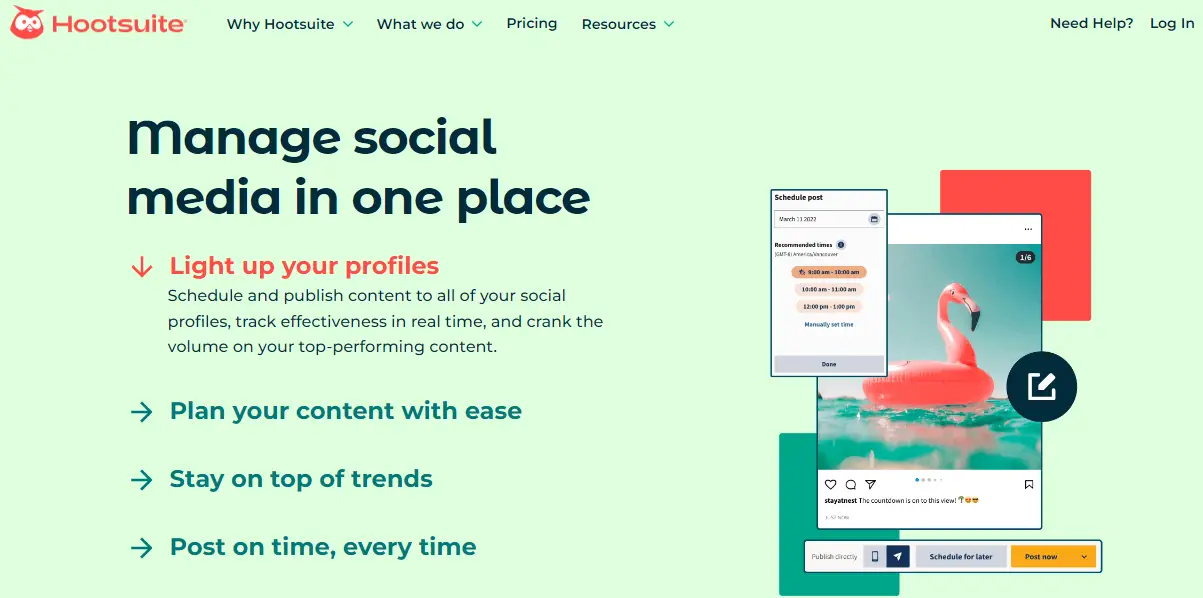 Image Source: Hootsuite
Packed with features, Hootsuite comes in handy in content creation and publication journeys. If you're looking for a tool that helps you manage your social media content strategy, Hootsuite makes the right choice – thanks to its intuitive calendar. 
With its convenient dashboard, monitoring post engagement can become hassle-free. If you've got a remote workforce, you can use its collaboration feature for task assigning or team discussion while keeping everyone on the same page. You could also use other tools like these 14 tools to manage the remote workforce. 
5. BuzzSumo
Image Source: BuzzSumo
Do you want to analyze your content performance so you can improve it accordingly? BuzzSumo has got you covered, as it allows you to get a clear picture of how your presence influences social media. Then, with a better understanding and insights, you can formulate effective strategies. 
BuzzSumo also provides results on the basis of post shares on Pinterest, Twitter, or Facebook. It is great to monitor how your content is performing across different channels without keeping an eye on each social medium individually. 
6. HubSpot Social Inbox Tool
Image Source: HubSpot
Save time and optimize your efforts for social media platforms using HubSpot Social Inbox tool. Not only it allows you to schedule your posts, but it enables you to integrate your social profiles with your blogs. This way, monitoring messages and mentions become 10x easier. More importantly, this functionality lets you nurture new leads.
You can integrate your marketing with CRM, using HubSpot to observe the leads and customers you're receiving from social media. It takes off extra burden regarding social stream sifting, so you can divert your attention to other aspects of your business. 
7. Buffer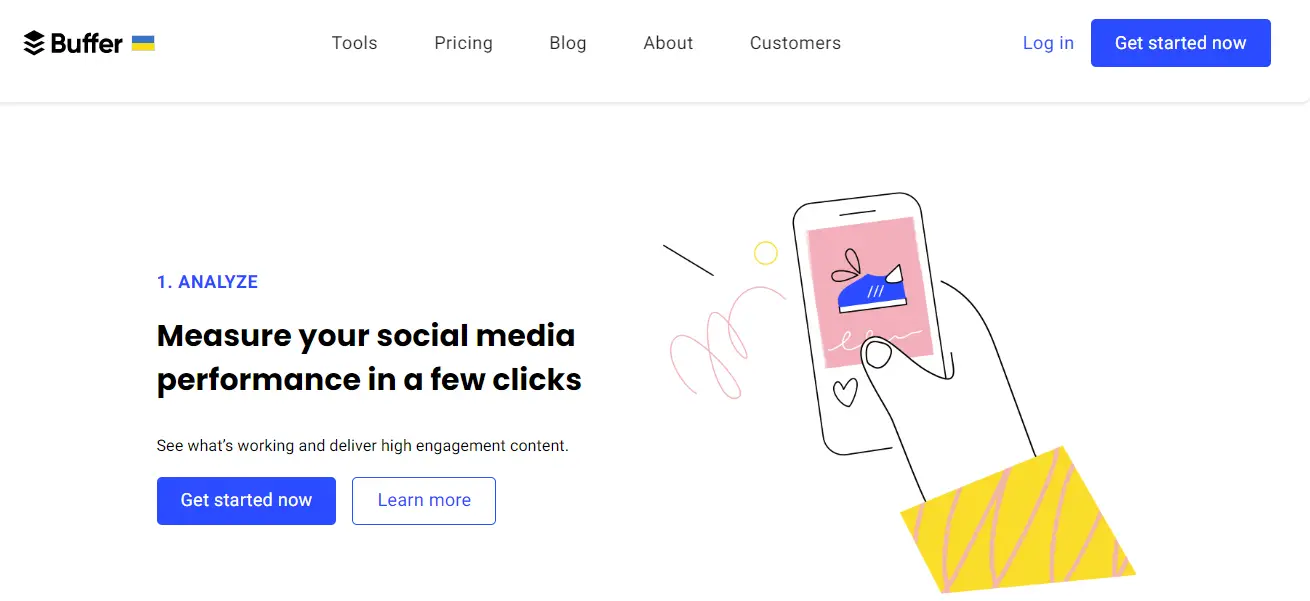 Image Source: Buffer
For intuitive and streamlined social media management, go for Buffer. A tool trusted by small business owners, you can use it to achieve engagement and results from your socials. Using Buffer, you can use features to support analytics, non-complex landing pages, engagement, or publishing, etc. For maximum team collaboration, you can rely on it as well. 
Social media marketers can also use it to carry out campaigns with ease. It offers a set of intuitive features that make it an easy-to-use social media tool. More so, Buffer is known for its unmatched customer support. 
8. Feedly
Image Source: Feedly
Experience next-level social media management with Feedly. It allows you to subscribe to any website with RSS feed and organizes those feeds in various topics. The fun part is Leo, its AI research assistance. You can use it to leverage maximum benefit. For example, train it to research topics and keywords you might be needing. 
For extra benefit, try opting for its paid plan, as it's capable of following newsletters and interpreting them for your workforce. With Sprout Social Integration, curating or reading an article in Sprout has become a breeze. Not only this, it allows you to share that article as a post while you're still using the Sprout app. 
9. Sprout Social
Image Source: Sprout Social
For effective social media management, try Sprout Social. It comes with a well-organized dashboard, so you can access the information without wasting any minute. Unlike other tools, where you've to go through spreadsheets to access content or other information, Sprout Social divides subject matter into different categories, such as Publishing, Feeds, Discovery, Reports, Messages, and Tasks. 
With other features, such as Cleanup and Smart Search, you can find people who can engage with your brand and get rid of accounts who aren't active or don't follow you back. Using its discovery feature, you can retrieve information from Twitter. However, it doesn't support other social media platforms like Facebook or Instagram. 
10. Sendible
Image Source: Sendible
Agencies or even individuals can easily use Sendible to manage their social media platforms. This innovative tool makes scheduling content in a particular sequence easy. You can even categorize it into different campaigns, making using the content hassle-free. When it comes to rescheduling publication dates, use its drag-and-drop feature to get the job done without messing it up. 
If you're using various social media profiles of your clients, Sendible features a single-view inbox. The inbox can show the client's messages at one place. It even comes with a filter feature, so you can filter and prioritize your clients. 
Benefits of Using Social Media Tools
Using a feature-packed social media tool leads to the following benefits: 
You can keep track on your social media engagement. 
You can manage multiple social media profiles at once without spending extra time. 
You can foster cordial relationships with your clients or customers.
You can improve your social accountability.
You can analyze and observe your performance on social media. 
Wrap Up
Social media tools are essential for various reasons, from tracking engagement to posting on time. Finding these tools doesn't look like a time-consuming activity. You still need to ensure which features will benefit you in the longer run. 
With these tools, you're sure to run multiple social media pages, focus on engagement, and improve performance on social platforms. So choose an option and allow it to manage your social media.
You may also like: 6 Tools To Automate Instagram Engagement