Click here to get this post in PDF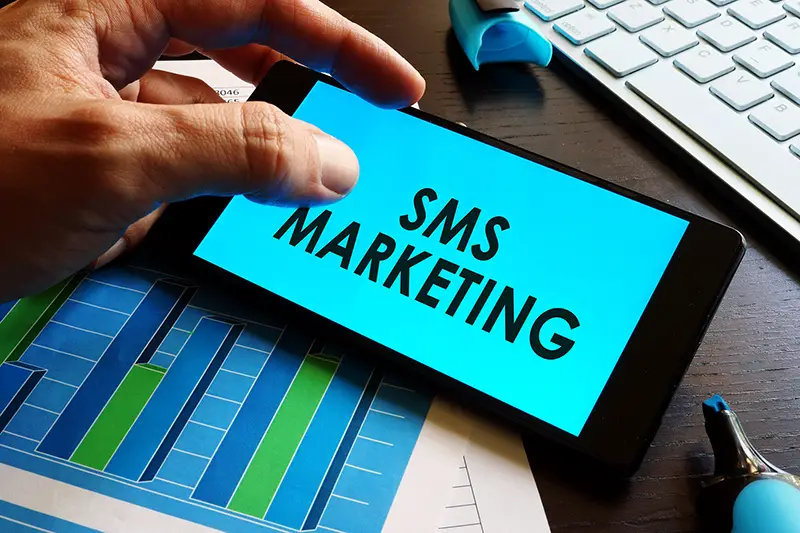 Many marketers rely on text message marketing to meet their business goals for various reasons. Also referred to as short message service (SMS) marketing, text message marketing is known for its unmatched open rates since your potential customers can receive your marketing campaigns directly on their mobile devices, which they carry throughout the day. This is what makes text message marketing an essential marketing channel for all types of businesses.
Text message marketing involves sending SMS to customers about information that may benefit them. Typically, it's used in several ways, such as sending alerts, notifications, updates, and promotional texts. For example, you may send customers reminders via SMS if you're running a service-based company.
The best part about text message marketing is that it's cost-effective and easy to do. Working with service providers like Drop Cowboy allows you to do text message marketing seamlessly, which will enable your brand to stay ahead of the competition.
So, if you want to consider text message marketing as one of your strategies, make sure to keep the following best practices in mind:
1. Use Text Message Marketing Software
When it comes to text message marketing, do-it-yourself (DIY) isn't always an excellent approach. This is especially true if you don't know where to start.
If you plan on creating and sending your marketing campaigns manually, you should take advantage of text message marketing software or utilize a text messaging marketing platform, such as Unlimited Ringless Voicemail.
Typing countless text messages isn't only inconvenient, but it also takes up more of your precious time, which you can use for other business matters. Moreover, typing text messages may lead to typos or loss of customers. 
In short, you need to use a reliable tool or hire a service provider that will let you reach target groups with perfectly optimized messages in order to get the results you want with text message marketing.
2. Personalize Your Content
When you're sending text messages to your customers, it's critical to make them feel like they're connected with your business. Keep in mind that text messages are often reserved for friends and family. Therefore, try to establish a personal connection with your customers by sending personalized messages.
To personalize your content for an SMS marketing campaign, here are some things you can do:
Use advanced data analytics to target users based on their previous purchase history so that they only get the most relevant messages.
Try to interact more with your marketing campaigns. Your response can make a difference in increasing your customer engagement via text message.
Change your text message's tone or style, depending on your receiver's age and gender. For instance, if you're targeting older customers, avoid using shorthand and write as you'd usually do for short emails or letters with proper grammar and a professional tone.
When creating personalized content for your text message marketing campaigns, ensure to stay consistent with your brand's voice each time you send an SMS. In addition, keep your text messages straightforward and simple.
3. Keep Compliance In Mind
Before sending text messages, be sure to meet regulatory compliance and legal standards. Typically, text message marketing compliance may include the following actions:
Respecting opt-out requests
Explaining to subscribers the kind of messages they'll get
Informing your subscribers how to opt-out
Making sure that SMS opt-ins are separate from email marketing
Not sending messages during quiet hours
See to it that you select a text message marketing service provider that values compliance. This way, you'll avoid possible penalties or inconveniences and meet your marketing goals in no time.
4. Get Permission
Before launching your text message marketing campaigns, you should get permission from your target audience. If you don't have their consent, you'll only break the law and end up tarnishing your brand's image and reputation.
Fortunately, getting permission isn't complicated. Your target prospects only need to opt-in by filling out a web form or texting a keyword to your business number. They should agree to receive SMS from your brand as well.
5. Don't Forget To Include A Call-To-Action (CTA)
To make your text message marketing campaigns effective, always include a CTA. Regardless of your target goals of your campaigns, create and highlight your CTA.
One of the ways to create a killer CTA is to keep it short since you have to work with limited characters only. If you exceed the character limit, your messages will get split up and sent as separate messages.
While that might not be a huge deal for several customers, your other customers may receive your text message out of order, depending on their current mobile carrier. This can be confusing, and your text's meaning may get lost altogether. So, get to the point and tell your customers what action you want them to do.
If you plan to include a link for your CTA, you can use link shortening tools. A link shortener creates a custom link with fewer characters that'll look cleaner and may take up less space in your SMS marketing campaign.
With effective CTAs that are succinct and direct, you'll succeed in enticing potential customers to take action and transact with your business. 
6. Stay Consistent With Your Text Message Frequency
One of the primary mistakes of text message marketers is failing to send messages consistently because they don't want to spam customers. This is understandable but sending fewer messages can have a negative impact on your text message marketing strategies.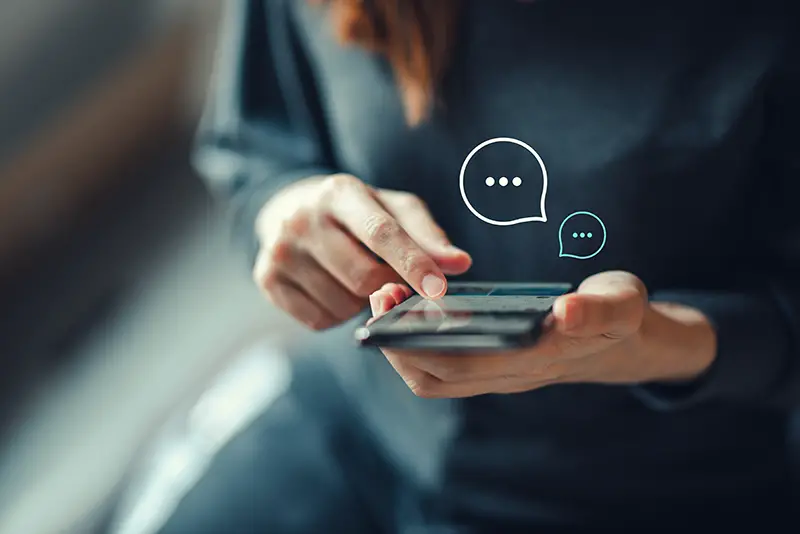 Once customers sign up for your text messages, they expect to receive messages from time to time and consistently. However, when you send them text messages out of the blue, they're more likely not to respond. Hence, if you want your customers to respond well to your campaigns, focus on consistent messaging and stick with a regular schedule.
7. Have Conversations And Provide Real-Time Responses
By sending text messages, you're establishing a personal connection with your prospects, providing them the chance to give you valuable feedback and respond immediately. Depending on your messages, they may even act on your coupons to make immediate purchases, start productive conversations, and tell you how much they love your business.
To keep your customers engaged, you can use autoresponders. These will help you send personalized follow-up text messages instantly.
8. Pay Attention To Your Text Message
When it comes to text messages, you only have a total of 160 characters to work with. Therefore, aim for a concise, sharp message that offers value and gets your point across to your recipients.
Take note that most people may have opted in to receive your texts, but it's easy for them to opt-out once they feel that you're only wasting their time. As with any kind of marketing campaign, you must aim for as much personalization and relevance as possible.
No matter how tempting it may be, avoid using abbreviations to save space in your text messages because they make your campaigns look unprofessional. Instead, create an impactful and short message beneficial for recipients.
9. Identify Yourself
Some consumers need to know the identity behind any text message campaign. So, make sure to identify yourself and be clear about who you are. Unlike some marketing channels, text message marketing won't provide you with upfront brand visibility.
With text messages, your consumers will see a random phone number instead of a recognizable business logo or email address. If you decide to use text message marketing, identifying your brand to your consumers in every SMS may come in handy, especially if you want to increase business visibility.
10. Always Provide Instructions On How To Opt-Out
In SMS marketing, you should always make it clear to your customers to opt-out whenever they want to. This isn't just because it's crucial in maintaining your compliance, but it's also because the law requires it. In fact, opt-out instructions are necessary in two places.
The first is wherever a CTA is for consumers to join your text message marketing campaign. Whether it be an opt-in form or text to join, you should include opt-out instructions at each place. It may be as simple as texting the word "Stop" to unsubscribe or opt-out.
The other place where you can include opt-out instructions is after somebody subscribes to your campaign and receives their first confirmation text. Aside from a welcome message, you should include the same opt-out instructions among some compliance details like "Data rates may apply."
While not necessarily required, it's a vital practice to include opt-out instructions in your future outbound campaigns often. It doesn't have to be in all of your campaigns but reminding your prospects how they can opt-out will keep them happy and allow you to segment your list better.
11. Provide Value To Your Customers
If customers have permitted you to send them text messages, they'll hope that you'll send something valuable. The best way to follow through on that promise is to cater your offering to them and understand your audience's demographic.
For example, are you offering a sale or an update about your product lineup? Do you want to provide a coupon that'll last for a whole season? Note that customer loyalty goes both ways. Your customers trust you to send them a text message. So, ensure it's worth their while.
12. Get Your Timing Right
One of the practices you should never forget to leverage text message marketing is to get your timing right. Determine your customers' time zones and send messages during those times.
You can increase brand awareness once you ensure updates hit your customer's smartphones during their free time or while they're awake. You may still use bulk text messaging tactics but consider utilizing tools that can send out batches of texts during appropriate times. Often, it's wise to run steady drip campaigns over a long time instead of bombarding customers with promotions and updates every day.
13. Create A Sense Of Urgency
Sending text messages about time-sensitive deals or flash sales may encourage customers to make repeat purchases. You may use phrases, such as:
Today only
Limited stock
Valid until
Stocks out soon
Hurry before the sale ends
All of these phrases create a sense of urgency, and consumers may feel like they might miss out on something good once they don't click. 
One of the benefits of text message marketing is that you can bring exclusive product details or sales right into your customers' inboxes. A text message that triggers fear of missing out (FOMO) emotion will help you increase your sales and get more traffic.
14. Segment Your Potential Customers
To get results from text message marketing, consider segmenting or categorizing your potential customers and sending relevant text messages. For example, a welcome text or thank you for a message to the person who just opted in, a subscriber's subscription shipment details, and discount or sale information texts to regular customers.
Don't approach loyal customers the way you interact with new visitors. To new customers, you might want to be more detailed to prove your company's worth. It doesn't mean that you should focus less on loyal customers. The key is to distinguish your potential and existing customers in crafting a message. Through this, you'll be able to provide every customer with a more personalized experience.
15. Test And Measure What Works
Testing is the key to successful text message marketing campaigns. No matter how confident you are with your strategies, testing is the best and only way to learn about your campaign's effectiveness. It means trying out various kinds of offers, send frequency, and text lengths. After testing, observe how your audience responds. Their response will help you determine whether your text message marketing campaign is working.
Besides being affordable and uncomplicated, text message marketing is easy to track and measure. By using the right SMS marketing tool, you can quickly identify which promotions or messages work and which ones aren't working well.
Depending on the analytics, refine your campaigns. Keep improving your marketing messages until you get your desired results. If possible, incorporate new SMS marketing trends like using chatbots to wow your customers.
Bottom Line
When done properly, text message marketing works. It's one of the most reliable and effective ways for small and big businesses to connect with their potential and existing customers directly and intimately. Make sure to implement the above practices to obtain favorable outcomes, especially hiring a trustworthy SMS provider or using the best platform that will guarantee a successful text message marketing campaign.
You may also like: 4 Ways To Have A Better SMS Marketing Platform
Image source: AdobeStock