Click here to get this post in PDF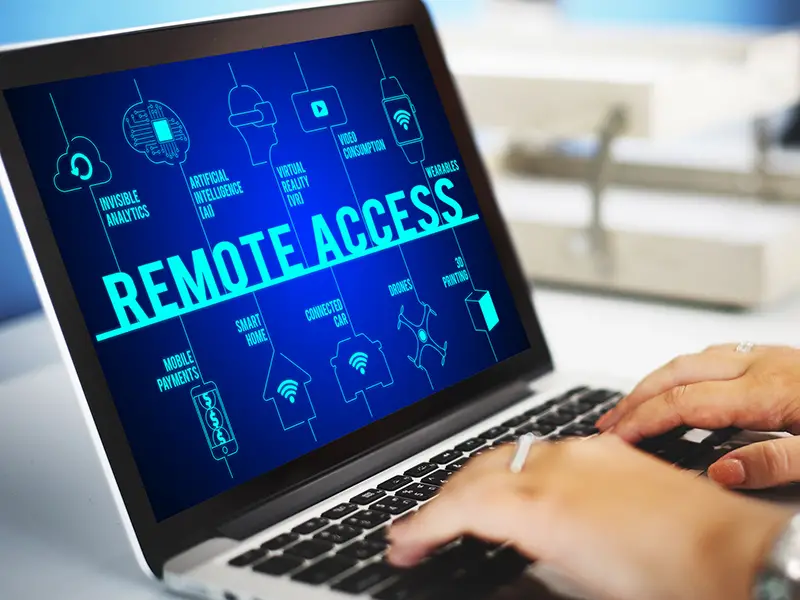 In today's working environment, many employees have transitioned to working remotely. It's no surprise that working remotely is becoming popular. There are many benefits to working remotely; it saves money by reducing your travel expenses and office expenses. While working remotely offers many benefits, there are problems that you have to face. The security issue is just one challenge you will have to face.
What is secure remote access?
Secure remote access is a security solution preventing unauthorized access into a network or account. It allows you to safely manage data, particularly when working in a different location or remote location. This is ideal for an individual that travels a lot. Secure remote access amazingly makes it possible to make changing levels of authorization for different employees in the organization.
Read some of the best practices for remote access in this article.
Threats are always present
Threats are always at your doorstep; the best practice in ensuring your data's safety is to watch out for threats that may occur in real-time or in the future. Working remotely is vulnerable to malicious threats or attacks. Being prepared and well equipped with knowledge is important in ensuring your safety. Some companies or employees tend to ignore the risk of being breached because they are too confident. They put a lot of faith in their intuition, and judgment makes them more vulnerable to security breaches. Nonetheless, working remotely always have risk; threats are always present in this kind of work set up. One should prioritize their security, never rest easy, and always remember that threats never sleep.
Create a policy for remote workers
Creating a policy for remote workers is crucial for the safety of the company and the employee. Without a policy, anyone can become an entry point for a hacker to attack your company's network and data. To prevent this from happening, you have to create a clear policy stipulating guidelines complying with security protocols at their respective home, etc. Policies may include the following:
                • Devices – the company should state what devices can be used (personal or not)
                • Data authorization limitation – Company may limit the data that the user can download
                • App restriction – what app can be downloaded in the devices (related or not)
• Security breach report – Security protocols to follow if they have been breached (must have two or more plans if one should not work).
Data Encryption
Data encryption is an important practice in securing sensitive information; it also enhances communication security ingoing and outgoing data. If an unauthorized individual gains access to your data, it will be useless because they will not read it. Some events can happen that can lead to data leaks, including if a device has been stolen, and if someone intercepts the data, data encryption will help your data and files safe. 
Provide a device for workplace
Companies should provide devices that employees should use. It's not idle to use a personal device because it has a higher risk of data comptonization. The device they provide should be updated regularly to prevent unfortunate events.         
Set up a VPN
The best VPN service creates a secure connection and, at the same time, encrypting the data. VPN is a great resource for individuals or companies because your information and data are protected as long as the VPN is running. You can access the web and application anonymously when you use a VPN.  VPNs may give you a little protection and benefits, but VPNs have some risks such as data sniffing, phishing, and other malicious activity being exploited by attackers.
Third-party vendor collaboration
Make sure to select partners and vendors who are committed to their work. Choose third party vendors who can address the problem effectively. Choosing poor third-party management can leave you vulnerable to any forms of exploitation.  Company or organization itself is not enough to maintain the well-being of their safety. Third-party vendors greatly help keep the system infrastructure's security, with third-party vendors to lessen the risk of the data breach. Third-party vendors are the key to developing continuous growth in an organization. The main reason you should collaborate with a third-party vendor is to reduce cost, make process improvements, and encourage innovation in services or products.
---
3rd Party Vendor Audit Program Management
---
Eliminate shared accounts
Eliminating shared accounts is an effective approach in keeping your data secured. Without shared accounts means no one can access sensitive data on the authorized can gain access. The reason why you should eliminate shared accounts is to decrease the risk of unauthorized access. Companies or organizations should invest in a powerful password management tool to increase their security.
Secure remote access is encompassed of layers of solutions, security, and technologies. Some of the most common and effective are the following:
Secure Remote Access essentials
• VPN – Virtual Private Network (VPN) is a protected network connection; it encrypts the internet traffic as well as guises your identity online. VPNs protect your data and important information from getting stolen. VPN has multiple protocols to make network connections; OpenVPN, PPTP, L2TP are just some of the common protocols that VPN has.
• Endpoint Security – it secures endpoints in devices like laptops, mobile devices, and desktops from being exploited. Endpoint security protects you from malicious threats and attacks. The function of endpoint security may include antivirus, firewall filtering, web filtering, and email filtering.
•Zero trust network access (ZTNA) provides consistent and secure connectivity to private applications but not putting users on the network or revealing apps to the internet. Whenever a user requests resource access, it always requires verification, regardless of whether the requester sits inside the organizational network or outside of the organization.
• Single sign-on (SSO) –It enables users to authenticate and several applications and resources with one-time login details input. Single sign-on is a centralized session and user authentication in which you only need one-time log in credentials that can be used to access various applications. Single sign-on enables you to use many services without having to use your login credentials.
You may also like: 5 Essential Benefits a VPN Will Bring to Your Business or Enterprise
Image source: Shutterstock.com