Click here to get this post in PDF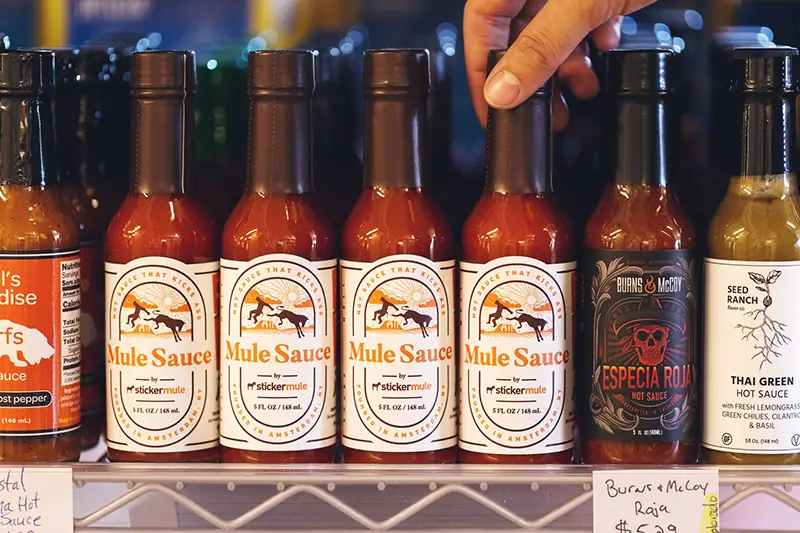 Hot sauce is the first thing that comes to mind when it comes to spicy food varieties. Let's imagine for a while that spicy hot sauce is drizzled over your favourite dishes with some veggies and meat in it. Isn't it mouthwatering, right?
People simply do not get enough hot sauces on almost everything. Therefore, it is one of the most selling condiments that numerous private label manufacturers in the USA offer. Let's have a detailed look at what to consider while designing your custom hot sauce bottle labels.
Make a hot sauce bottle label that stands out!
Designing the labels for your hot sauce is all about creating something very unique that shocks the audience and buyers. Your goal should be to stay stuck to people's retina with your catchy labels. You might find many tasty products in the market but with some bland labels that make them not grow as they desired. Your labels play an essential role in making your products stand out among other numerous products.
Create your hot sauce bottle labels that are visually appealing with enough capacity to make your audience try your hot sauce at least once. Therefore, the main goal of making your hot sauce bottle labels attractive is to highlight your brand image and grab customers' attention.
Let's have a look at some of the best practices that best private label food manufacturers in the USA adopt to make their custom hot sauce bottle labels captivating:
1. Who is going to design your custom hot sauce bottle labels?
It is essential to connect with professional graphic designers to design your label, or you may also hire an in-house team for this purpose. Give them all the details of what you are looking to have. Tell them about your product's manufacturing process, ingredients, and other characteristics that will help them make a better approach to design your custom hot sauce bottle labels for your brand.
2. Measure the bottle of your hot sauce
Make sure you take the right measurements before proceeding with the label designing process since it is crucial to get the right label size for your custom hot sauce bottle labels. This will also help you avoid the awkward look and misfitting when your labels are ready to apply to the packaging.
3. Functionalities
Think out of the box and analyze where you want to sell your hot sauce bottles. This is another critical factor that saves you both money and time both. The custom hot sauce bottle label you design should be very effective on its own and also among other similar products, attracting customers to your products to make the purchase.
4. Labelling and content
You don't just have to design custom labels nicely, but they should contain all the important information regarding your product. Because whatever you write on the label sells your products.
5. Creative custom hot sauce bottle design using Adobe Illustrator
Without any doubt, adobe illustrator is one of the best design platforms we have that create such high-quality imagery and text; therefore, it is recommended to use adobe for your final artwork. This will also make your labels' vectors not pixelate when you resize images, and you may also export vectors. Moreover, this will make your process even easier.
6. The color palette for your custom hot sauce bottle labels
You might have found red as the most common color on hot sauce labels, right? This is because it is the first and probably the most popular choice. Also, if you don't find this color on the label, it must be somewhere in the logo or product's name. Red could be the most common color, but it is also true that you may use any color splash that looks exciting to you because there are no restrictions at all.
7. Fonts
Choose the best font that reflects the personality and flavor of your sauce. You may either make the font wavy, straight, or bold, but ensure to keep it big in size. Also, you go with different font styles for different flavors and varieties.
8. Branding
Consistency is the first and the most important thing when it comes to branding your products. You may perfectly change the colors, fonts, and images for your custom hot sauce bottle labels, but changing the shape of the bottle every time is not recommended. The best private label manufacturers in the USA consider it a bad practice because it might distract your audience from recognizing your brand.
9. High-quality images
Using high-quality images for your custom hot sauce bottle labels is essential. Vectors are recommended because PNGs and JPEGs might downgrade the look of your label. Therefore, always consider high-quality with no compromise.
10. Print your hot sauce labels
Once you are done with planning, designing, and implementation, now it's time for the high-quality printing services to get your labels printed without any pixelate. Digital label printing could be a good option to go with because it is cost-effective as well as offers quick delivery.
You may also like: Grab The Customer Attention With Perfectly Designed Product Label
Image source: Unsplash.com