Click here to get this post in PDF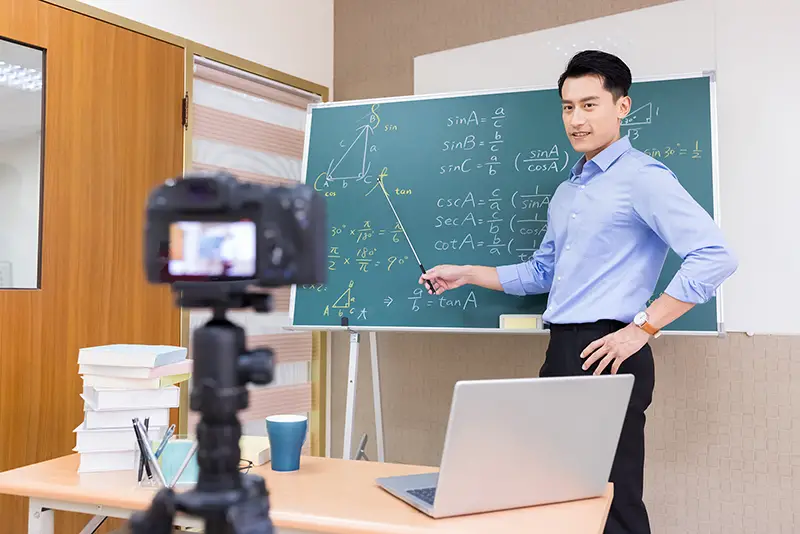 Online teaching has now become a huge part of our lives. Since the pandemic began, every teacher had to shift instantly from being in a classroom full of students to sitting in front of a screen for hours. Although you will find a lot of teachers who have been teaching online for ages now or making YouTube videos for the same. For all of this, you will require the right set of equipment.
The list of the best equipment for teaching online is pretty minimal and generic. You do not need to spend a hefty sum of money and can easily get everything on a small budget. We created a list that includes a laptop, webcam, headset, a laptop stand, and a whiteboard to explain the lesson. You might have a few of these already with you, but then make sure they are a perfect match to suit your work.
Let us now look at the best equipment for teaching online.
5 Best Equipment For Teaching Online
1. Laptop
Now, the first thing you will need to get started with is a laptop. Even if you do not have the budget to buy all the other tools, having a decent system might do the job for you. Now, for teaching online classes, you will not need anything fancy or any high-end specifications. You can also check Thetechlunch to know the best laptop that you can use precisely for teaching online.
Surely, certain institutions will allow you to use an iPad or your smartphone itself to teach online, but it is not very convenient in the long run. As per our recommendation, make sure you get a device that is lightweight and easy to carry around if needed. The best choice is either going for a MacBook Air or Windows 11 laptops such as Dell Inspiron series, Acer Aspire series, etc.
2. HD Webcam
Next up, having a decent webcam is something you need to consider. Even though your laptop might already have a built-in camera, sometimes they are not enough. We have come across multiple such webcams with poor video quality and do not suffice the need to take online classes regularly.
It is better to choose a high-quality webcam separately and use it for all your classes. Also, make sure it has a good field of view and is adjustable based on your requirement. Some of the best options we have used and tested out include the Logitech Brio Ultra HD Webcam, which is a little high on the budget but worth every penny.
To keep things within budget, you can get a Logitech C920 that features call recording and also has a dual microphone of the best quality. Furthermore, try reading the description of each of these webcams to ensure they are compatible with your operating system.
3. Headset
Having a high-quality headset is very important whether you record the lessons or teach online. If your students cannot hear you properly, then having a good webcam might be of no use. Also, taking classes from your home can have lots of unavoidable background noises.
Hence, you will need a headset to cancel those noises and produce a clear sound. Of course, if you already have an earphone, you can always use that. Or else, you can buy Apple Airpods for your MacBook that is highly compatible and perfect in every manner.
Also, you can get a specific computer-wired headset with a microphone. Furthermore, make sure it is comfortable in and around your ears since you will have to use it for hours a day.
4. Adjustable Laptop Stand
Let's face the fact that sitting in front of a computer for long hours is very tiring and your body is not prepared for it. Therefore, in your online teaching setup, it is important that you buy an adjustable laptop stand that can be brought to your eye level and also help you with your posture.
There are multiple options available in the market, without a doubt. But choose the one that can be adjusted based on your setup so that you can teach while sitting down on a chair and while standing up and writing on a whiteboard.
You do not need anything fancy; instead, choose the one that costs the least and serves all your purpose. Such a laptop stand easily fits on your desk or any table for that matter. It will hardly take up any space, and you can set up everything accordingly.
5. Whiteboard
Lastly, among the best equipment for teaching online, we have Whiteboard. Now, this is purely based on what you are teaching. If you are a math teacher, then having a whiteboard is a must. You will be required to solve equations and explain the steps to your student in every class on board.
But you may not need this if your job is to teach verbal subjects such as Literature, history, or any other similar school subjects. Teaching online does not only mean school teachers, but it could be anything. You can be a music teacher, and using a whiteboard will help you write down the Guitar chords for any song.
Now, there are different sizes of boards available on the internet. You can get a huge one attached to your wall for long-term usage. Or you can get a small one that can be held in your hand while teaching. Make sure you also buy the necessary tools to write on the board and a duster.
Conclusion
This equipment for teaching online is enough to serve all your purposes. To summarize, you need a laptop, webcam, headset, a laptop stand, and a whiteboard. Other than this, you can even get a proper lighting tool or desk lamp so that your students can see your face properly.
Also, it is important to have a stable internet connection and the necessary software for teaching online. Most people use Zoom or Google Meet to take classes that are free of cost, and everyone can download them from their play store. Similarly, before you can start purchasing these items, make an estimated budget to spend the money likewise on each.
You may also like: A Home Tutor's Top 5 Tools: A Guide For Teaching Effectively
Image source: Shutterstock.com