Click here to get this post in PDF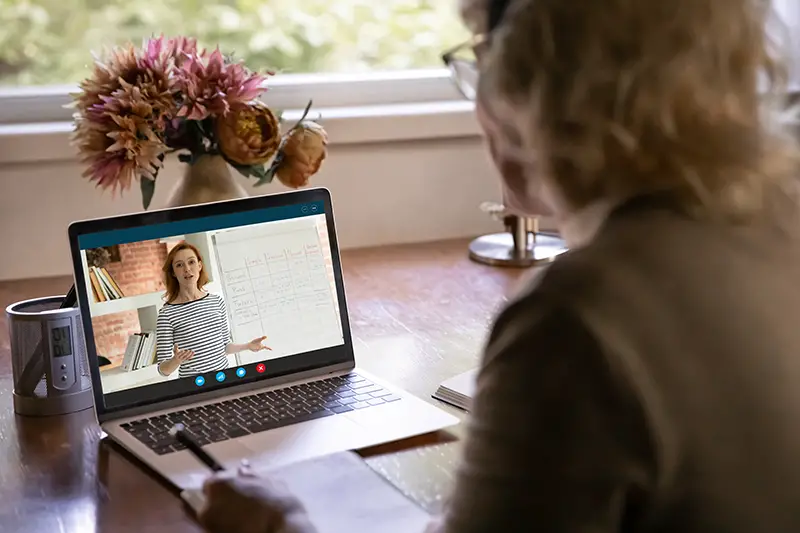 Live webinars take too much time to create – it's not only the time you spend on the event itself, but each webinar needs plenty of effort on preparation, slides creation, email invitation, marketing, and many more.
So what's the solution? Set up an automated webinar. If it's your first time hearing about it, don't worry, we'll go through its basics in this article. 
How does it work?
If you don't have any idea what is an automated webinar, it's simply a pre-recorded webinar that you run on autopilot, something you can easily create with automated webinar software like eWebinar. But, if you use a webinar software like StealthSeminar, you have the option to present either a live webinar or a recorded one. You can always hire a TV Studio for your live webinar and it will look professional this way.
Depending on the software you intend to use, you can make your automated webinars appear "live" as you want to without the need of actually having to go live. Automated webinars are convenient, but what makes them even better is if you're able to create an evergreen webinar.
What is an evergreen webinar?
A regular live webinar is just that, an online seminar. For your automated webinar to be "evergreen," your recorded event should contain evergreen content. This means the topics are perpetually relevant as well as fresh for viewers that can withstand the test of time. 
By sharing knowledge that is always "needed," you continuously generate leads and attendees daily while leveraging your time. 
Setting Up
To get started with your first webinar, follow these steps:
1. Write a webinar script. 
A webinar is a virtual presentation, and there are basically three ways to approach it: use a script, talk loosely off short-hand notes, or just wing it. While all methods are useful, even the best presenters need a script to create a presentation that isn't dull or lifeless.
Does this mean you have to create a script for each webinar? Not really. By having a written script, you're able to give structure to your presentation. It's also a great way to make certain that you tackle all main points while staying within the allocated time frame.
Once you already have a structure in place, you can then leave some room open for questions to keep attendees engaged. The choice is entirely up to you. 
The Ideal Webinar Structure
Most of your webinar structure will depend on your format. Here are the common patterns when it comes to creating an effective webinar structure:
Audience-first Approach
Your attendees signed up for your event to gain the knowledge that they seek. It's your responsibility to help achieve your goals. This means your attendees' needs and wants should be all that matters when preparing your script. 
Introduction
How will you begin your webinar? This is crucial for setting a positive tone. Start with a warm introduction of yourself to a broad audience, and acknowledge that they're in the right place.
Also, try to engage your audience with a bit of humor. This helps break the ice and calm some nerves while creating an environment that can make your attendees feel comfortable.
Agenda
In their heads, your audience will be thinking something like, "I hope this isn't a complete waste of time." For that not to happen, create a timeline for your recorded webinars about what you intend to cover in the presentation. This will help your attendees feel that they didn't waste their time and be excited about what's to come. 
Having an agenda also helps in managing expectations and allows the audience to prepare their questions.
Social Proof
Most of the best webinars contain a strong element of storytelling to build the expertise of the presenter. Your audience will want to know that you're human, and you know exactly how to help them solve their problems. 
Try to consider presenting a topic because you've experienced the same struggles as your audience but found a way to resolve them. Tell your audience the story on why you're qualified to talk about the topic and remember to be humble about it. 
Core
This is where you'll deliver what you promised the people who will attend. It's the part where you show a demo of your product, share a process to get desired results or conduct a Q&A session.
Call to Action (CTA)
Running a webinar means you have a goal in mind. Create a landing page for your webinar attendees and bring them to visit that registration page. Or, you can also ask for valuable feedback, questions through chat, or email to help develop your upcoming recorded webinars. 
2. Record your webinar. 
Suppose you don't have a pre-recorded webinar that you can edit and use, host, and record one live webinar. You can use a webinar platform like StealthSeminar to do this. It's best if you have a real-time chat box so attendees can ask you live questions. (The live chat box will also be recorded, and you can use those questions again in your evergreen webinar later on.)
In general, you can run live events then record them. Study the metrics and convert them into automated webinars. This will help ensure that you're not running a program that didn't convert well. 
3. Upload it.
Did you finish recording and perfecting your webinars? Then, it's time to upload the video in your chosen webinar software, and you're good to go. Spend some time to come up with a good webinar title. Also, try to add some special offers, handouts, or CTAs to encourage more people to attend. 
4. Pick a schedule.
Choose the right time zone and event schedule for your audience. Since you're using automated webinars, you can also choose to run them as often as you want. Pick a webinar software that allows you to run webinars whenever you want.
For instance, you can make your webinars available every Monday and Friday at 1 pm in the timezone of a particular attendee. This way, when someone becomes interested to register, they have plenty of options and can pick the right schedule for them. 
5. Set it live!
Is everything set? You can now start setting your automated webinar live. After doing so, start promoting your webinar to your desired audience. Sit back and relax while people start pouring in to register and attend your webinar without you lifting even one finger. 
To get more people to register, do some marketing and run some paid ads on Google or social media to promote organically.
6. Analyze the results.
The final, most important step is to watch and analyze what's working for you. Once you have an automated webinar up and running, make sure to always measure its results. Good webinar software will have a dashboard that lets you review the metrics so that you can learn from your previous webinars and change as needed. 
Final Thoughts
Even if the "sense of urgency" from an automated webinar isn't the same as a live event or webinar, it's still an incredible tool that gives you leads and sales with less effort. Ensure your recordings don't go to waste by using an efficient automated webinar software that has all the essential features and tools that you need. 
You may also like: Embracing the Digital Era: 7 Aspects of Your Business That Can Be Automated Thanks to Modern Technology
Image Source: Shutterstock.com