Click here to get this post in PDF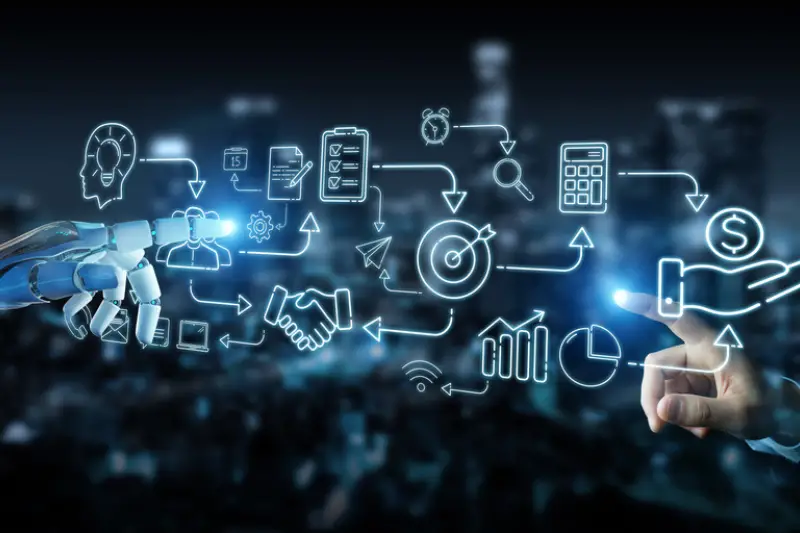 Introduction
The road ahead for startups in 2023 is both exciting and challenging. Due to the fierce competition and continuously shifting consumer preferences, businesses need every advantage they can get. In this case, artificial intelligence has the potential to be a game-changer. Let's investigate how AI is transforming the startup landscape. In the fast-paced business world, startups are constantly searching for novel strategies to get an advantage over their rivals. In recent years, artificial intelligence (AI) has developed into a useful business partner. AI will be a vital tool for startups in 2023 because of its ability to enhance customer experiences, streamline business processes, and influence decision-making. This essay will examine how intelligent software is transforming the corporate landscape and opening new ways.
Understanding Artificial Intelligence
It's essential to understand what AI is in its purest form before moving on to its applications. The development of computer systems with intelligence that is artificial allows them to execute and perform tasks that would ordinarily need human intelligence. Troubleshooting, education, deciding, and even interpreting spoken words are among these activities.
The Role of AI in Startup Success
Artificial intelligence (AI) facilitates data-driven decision-making, improves consumer experiences, and streamlines operations, all of which are crucial for startups to succeed. Startups frequently struggle with limited resources, but AI may help by automating repetitive operations, increasing productivity, and lowering errors. Through data analysis, AI also personalizes customer interactions, encouraging loyalty and increasing sales. It provides data-driven insights to startups, enabling data-driven decision-making and precise market trend prediction. However, when integrating AI, startups must deal with issues like data security and integration expenses. In 2023, startups that want to succeed in a cutthroat business environment will need to use AI as more than just a tool.
Streamlining Operations
The main way AI helps startups is through optimizing their business processes. Startups frequently have less resources and employees. Automation enabled by AI can handle time-consuming and repetitive operations, freeing up staff to work on more important initiatives. This not only boosts productivity but also lowers the chance of mistakes.
Enhancing Customer Experiences
In the digital age, customer experience is paramount. AI can personalize user experiences by analyzing customer data and providing tailored recommendations. Chatbots, for example, can engage with customers 24/7, answering queries and providing assistance. This level of personalization fosters customer loyalty and drives sales.
AI-Powered Decision Making
By utilizing the capabilities of artificial intelligence, AI-powered decision making transforms company tactics. AI pulls priceless insights for wise decisions by processing massive datasets at breakneck speed. Businesses may streamline operations, hone marketing tactics, and quickly respond to market changes by relying on data-driven predictions and analyses. Additionally, AI improves fraud detection, forecasting client behavior, and risk assessment, resulting in wiser and more profitable decisions. AI's contribution to decision-making is becoming more and more essential as it develops; giving businesses a competitive edge and helping them succeed in the dynamic environment of 2023.
Data-Driven Insights
Data is invaluable for startups, but its sheer volume can be overwhelming. AI can analyze vast datasets at incredible speeds, extracting meaningful insights. This data-driven approach helps startups make informed decisions, from product development to marketing strategies.
Predictive Analytics
With astonishing precision, AI systems can forecast upcoming trends and consumer behavior. Startups can quickly adjust to shifting market conditions thanks to this foresight, giving them a competitive advantage.
Challenges and Considerations
Implementing artificial intelligence (AI) in business operations presents several challenges and considerations. Foremost among these is the critical issue of data security and privacy. Safeguarding sensitive customer information and complying with privacy regulations are paramount to avoid legal and reputational risks.
Another significant consideration is the integration costs associated with AI adoption. Startups and businesses must carefully weigh the potential benefits against the substantial investments required for AI implementation. This decision should align with the organization's long-term growth strategy.
In navigating these challenges and considerations, a well-thought-out approach to AI integration is essential to harness its transformative power effectively.
Data Security and Privacy
Collecting and storing data comes with responsibilities. Startups must ensure robust data security and comply with privacy regulations to avoid legal issues and loss of customer trust.
Integration Costs
Implementing AI systems can be costly. Startups must carefully weigh the benefits against the investment required.
Case Studies: Successful Startups Leveraging AI
By utilizing the promise of artificial intelligence (AI), some firms have had astounding success. These success tales come from a variety of sectors, including financial technology, e-commerce, and health technology.
Startups in the health tech industry are using AI for diagnosis and treatment recommendation systems, improving patient outcomes and healthcare delivery. AI algorithms are used by e-commerce disruptors to offer tailored shopping experiences that boost user engagement and revenue. AI is used by early adopters of financial technology to assess risk and detect fraud, resulting in safe and effective financial transactions.
These case studies show how artificial intelligence (AI) is a potent tool that enables startups to innovate, offer better services, and acquire a competitive edge in their particular sectors.
The Future of AI in Startups
In startups, machine learning (AI) offers a very promising future. As technology advances, AI will become an ever more important tool for enterprises. Startups that deploy AI today are establishing themselves for durability and toughness in a field that is growing more and more competitive.
AI will be vital to simplifying procedures, improving consumer interactions, and facilitating data-driven decision-making. Applications will extend throughout a number of industries, including banking, agriculture, healthcare, and education. As AI algorithms grow more sophisticated and widely available, startups will have greater chances to innovate, disrupt established businesses, and thrive in the dynamic business climate of the future.
Conclusion
In conclusion, artificial intelligence (AI) will continue to be the key factor in companies' success until 2023 and beyond. Operations are streamlined, client experiences are improved, and data-driven decision-making is empowered by its revolutionary potential. The advantages of using AI are apparent, even while issues like data security and integration costs must be carefully handled. In the vibrant startup company world of 2023, artificial intelligence is a growth catalyst rather than just a tool. Startups that use AI effectively may improve consumer experiences, streamline processes, and make data-driven decisions. AI will likely be crucial to many firms' future success stories as it develops over the coming years.
 (FAQs)
1. How can AI benefit small startups with limited budgets?
• AI offers cost-effective solutions like chatbots and automation, allowing startups to do more with less.
2. Are there ethical concerns with AI in startups?
• Yes, startups must be mindful of data privacy and ethical considerations when implementing AI.
3. What industries are most impacted by AI in startups?
• Industries like healthcare, e-commerce, and finance have seen significant AI-driven disruptions.
4. Is AI only for tech startups, or can it benefit other sectors too?
• AI has applications across various industries, including agriculture, manufacturing, and education.
5. How can startups stay updated with the latest AI advancements?
• Joining industry networks, attending conferences, and collaborating with AI experts can help startups stay informed and innovative.
You may also like: 7 Ways to Grow Your Business Using Artificial Intelligence
Image source: Depositphotos.com